I received a complimentary copy of the book from the Author in exchange for an honest review. This does not affect my opinion of the book or the content of my review.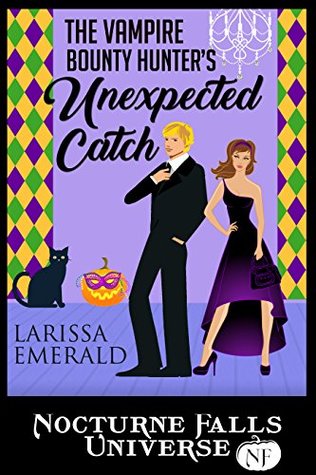 The Vampire Bounty Hunter's Unexpected Catch: A Nocturne Falls Universe story
by Larissa Emerald, Kristen Painter
Series: A Nocturne Falls Universe story
Published by Sugar Skull Books on January 24th 2017
Genres: Paranormal Romance
Pages: 67
Format: eArc
Source: Author
Amazon Kindle | Amazon Paperback
Goodreads


Can a vampire dance and shoot at the same time?

Vampire bounty hunter Nathaniel Newburg follows his mark into Nocturne Falls, a place where it's easy for anyone to hide and blend in. At first it seems as though he has his prey cornered, only to confront a beautiful feline-shifter Camille Nahuel instead. She dances around the floor with sultry steps, instructing a ballroom class, and dances around his heart even faster. Oh, Tango, the game is on. Can Nathaniel control his annoyance long enough to finish his job and save his love?

The Vampire Bounty Hunter's Unexpected Catch is the first book by Larissa Emerald set in the Nocturne Falls Universe. Take a twirl around the dance floor with a flirty feline shifter and a sexy vampire.
My Review Continue reading →