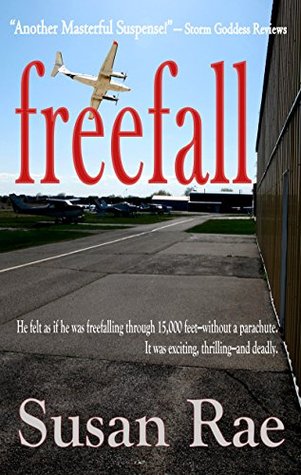 Freefall
by
Susan Rae
Published by
Musa Publishing
on June 21st 2012
Genres:
Mystery
Format:
eBook
Source:
the author
Goodreads
Purchase at
Amazon

He felt as if he was falling—freefalling through 15,000 feet—without a parachute. It was exciting, thrilling—and deadly. He'd brought Kate up here to protect her, to keep her out of trouble. He'd told himself he owed that much to Keith. Now all he wanted to do was take her down into the cabin and ravage her 'til dawn...
Kate Reynolds's quest to unravel the mystery of her brother's plane crash throws her into the turbulent wake of suave pilot/mechanic Everett Larsen. His gray gaze ignites in her a passion as powerful as a jet stream, but it also sparks a memory...
Drawn to Milwaukee by Keith's cryptic message, Larsen is unprepared for the torrent of emotion he feels when he sees Kate—after his wife's death, he is afraid to love again. But when Kate gets too close to the truth, he is even more afraid to lose her.
Kate Reynolds heads to Wisconsin to find out what happened to her brother and why his plane crashed. Her brother is now in a coma at the hospital, and she has a feeling that someone may have sabotaged his aircraft and tried to murder him. She wants to find out who would want to kill her brother and in the meantime, she decides to help out at his business, Aeromac. When she gets to town though, she keeps bumping into a man that she swears she's seen before, but the man keeps dodging her questions. Everett Lawson is in Milwaukee to find out what happened to Kate's brother as well. He wants to know why a good pilot like Keith is in a coma. Once he runs into Kate though, he's supposed to be keeping his emotions at bay with her, but for some reason, ever since he first saw her, he has been attracted to her (but is the first bump he has with her…or his he keeping a secret). Once Kate and Everett start unraveling the truth, Kate starts questioning things that she never thought possible. In the end, though, she realizes she'll overcome those fears and worries, once she starts trusting people and finding out the truth, herself. My thoughts on "Freefall"; first it was a rough start to get into the book, but once the mystery started unraveling, I had a hard time putting down my iPad. I enjoyed the mystery and suspense of the story and what happened. What amazed me the most was how Kate got herself into some sticky situations, but she always managed to get out of them. (especially one specific scene, that I was amazed about) I loved how Susan Rae had Kate get over her fears at the end of the book and also enjoyed the part in the hospital between Kate, and her brother. (won't give that away because I do not want to spoil it for anyone) This book had me crying, angry, and happy at times. I was an emotional wreck in certain parts of the book, but that's because I'm a big sap when it comes to happy endings and of course parts that make me cry no matter what. I recommend this book to mystery and suspense readers out there. You'll enjoy unraveling the mystery with the characters, just like I did. This was an exciting story, and it was my first story that involved airplanes. May I say…I have a fear of small planes, but maybe I can get over my fears eventually.