(18 & Over) Review: 'Beg For It' by Stacey Kennedy
May 29, 2012
I received a complimentary copy of the book from the author in exchange for an honest review. This does not affect my opinion of the book or the content of my review.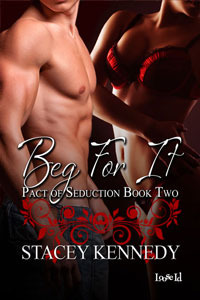 Beg For It
by
Stacey Kennedy
Series:
Pact of Seduction #2
Published by
Loose Id
on May 29th 2012
Genres:
Erotic Romance
Format:
eArc
Source:
the author
Goodreads
Purchase at
Amazon
|
Apple

The Pact of Seduction has one rule—fulfill your ultimate fantasy. Bella's problem, she can't live up to her vow. But her failure spins events that lead her into unknown territory. Kole, a Dom at the sex club Castle Dolce Vita, wasn't part of her fantasy, but he's about to show her he should have been.
Kole is more than willing to introduce Bella to BDSM since he's held an interest in her for some time. But the feisty woman isn't easily tamed and her strong personality proves to be difficult. While she might be determined to keep him at a distance, Kole has other ideas. He won't allow her to shut him out.
A pact between best friends brought them together, emotional barriers tear them apart. Kole skillfully reminds Bella through pleasure and punishment that she is now his submissive, and her place is under his command.
Publisher's Note: This book contains explicit sexual situations, graphic language, and material that some readers may find objectionable: anal play/intercourse, BDSM theme and elements.
 My Review
This book is meant for 18 & Over Readers.
I put the warning ahead of time because if you're not used to reading BDSM you will probably be uncomfortable reading this book and this book is not meant for younger readers at all.
I finished "Beg For It" within an hour. I sleep deprived myself of reading "Beg For It" tonight.
I received an advance reading copy from Stacey Kennedy earlier this evening and jumped at the chance to read "Bind Me" first and then proceeded into "Beg For It."
Hello…I'm a huge fan of Stacey Kennedy. =)
This book is about Kole, who is a criminal lawyer by day, but at night he is dominant at the sex club, Castle Dolce Vita. (He's one Sexy, scary Man who I adore now after reading this book)
And it's about Bella, a stockbroker at Baltimore's top lending investment business, who I read from the previous book. She was the one who thought up the Pact of Seduction with her best friends. She wanted the ladies to fulfill their deepest darkest desires, and so did she.
At the beginning of the book, Bella is with Raven (who also was in the previous book). Bella has always fantasized about being with a woman. Unfortunately, it seems her mind is not with it, and neither is her body. She feels like she failed the pact once she realizes her fantasy isn't playing out the way she thought.
When she's at Reed and Kole's party at their condo, she can't stop noticing Kole. Kole can't stop seeing her either. He's had a thing for her since the first time he saw her. He wants her to be his submissive. His roommate, Reed, thinks that's a bad idea because Kole is a Dom that loves PAIN. Not those light spank on the butt kind of pain…but the pain that leaves bruises and of course other things.
Kole is determined to make Bella his submissive. They end up talking to each other and lets her know what he wants to do. She's never really been into the BDSM fantasy…until Marley, her best friend became addicted and hooked up with Reed (another Dom).
When she hooks up with Kole at the Sex Club, Castle Dolce Vita..things go a little far for her taste, and Kole's pushes her, but she's lying to herself and Kole. She doesn't know how to show her feelings about what Kole did.
Kole wants Bella to "Beg For It." He knows she's not used to begging and she loves to push people away. He wants to change that though and make her realize she can be more submissive than she thinks.
No more spoiling the book to anyone who hasn't read it. =)
My thoughts on the 2nd book to the series Pact of Seduction was WOW!!
I thought Reed had me squirming while reading "Bind Me." No Kole made me squirm and almost fall off of my sofa. Seriously, one scary, but sexy dominant man. He pushed Bella so hard, and she tried so hard the first time to do what he wanted, but couldn't. It was all about trust with her. She had been through so many other previous relationships that let her down; she didn't know how to let Kole take over for her. He was one patient guy though with her. He knew from the beginning what he was getting himself into with her. Bella on the other hand, who was warned from the beginning from her best friend Marley, still managed to be nervous.
I loved how both of this characters met each other, and I knew from "Bind Me" that Bella was going to have a robust Male character that she fell for in her life. She is one strong, sassy woman and Kole proved to her what she desired in this book.
Again, there were moments in this book that was uncomfortable, but that's because Kole was such a pain-streaked Dom. I had to get used to him and the way he was.
I recommend this book to anyone who loves the genre Erotica and BDSM. You'll get some flogging, hard-ass spanking & smacking, some candle wax and much, much more. Just be prepared for some steamy, sexy, mind-blowing scenes between Kole and Bella.
I look forward to the third book in the series. I want to know who Kyra and Sadie end up with and what their secret fantasies are.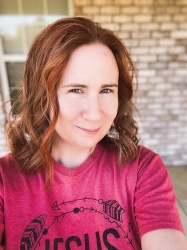 Latest posts by FranJessca
(see all)