ARC Review: 'All For You' by Jessica Scott
February 1, 2014
I received a complimentary copy of the book from Netgalley, the publisher in exchange for an honest review. This does not affect my opinion of the book or the content of my review.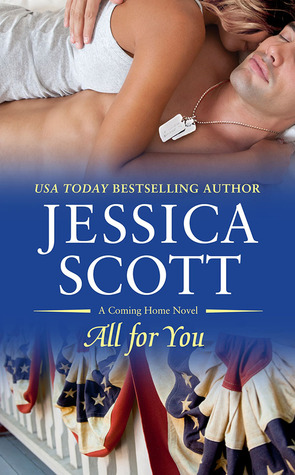 All For You
by
Jessica Scott
Series:
Coming Home #4
Published by
Grand Central Publishing
on November 25, 2014
Genres:
Contemporary Romance
,
Military Romance
Format:
eArc
Source:
Netgalley, the publisher
Goodreads
Purchase at
Amazon
|
Apple
Sergeant Reza Iaconelli joined the army to make something of his life. On the surface, Reza is the perfect soldier, a warrior god who men follow anywhere. But beneath the uniform is a jaded soldier, worn down by the war.
After a disastrous relationship, Army Captain Emily Lindberg donned the uniform, searching for a purpose in a life she'd nearly surrendered control of. She's always admired soldiers, despite her upper-class parents looking down on all things military. When Sergeant Iaconelli ends up in her office, she's unexpectedly drawn to the wicked flirt, despite the barriers that exist between them as officer and enlisted. But as she digs deeper, she discovers that Reza is not what she expected.
My Review
I had the privilege of reading this book before it came out thanks to the publisher approving me on Netgalley. I would have had a review typed up earlier for it, but this book took its toll on me. Jessica Scott made me weep like a baby again. This book touched my heart in so many ways. The author's note at the end of the book made me cry even more. If you have ever served in the military (any branch), you will know one of the most significant issues that the military deals with today. The Army, Navy, Marines, Air Force and Coast Guard deal with this every year. They lose so many military members to this, and Jessica Scott is an Author that gives us a story on it through fictional characters.
Of course, let me remind you that All for you is based on fictional characters, but what First Class Reza Iaconelli and Captain Emily Lindberg went through in this book is something that plagues the military.
Reza in All for You is trying to stay strong as a leader, but it's kind of hard when he thinks the Army is wasting its time on the people that deserve to be out but end up staying in. He believes they should be focused on pushing those soldiers out and helping the ones that truly need help. He has Emily that thinks differently, but she's never been on the war front before. She wants to help out all the soldiers that need it. It takes Reza to open her up, what is going on, and it takes Emily to make Reza realize that everyone needs help. They need someone there to help them.
Some of the soldiers have the higher-ups treating them like crap and pushing them to the breaking point. Other soldiers are forced into illegal activities that make them want to cover up what happened in the past. It's sad in part of the book how Emily and Reza are there to help one individual, but it ends the wrong way. They feel they could have prevented it.
~*~*~*~*~*~*~*~
Jessica did a fantastic job telling this story and bringing a serious issue to the front. She gives you two characters who needed each other through the tough times, and even through the great moments. I enjoyed reading Reza and Emily's tale.
Jessica is an automatic auto-buy author for me. She has a fantastic way of making me fall for the characters. I end up bawling for days after I read her books because her books tell a story of things I've noticed or heard of when I was in the military. I swear every book she writes makes me cry even worst. I prepare myself ahead of time with a box of tissues alongside. If I forget the tissues, I use my husband for comfort. My hubs is starting to realize every time I read a Jessica Scott's book to be prepared for lots of crying and days of moping. He thinks I'm crazy for continuously reading these kinds of books, but he'll never understand.
I give this book 5 full moons and patiently wait for the next Coming Home book from Jessica Scott. Gives me time to stock up on my tissues again.
If you are a fan of contemporary military romance, then you need to check out this series from Jessica Scott right away.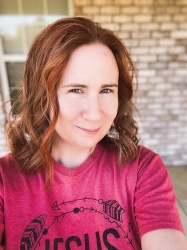 Latest posts by FranJessca
(see all)