ARC Review: 'Bared' by Stacey Kennedy
February 10, 2014
I received a complimentary copy of the book from Netgalley, the publisher in exchange for an honest review. This does not affect my opinion of the book or the content of my review.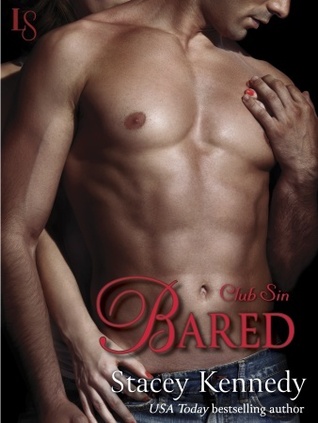 Bared
by
Stacey Kennedy
Series:
Club Sin #2
Published by
Loveswept
on February 10, 2014
Genres:
Erotic Romance
Format:
eArc
Source:
Netgalley, the publisher
Goodreads
Purchase at
Amazon

In a novel that's perfect for fans of Shayla Black, Stacey Kennedy returns to Club Sin with another wicked and wild tale of submission, seduction, and love.
At Las Vegas's exclusive Club Sin, Aidan Knight is the Master, unleashing the erotic yearnings of his submissive lovers. But his dominant façade conceals a devastating loss—something he instantly recognizes in his personally trained submissive Cora Adams. Sworn to unearth her secrets, Aidan uses his seductive skills to ignite her wildest desires until Cora yields to the pleasure she can find only with him.
Cora came to the BDSM club to act out her sub-and-dom fantasies without ever revealing the heartbreak that haunts her. But Aidan's masterful touch is bringing her closer to the edge . . . and deeper into a world of control and surrender. He refuses to allow her to submit to any other man—nor does she want to. It's a dangerous game they're playing. For as they give in to passion, they must lay bare their souls for a love that could heal—and free—them both.
Bared is an erotic romance intended for mature audiences.
My Review
Bared is the second book in the Club Sin series and it has some severe kink to it. (It will include lots of tension and secrets going around though…be warned) I have been patiently waiting for Aidan's book since he was introduced in Claimed. I'm patiently waiting for every one of the Club Sin Masters' books. =)
Stacey gives us Aidan and Cora's story, and they are one hot couple together. Aidan is the sexy lawyer by day and Club Sin Master at night. His submissive for two years now has always been Cora, but he has made no move to collar Cora. Aidan is still dealing with his past with another submissive he had. He is having a hard time getting over her and what happened to her. He's afraid to feel for another submissive like he did in the past.
Cora is the social services counselor by day and submissive to Aidan by night. She keeps both her job and her pleasure from intertwining together. None of her co-workers know of her thrills that she has with Aidan. They assume she goes out with the girls at night, but Cora has known she has loved the BDSM lifestyle since before Club Sin. She had another Dom before, and now he is more of a best friend. Porter was always there for her, and her past with Porter is going to creep up, due to what is going to occur with her and Aidan.
Aidan in Bared is going to play the "I don't know" card, and he's worried because Cora is shutting down on him in Bared. I swear he was clueless. There were times I wanted to go through the book and smack him around. Wake up, Aidan….Grrrr!!! He's a dang lawyer shouldn't he figure out what is going on right away. Geez LOL, He did show his dominant ways though, which made me forget all his crazy foolishness at times.
Cora was annoying at times as well. She drove me crazy about not sharing what she felt. I wanted to smack her around. Another GRRRRR moment!!!!
Between Aidan and Cora going back and forth with each other and one particular scene, where Aidan stops what he is doing with Cora. Let's say, I screamed at them. You foolish characters who drove me crazy, but Stacey managed to redeem my love for them at the end. Aidan won me over at the end of the book. I'll leave it at that because I don't want to spoil it.
Whenever these two characters got together though…it was like the room I was in was heating up whenever I read their sex scenes together. Aidan and Cora had some serious HOT chemistry. Could they not see and feel it? (Must remind me they are fictional)
I give this book 4 full moons and recommend it to readers out there that enjoy an erotic romance with BDSM elements to it. Be ready for some serious kink. Stacey knows how to heat it a notch in each of the books she writes.
I'm looking forward to Kyler's book next. He won me over in Bared. He put Aidan in his place in certain parts of the books. Oh yes, …he showed he is a Dom for a reason. LOVE him!!!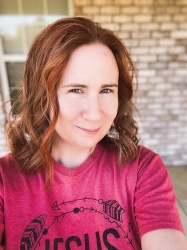 Latest posts by FranJessca
(see all)