ARC Review: 'Believe' by Erin McCarthy
January 28, 2014
I received a complimentary copy of the book from Netgalley, the publisher in exchange for an honest review. This does not affect my opinion of the book or the content of my review.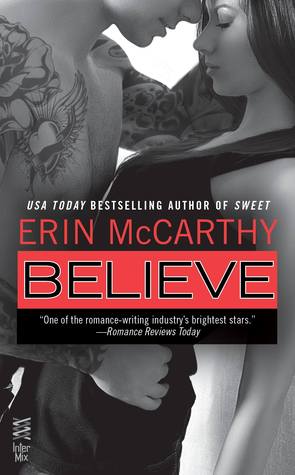 Believe
by
Erin McCarthy
Series:
True Believers #3
Published by
Penguin Group (USA)
on January 21, 2014
Format:
eArc
Source:
Netgalley, the publisher
Goodreads
Purchase at
Amazon
|
Apple
Robin used to be a party girl… until she got black out drunk and woke up in bed with her best friend's boyfriend. Now she's faced with being THAT girl, and couldn't be more disgusted with herself. She can't even tell her friends the reason for her sudden sobriety and she avoids everyone until she meets Phoenix—quiet, tattooed, and different in every way that's good and oh, so bad…
Phoenix is two days out of jail when he meets Robin at his cousin's house, and he knows that he has no business talking to her, but he's drawn to her quiet demeanor, sweet smile, and artistic talent. She doesn't care that he's done time, or that he only has five bucks to his name, and she supports his goal to be a tattoo artist.
But Phoenix knows Robin has a secret, and that it's a naïve dream to believe that his record won't catch up with them at some point. Though neither is prepared for the explosive result when the past collides with the present…
My Review
Believe is the 3rd book in the True Believers series, and introduces Tyler and Riley's cousin, Phoenix. I was excited to read all about the Phoenix since the guy has had a hard life. He just got out of jail and ended up meeting Robin at his cousin's house. He notices her out of everyone else because of how quiet she is compared to her friends and that she has artistic talent, just like he does. He immediately is told by his cousins to leave her alone and not to get involved with her. Unfortunately, that makes Phoenix even more tempted to get to know Robin. Robin has had a rough summer as well, due to what happened between her and her best friend's boyfriend. She doesn't remember anything from the incident but knows she did something wrong. She has stopped drinking and partying because of it. The minute she meets Phoenix, she becomes intrigued by him.
What I enjoyed most about Believe is how both characters didn't listen to their family and friends about each other, and end up helping each other through their problems. Although, Robin tends to run away from her problems, and I noticed that about her in the book. She drove me crazy with keeping the secret of what she did in the summer from her friends. She could have handled it from the beginning but decided to have it blow up later on. I also was a little peeved on what went down at the end between her and Phoenix. Phoenix had every right to be mad at her. I did not click well with Robin, as I did with Rory, but she did grow on me at the end.
Phoenix won me over in this book due to his sweet personality. Even for being such an aggressive person (only when he felt someone needed a good punch or kick), he knew how to be gentle and caring to his family and friends. He had his problems, and he managed to get through them with some help. He just wanted to help Robin on getting over her past and moving with him in the present, but Robin had to deal with the issues differently than Phoenix.
Erin McCarthy did a great job on introducing two characters together that needed each other. Robin and Phoenix were meant to meet each other. They both were into art, and they both enjoyed each other's company when life was crumbling around them. They helped each other get over their past and present digressions.
I give this book 4 full moons and recommend it to New Adult readers out there. You will want to read the first two books though, to find out more about the previous characters. The previous characters are in Believe, which is a plus for me. I love knowing what is happening to the other characters. =)
I hope Kylie gets her happily ever after in the next book. She deserves it after, what happened in this book. Poor girl! If she were not a fictional character, I would give her a huge hug.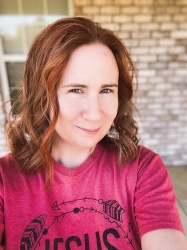 Latest posts by FranJessca
(see all)