I received this book for free from RockStar PR in exchange for an honest review. This does not affect my opinion of the book or the content of my review.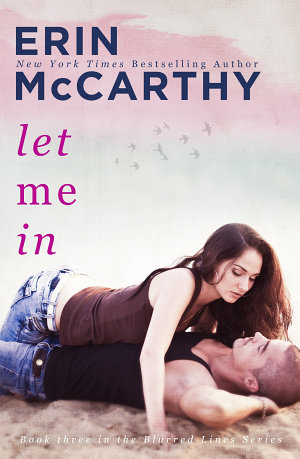 Let Me In
by Erin McCarthy
Series: Blurred Lines #3
Published by Createspace on September 21, 2014
Genres: New Adult
Format: eArc
Source: RockStar PR
Amazon | B&N
Goodreads


A girl in danger…
Aubrey Walsh never dreamed that she would find herself in an abusive relationship, but after her boyfriend hits her so hard he breaks her tooth, she flees the University of Maine to hide on a remote island with her best friend. Only to discover that she is pregnant. Terrified of what will happen if Jared finds out, she is walking along the rocks, deciding her future, when she slips.
A guy with a secret past…
After a job gone wrong, Riker has left the assassin business and is incognito as a ferryboat operator off the shores of Maine. It's a lonely life, and when he sees a young woman almost fall off the rocks, he doesn't hesitate to save her and take her in, though he's determined to stay unemotionally uninvolved. But when the truth about her situation is revealed, he will do anything to protect Aubrey and her unborn child.
Even marry her. Even kill for her.
When Jared comes looking for the only girl who has ever rejected him, Riker won't allow it. And Aubrey is torn between protecting herself and her child, or protecting the mysterious husband she has come to love.
And when chance brings them together but fate tears them apart, can their love survive the storm?
My Review Continue reading →
I received this book for free from the Author in exchange for an honest review. This does not affect my opinion of the book or the content of my review.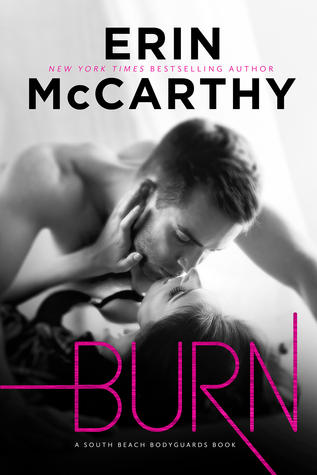 Burn (South Beach Bodyguards, #1)
by Erin McCarthy
Published by Erin McCarthy on January 5th 2016
Genres: Fiction
Source: the Author
Amazon
Goodreads


When bodyguard Ryan Harris finds an intruder in his apartment, he's shocked to realize it's his former stepsister, Isabel Rodriguez. Naked. In his shower. Estranged from his father, he's only met Isabel a few times, but he's seen enough to be distracted and unnerved by how gorgeous she is wet and two feet away from him. And did he mention naked? But Isabel insists her name is Julia. It's either a con or a case of amnesia. Either way, he can't lay a hand on his stepsister… or can he? The rules have never stopped him before and they're not about to now.
Isabel doesn't know how she got into her stepbrother Ryan's apartment, or that they're related. She only knows that she feels safe with him. Not to mention very sexy given the way he looks at her. Determined to be underneath that rock solid body, she can't seem to keep her clothes on around him, even when he tries to resist. When Ryan gives in to the sexual tension between them, there will be no forgetting this steamy night of passion.
No one knows why she's lost her memory, but she can ignore the uncomfortable reality when she's protected by Ryan and his hot-blooded strength. But when her memories come crashing back in, will the waves drown out stepbrother Ryan's deepening feelings for her?
For fans of hot alpha heroes, bestselling author Erin McCarthy introduces her new series, SOUTH BEACH BODYGUARDS. In a city synonymous with sexy, the hot men of Miami Security will always protect your back with very personal one-on-one attention…
My Review Continue reading →
I received this book for free from the Author in exchange for an honest review. This does not affect my opinion of the book or the content of my review.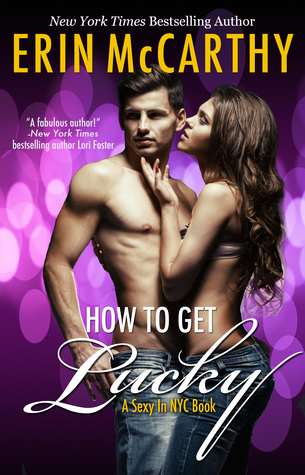 How To Get Lucky
by Erin McCarthy
Series: Sexy in NYC #3
Published by Self-Published on June 22, 2015
Genres: Contemporary Romance
Amazon | B&N
Goodreads


Sometimes there is more than one way to get lucky…
Allison Parker knows winning the New York state lottery is impossible for a retail slave and fashion designer wanna-be who doesn't, uh, play the lottery. But after a particularly bad day at work and a random prediction from a quirky psychic, she does just that, and wins. Money. Lots of it.
Marco Lucky is exhausted over his bandmates and their diva antics and is looking for an escape. Yet finding a quiet spot in New York City is damn near impossible and he's already tired of the women hitting on him strictly because he's famous. But then the crazy brunette with the winning lottery ticket tells him exactly what she thinks of him and it isn't flattering. He finds himself determined to get to know her better... a whole lot better and prove he is worth her time.
Allison figures it's only fitting that she be the first woman in the history of ever to hit the lottery and score a smoking hot rock star all in one night, only to wake up with her entire life destroyed a mere eighteen hours later when her lottery ticket is missing. Marco's offer of help makes her feel like the biggest lame ass loser ever, and while she can't take his money, she can take a weekend in LA and some smoking hot sex. But that's all it can be with him rich and hitting the road and her hitting the unemployment line.
From two different cities, and two different worlds, can Marco and Allison put the issue of money to bed? Because being lucky in love just might be hitting the jackpot after all…
HOW TO GET LUCKY is book three in the "Sexy in NYC" series. The first two books, The Pregnancy Test and You Don't Know Jack, are also currently available by USA Today and NY Times bestselling author Erin McCarthy. After ten years of waiting to conclude the series, follow these girlfriends as they all find love, laughter, and labels in Manhattan.
My Review: Continue reading →
I received this book for free from the Author in exchange for an honest review. This does not affect my opinion of the book or the content of my review.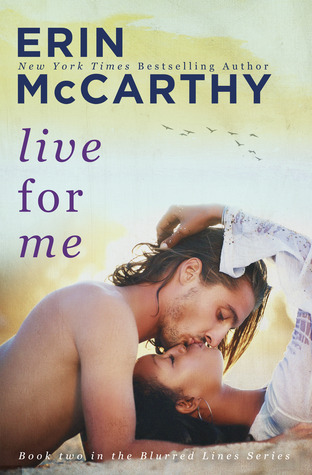 Live for Me
by Erin McCarthy
Series: Blurred Lines #2
Published by Self-Published on June 30th 2014
Genres: New Adult
Pages: 275
Format: eArc
Amazon
Goodreads


The solace she sought…
In and out of foster care her whole life, Tiffany Ennis has never had space or privacy, so housesitting a mansion on the coast of Maine with only the absentee rich owner's dog for company is pure bliss. But her peace is shattered when the injured owner returns to his compound unexpectedly. Tiffany finds him to be sexy and intriguing, showing an interest in her that must be mocking, given that everyone's always told her she's plain, nothing special.
Becomes an affair she never expected…
Devin Gold, known in the music industry as Gold Daddy, is usually in New York City attending drop parties and having men and women alike throw themselves at him, and Tiffany wishes he'd stayed there. There's no reason for a top producer to hole up in Maine in the dead of winter, and every time she turns around he's asking her prying questions. She finds herself starting to enjoy their intellectual conversations and clever sparring matches, and in a hot minute she's falling for him. Even knowing that he's a decade older, filthy rich, and could only want her for his momentary amusement.
Yet even when he hosts beautiful and confident guests from the city, he still seems to prefer her company, and is protective when odd things start happening around the house, threatening her safety. But how far is Tiffany willing to go with a man who is still very much married, estranged wife or not, just to feel special?
And all the lines between past and present and right and wrong are blurred…
My Review Continue reading →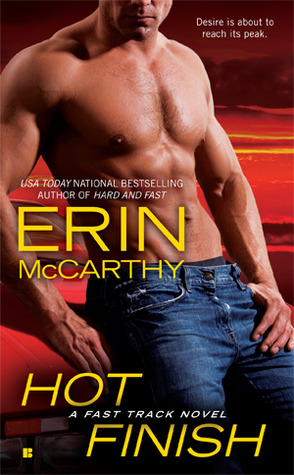 Hot Finish
by Erin McCarthy
Series: Fast Track #3
Published by Berkley on August 3rd 2010
Genres: Contemporary Romance
Pages: 284
Format: Paperback
Source: Library
Amazon | B&N
Goodreads


Desire is about to reach its peak.
Suzanne Jefferson is broke, which is why she's given up charity work for wedding planning. Fortunately, she has a high-profile client-and best of all, he's paid in advance. There are just two teensy problems: the bride is a bona fide bridezilla, and Suzanne's stock racer ex- husband is the best man. At least she thought he was her ex-husband...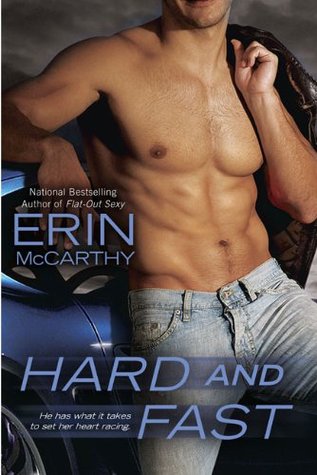 Hard and Fast
by Erin McCarthy
Series: Fast Track #2
Published by Berkley on May 5th 2009
Genres: Contemporary Romance
Pages: 304
Format: Paperback
Source: Library
Amazon | B&N
Goodreads


The sequel to Flat-Out Sexy, starring a bad boy race car driver hero who's met his match-from a hot USA Today bestselling author.
Grad student Imogen Wilson realizes she's hit on the perfect thesis for her sociology degree. If she follows the so-called "rules" on how to get a man, can she steer her way into the world and hearts of stock race car drivers, and establish their dating- and mating-patterns?
Although sexy and reckless racer Ty McCordle is the ideal test subject, Imogen knows that for the sake of science, she can't give in to her growing attraction for him. Yet he's the one who's chasing after her, and Imogen realizes that she actually wants to be caught. A southern gentleman like Ty will satisfy all her curiosity-and make all the risks worthwhile...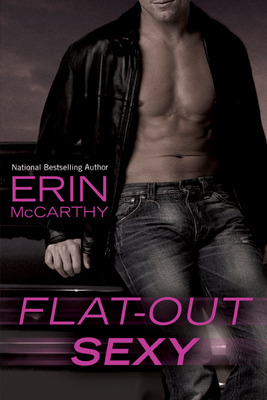 Flat-Out Sexy
by Erin McCarthy
Series: Fast Track #1
Published by Berkley on November 4th 2008
Genres: Contemporary Romance
Pages: 291
Format: Paperback
Source: Library
Amazon | B&N
Goodreads

Independent single mother Tamara Briggs wanted to find a new, sexy, no-strings-attached man--just not one as young as NASCAR driver Elec Monroe. But he sure does get her heart racing. And after she's tricked into a blind date with him, Tamara gives in to her passion. Things screech to a halt, though, when he asks to meet her children. Whatever happened to wham-bam-thank-you ma'am? Suddenly Tamara has to decide how much risk she's willing to take to experience the power of true love.
My Review