ARC Review: 'Live for Me' by Erin McCarthy
July 4, 2014
I received a complimentary copy of the book from the author in exchange for an honest review. This does not affect my opinion of the book or the content of my review.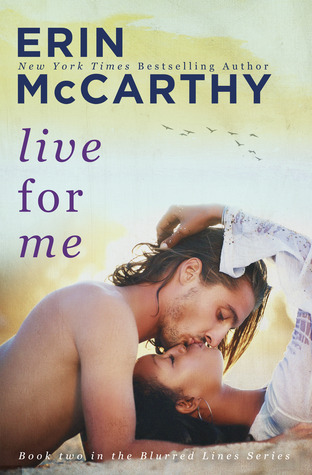 Live for Me
by
Erin McCarthy
Series:
Blurred Lines #2
Published by
Self-Published
on June 30th 2014
Format:
eArc
Goodreads
Purchase at
Amazon

The solace she sought…
In and out of foster care her whole life, Tiffany Ennis has never had space or privacy, so housesitting a mansion on the coast of Maine with only the absentee rich owner's dog for company is pure bliss. But her peace is shattered when the injured owner returns to his compound unexpectedly. Tiffany finds him to be sexy and intriguing, showing an interest in her that must be mocking, given that everyone's always told her she's plain, nothing special.
Becomes an affair she never expected…
Devin Gold, known in the music industry as Gold Daddy, is usually in New York City attending drop parties and having men and women alike throw themselves at him, and Tiffany wishes he'd stayed there. There's no reason for a top producer to hole up in Maine in the dead of winter, and every time she turns around he's asking her prying questions. She finds herself starting to enjoy their intellectual conversations and clever sparring matches, and in a hot minute she's falling for him. Even knowing that he's a decade older, filthy rich, and could only want her for his momentary amusement.
Yet even when he hosts beautiful and confident guests from the city, he still seems to prefer her company, and is protective when odd things start happening around the house, threatening her safety. But how far is Tiffany willing to go with a man who is still very much married, estranged wife or not, just to feel special?
And all the lines between past and present and right and wrong are blurred…
My Review
I adore Erin McCarthy's books and look forward to diving into the world of each, especially when I need something to take me away from college assignments for a while. I actually read Live for Me in between working two projects because believe me I needed to stop reading about Information Security otherwise I was going to go insane.
In Live for Me, we have Tiffany Ennis who has had a hard life and it seems no one wants anything to do with her, especially her Grandmother. She ends up becoming a house sitter to Devin Gold's house in Maine because he's never there to stay to take care of it. He's a millionaire so he likes to stay in New York and only comes to Maine to get away from his crazy lifestyle every once in a while. Tiffany is on her own now with no one there, so she finds this opportunity hard to pass up. She's used to being alone anyways until the owner of the house comes back unexpectedly on the first night she is supposed to house sit. She's taken back by his looks, due to fact she thought she was house sitting for a older rich guy. Instead, Devin Gold is in his thirties and quite handsome looking. Tiffany automatically starts feeling attracted to Devin. He is one strange guy though with his bossy ways and over-bearing personality. Tiffany is not used to having someone tell her what to do and she puts Devin in his place several times. Devin is not used to having a woman give a hard time, especially when she is much younger than he is. He is attracted to her and that attraction could go down a path he is not really ready to go into or handle.
I won't go into the story any further because I don't like to spoil the story for anyone. Here's some things I really enjoyed about Live for Me. I loved Tiffany's character because she's young, but she is mature for her age. Devin even notices it in the very beginning when he meets her. I wasn't expecting Devin to be older, but I love reading about romance stories that have an age difference to them. Maybe because my husband and I have an age difference and he always swore I was older than I seemed because the way I handled myself. Tiffany reminds me of myself because of her being so grown up for her age. She is forced to be grown up. The poor girl. I felt so sympathetic towards her, but I was proud to how she handled herself in the book. There was a part that had me in tears because of what she was going through. I just wanted to go through the book, and give her a huge hug and tell her it was going to be alright. Another thing I adored about the story is how intense some scenes were, but Erin would throw in some humor to lighten it up a bit. I will tell you this, Tiffany handled herself very well around Devin's so-called friends at the end. I was proud of her. My ultimate favorite part in the book was the ending on what Tiffany did to find someone in her life. Gosh darn nit…I love when characters get some kind of HEA.
There were things that didn't work out, when I was reading Life for Me though. Devin drove me crazy with his personality constantly switching. One moment he's lovey-dovey, the next he's giving the cold shoulder. I wanted to slap his face at times, the way he played Tiffany at times. Grrr!! There was also the dilemma of the book going too fast paced towards close to the end. The relationship of Tiffany and Devin went a little haywire in my opinion. Oh…I was even confused with what was going on with Devin, but I won't mention that dilemma because it's something that readers need to find out for themselves.
Other than that, Live for Me was enjoyable read. It took me away from my college assignments weighing me down and helped me breathe for a while. I was getting stressed, and Live for Me took the stress away, even though Devin stressed me out times. He's okay though, he started winning me over towards the end, even though he was too emotional (in a man's way).
I give this book 3.5 moons and look forward to reading the next book in the Blurred Lines series.
I received a complimentary copy of the book from the author in exchange for an honest review.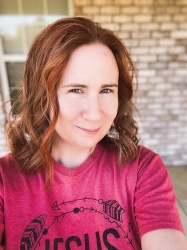 Latest posts by FranJessca
(see all)