I received this book for free from RockStar PR in exchange for an honest review. This does not affect my opinion of the book or the content of my review.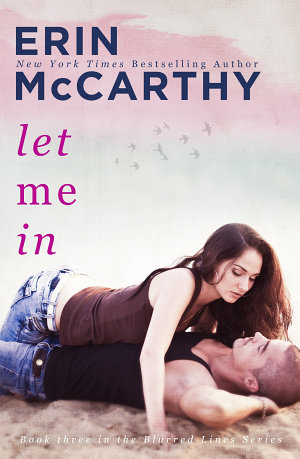 Let Me In
by Erin McCarthy
Series: Blurred Lines #3
Published by Createspace on September 21, 2014
Genres: New Adult
Format: eArc
Source: RockStar PR
Amazon | B&N
Goodreads


A girl in danger…
Aubrey Walsh never dreamed that she would find herself in an abusive relationship, but after her boyfriend hits her so hard he breaks her tooth, she flees the University of Maine to hide on a remote island with her best friend. Only to discover that she is pregnant. Terrified of what will happen if Jared finds out, she is walking along the rocks, deciding her future, when she slips.
A guy with a secret past…
After a job gone wrong, Riker has left the assassin business and is incognito as a ferryboat operator off the shores of Maine. It's a lonely life, and when he sees a young woman almost fall off the rocks, he doesn't hesitate to save her and take her in, though he's determined to stay unemotionally uninvolved. But when the truth about her situation is revealed, he will do anything to protect Aubrey and her unborn child.
Even marry her. Even kill for her.
When Jared comes looking for the only girl who has ever rejected him, Riker won't allow it. And Aubrey is torn between protecting herself and her child, or protecting the mysterious husband she has come to love.
And when chance brings them together but fate tears them apart, can their love survive the storm?
My Review Continue reading →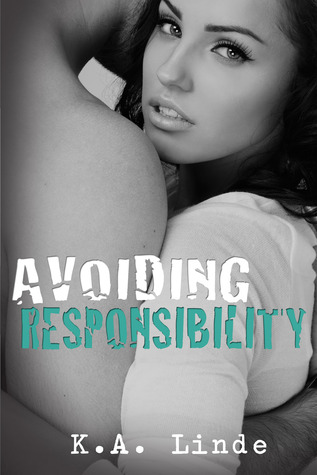 Avoiding Responsibility
by K.A. Linde
Published by Createspace on December 1st 2012
Genres: New Adult
Pages: 350
Source: Purchased
Amazon
Goodreads


Lexi has finally given up her once destructive relationships and moved onto bigger and better things with a sexy new man in town. Just when she is starting to figure it out with him, her world is tilted once again with a phone call from none other than Ramsey Bridges. A year after his entrance into her life, Ramsey is trying to make amends and does the one thing she never expects—invites her to Jack's wedding.
The wedding she had evaded at all costs. But no matter what she does, Lexi can't seem to escape her past with Jack. But does she really want to?
Despite the explosive chemistry between Lexi and Ramsey, she is skeptical about trusting him after everything that has happened. When things are amiss with him, she starts questioning his motives. Can Ramsey be the one to remove Jack from Lexi's life permanently or should she move on with her blossoming new life?
My Review Continue reading →
I received this book for free from the Author in exchange for an honest review. This does not affect my opinion of the book or the content of my review.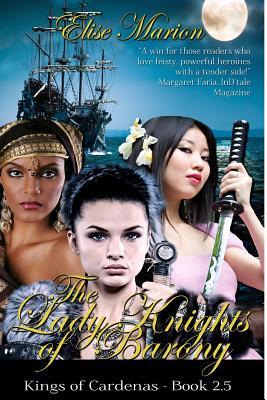 The Lady Knights of Barony
by Elise Marion
Series: Kings of Cardenas #2.5
Published by Createspace on July 31st 2012
Genres: Historical Romance
Pages: 342
Format: eArc
Source: the Author
Amazon | B&N
Goodreads


Three women. Three stories. One Sisterhood.
With the war in Barony at an end, peace reigns and rebuilding efforts continue beneath the steady vigilance of King Serge and Queen Isabelle. The lady knights have returned home, unchanged by new titles and lands. But with a rash of kidnappings spreading across the province, the lady knights will find themselves torn apart by the machinations of a mad man.
Ava Longley, captain of the lady knights, never expected to become the target of an obsessed murderous madman. When a kidnapper is sent to abduct her, Ava sees it as the perfect opportunity to bring the mastermind to justice. To Julian Vincent, Lady Longley is no more than the means to an end. However, when sparks fly between them, Julian is faced with an impossible decision.
After being sold into slavery by her king and washing up onto the shore of Cardenas, the friendless African Amazon, Mudiwa Akua, was taken in by Barony's female soldier's regiment. When her tranquil existence is disturbed and she finds herself on a ship bound for the exotic island of Martinique, Mudiwa faces certain death and possible enslavement for the second time in her life, dredging up ghosts of a past she had long thought forgotten. When planter Isaac Prideux comes upon a mysterious African woman, beaten and half-dead, he takes it upon himself to care for her. He never imagined doing so would shake up his monotonous life so completely.
After the highly honored title of onna bugeisha—the feminine equivalent of a samurai—begins to lose its power in Japan, Hanako Kiyomi sees no choice but to flee. But when her deserted husband comes searching for her, Hanako escapes him the only way she knows how: marriage in name only to a stranger. Lord Garrick Overton has always admired the cool, stoic Hanako from afar. Marriage to the woman he's desired for years seems like a good idea; until she proposes the marriage be in name only. As he sets out to win her heart, he faces not only a tough task but a begrudged man that will stop at nothing to win back what he has lost.
Their courage will be tried. Their hearts will be put to the test. Can three headstrong women maintain their independent natures while surrendering to love?
My Review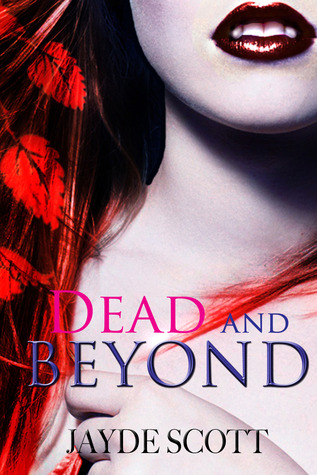 Dead And Beyond
by Jayde Scott
Series: Ancient Legends #4
Published by Createspace on February 25th 2012
Genres: Paranormal Romance
Pages: 292
Format: eArc
Source: the Author
Amazon | B&N
Goodreads


Amber Reed is a dead girl walking.
Having just been turned by her gorgeous vampire boyfriend, eighteen-year-old Amber Reed is bestowed with the ability to see ghosts. Between trying to figure out how to control her bloodlust and solving the mysterious disappearance of a friend, Amber realizes someone wants to step into her shoes so badly, they'll do anything to take her place.
When one secret after another pops up, the only person who believes her is her enemy, Devon. Amber can't figure out if he's here to help or save his own immortal race from losing the ancient war against the vampires. What she does know, however, is that she can't resist his good looks just as much as she can't help becoming someone else…
In a world of dark magic and ancient enemies, three powerful courts fight for supremacy, and Amber might just be the pawn in winning this war forever. But how's a girl to survive when everyone wants her dead?
My Review
I received this book for free from the Author in exchange for an honest review. This does not affect my opinion of the book or the content of my review.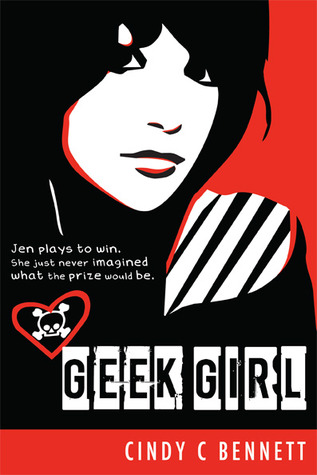 Geek Girl
by Cindy C. Bennett
Published by Cedar Fort on July 26th 2010
Genres: Young Adult
Pages: 318
Format: Paperback
Amazon | B&N
Goodreads


"Think I can turn that boy bad?" 17-year-old Jen turns her life upside down when, out of boredom, she makes a bet that she can turn school geek Trevor into someone like her. Instead, the goth girl finds herself sucked into his world of sci-fi movies, charity work, and even -ugh!- bowling. To truly belong with him -and with her new foster family- she must first come to terms with her violent past.
My Review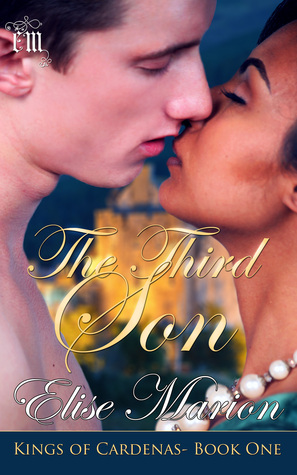 The Third Son
by Elise Marion
Series: Kings of Cardenas #1
Published by Createspace on November 18th 2011
Genres: Historical Romance
Pages: 234
Format: eArc
Amazon | B&N
Goodreads


Rake. Rogue. Scoundrel. Each of these words has been used to describe Damien Largess, youngest prince of Cardenas. But when he steps into a glittering ballroom on the night of his twenty-fifth birthday, the roguish young prince's life will be forever changed. Beautiful. Graceful. Sensual. When Esmeralda steps into king's ballroom to perform for the prince's twenty-fifth birthday, every eye in the room is upon her. One pair of eyes intrigues her most of all ... those of Prince Damien, seeming to stare straight through to her soul. The two know nothing can ever come of their love; he is a prince, and she a Gypsy dancer. Yet, neither can seem to resist the passion that sparks when they are together, or the unmistakable call of destiny forcing their lives onto the same path. However, love is not the only thing destiny has in store ... With a deadly plot against the royal family surrounding him in danger and intrigue, Damien will face a decision he never thought he would have to make. Will he step up to claim a responsibility that should never have fallen to the third son? Or will he abandon it to risk all for love?
My Review
I received this book for free from the Author in exchange for an honest review. This does not affect my opinion of the book or the content of my review.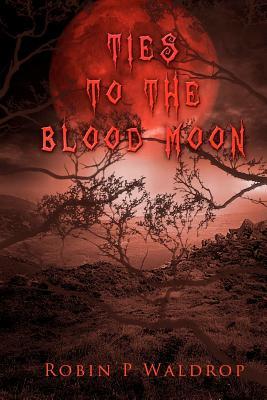 Ties to the Blood Moon
by Robin P. Waldrop, Claudia McKinney
Series: Blood Moon #1
Published by Createspace on January 31st 2012
Pages: 325
Format: eArc
Amazon | B&N
Goodreads


Myths. Legends. fairytales. For most people they are stories, but for one girl they are her history. Genevieve finds herself in a world she never knew existed. And she's not sure if she wants to be a part of it.
My Review
I received this book for free from the Author in exchange for an honest review. This does not affect my opinion of the book or the content of my review.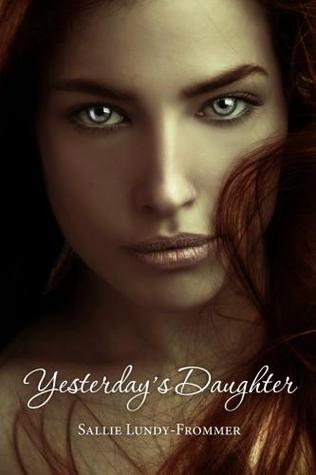 Yesterday's Daughter
by Sallie Lundy-Frommer
Published by Createspace on January 24, 2011
Genres: Paranormal Romance
Pages: 250
Format: eBook
Amazon | B&N
Goodreads


Yesterday's Daughter is an emotionally laden vampire romance novel woven with layers of betrayal, love and loss. Grace Stone, who later learns her true identity is Sapphira, is a loner who survives abuse in the foster care system after being abandoned as a child.
A brilliant student, she escapes from her brutal foster parents as a teenager and creates a life for herself. But, her life is little more than existence; plagued with questions about what she really is, a family that she has never known and the never-ending need to keep her differences hidden. She is alone and lonely, believing it will always remain so until Malachi appears in her life.
Malachi, a Guardian of the vampire communities, has searched for his life mate, Sapphira, for decades. He refuses to cease searching for Sapphira even though she is believed dead by all. Conflict arises over the decades between Malachi and his family because of his refusals to accept another mate. But his very soul drives him on to continue his search, knowing that he could not exist if Sapphira were not in the world, somewhere.