I received a complimentary copy of the book from the author in exchange for an honest review. This does not affect my opinion of the book or the content of my review.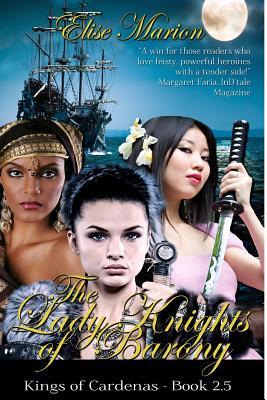 The Lady Knights of Barony
by
Elise Marion
Series:
Kings of Cardenas #2.5
Published by
Createspace
on July 31st 2012
Genres:
Historical Romance
Format:
eArc
Source:
the author
Goodreads
Purchase at
Amazon
|
Apple

Three women. Three stories. One Sisterhood.
With the war in Barony at an end, peace reigns and rebuilding efforts continue beneath the steady vigilance of King Serge and Queen Isabelle. The lady knights have returned home, unchanged by new titles and lands. But with a rash of kidnappings spreading across the province, the lady knights will find themselves torn apart by the machinations of a mad man.
Ava Longley, captain of the lady knights, never expected to become the target of an obsessed murderous madman. When a kidnapper is sent to abduct her, Ava sees it as the perfect opportunity to bring the mastermind to justice. To Julian Vincent, Lady Longley is no more than the means to an end. However, when sparks fly between them, Julian is faced with an impossible decision.
After being sold into slavery by her king and washing up onto the shore of Cardenas, the friendless African Amazon, Mudiwa Akua, was taken in by Barony's female soldier's regiment. When her tranquil existence is disturbed and she finds herself on a ship bound for the exotic island of Martinique, Mudiwa faces certain death and possible enslavement for the second time in her life, dredging up ghosts of a past she had long thought forgotten. When planter Isaac Prideux comes upon a mysterious African woman, beaten and half-dead, he takes it upon himself to care for her. He never imagined doing so would shake up his monotonous life so completely.
After the highly honored title of onna bugeisha—the feminine equivalent of a samurai—begins to lose its power in Japan, Hanako Kiyomi sees no choice but to flee. But when her deserted husband comes searching for her, Hanako escapes him the only way she knows how: marriage in name only to a stranger. Lord Garrick Overton has always admired the cool, stoic Hanako from afar. Marriage to the woman he's desired for years seems like a good idea; until she proposes the marriage be in name only. As he sets out to win her heart, he faces not only a tough task but a begrudged man that will stop at nothing to win back what he has lost.
Their courage will be tried. Their hearts will be put to the test. Can three headstrong women maintain their independent natures while surrendering to love?
My Review