Review: 'The Lady Knights of Barony' by Elise Marion
August 17, 2012
I received a complimentary copy of the book from the author in exchange for an honest review. This does not affect my opinion of the book or the content of my review.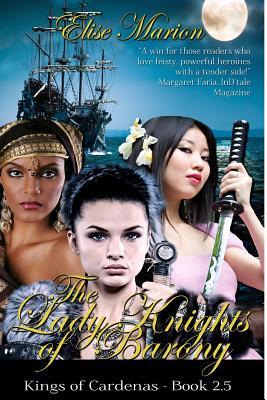 The Lady Knights of Barony
by
Elise Marion
Series:
Kings of Cardenas #2.5
Published by
Createspace
on July 31st 2012
Genres:
Historical Romance
Format:
eArc
Source:
the author
Goodreads
Purchase at
Amazon
|
Apple

Three women. Three stories. One Sisterhood.
With the war in Barony at an end, peace reigns and rebuilding efforts continue beneath the steady vigilance of King Serge and Queen Isabelle. The lady knights have returned home, unchanged by new titles and lands. But with a rash of kidnappings spreading across the province, the lady knights will find themselves torn apart by the machinations of a mad man.
Ava Longley, captain of the lady knights, never expected to become the target of an obsessed murderous madman. When a kidnapper is sent to abduct her, Ava sees it as the perfect opportunity to bring the mastermind to justice. To Julian Vincent, Lady Longley is no more than the means to an end. However, when sparks fly between them, Julian is faced with an impossible decision.
After being sold into slavery by her king and washing up onto the shore of Cardenas, the friendless African Amazon, Mudiwa Akua, was taken in by Barony's female soldier's regiment. When her tranquil existence is disturbed and she finds herself on a ship bound for the exotic island of Martinique, Mudiwa faces certain death and possible enslavement for the second time in her life, dredging up ghosts of a past she had long thought forgotten. When planter Isaac Prideux comes upon a mysterious African woman, beaten and half-dead, he takes it upon himself to care for her. He never imagined doing so would shake up his monotonous life so completely.
After the highly honored title of onna bugeisha—the feminine equivalent of a samurai—begins to lose its power in Japan, Hanako Kiyomi sees no choice but to flee. But when her deserted husband comes searching for her, Hanako escapes him the only way she knows how: marriage in name only to a stranger. Lord Garrick Overton has always admired the cool, stoic Hanako from afar. Marriage to the woman he's desired for years seems like a good idea; until she proposes the marriage be in name only. As he sets out to win her heart, he faces not only a tough task but a begrudged man that will stop at nothing to win back what he has lost.
Their courage will be tried. Their hearts will be put to the test. Can three headstrong women maintain their independent natures while surrendering to love?
My Review
I received a complimentary copy of "The Lady Knights of Barony" from Elise Marion.  I have been a fan of Elise's for awhile now.  She contacted me last year to read her first book in the Kings of Cardenas series, "The Third Son" and ever since I've adored her writing style and her addicting historical romance stories she creates.  =)
I'm doing three separate reviews of "The Lady Knights of Barony" due to the 3 different stories in the book.
I was excited to read about Ava Longley because when I was first introduced to her in "The Second Son", I adored her character.  She is one lady who can seriously kick butt.  I connected with her in The Second Son and connected with her more once I knew more about her.
Ava is on a mission in "The Hellion" to find out who is taking women to sell, but in the mean time she is kidnapped.  Why is she being kidnapped?  Well, the person she is seeking about the women, wants her personally for himself.  She finds this a great idea to find him and kill him, herself.  Although, in the meantime, her kidnapper is someone she finds quite interesting.
I won't go much into detail about the story because I do not want to give anything away.  All I'm going to say is I'm so happy what the outcome was for Ava.  Elise wrote the perfect story for Ava and who she ends up with.  The storyline and what Ava had to go through was definitely keeping me clicking on my Kindle.
Ava was a fave of mine when reading "The Second Son" and she still is.  She is so stubborn, but strong as a female character.  I love reading about female characters who can hold their own.
Beloved:
The second story is on Mudiwa, who is another lady knight that can do some serious damage.  Mudiwa's story touched my heart though and what she has gone through.
Mudiwa was promised to someone, but ended up loving another.  When she is caught, she believes that she has condemned her life and her loved ones to death.  Instead she is sold off into slavery, but while sold off, she ends up on the shore of Barony, where she is taken in by the lady knights of Barony.
Mudiwa's present story is taken up from the ending of "The Hellion" and how she has been enslaved again, but by the man who truly wants another Lady Knight who has captured his eye.
My thoughts on "Beloved" because I really do not want to give away some major parts of the story is that it definitely was an emotional one.  Mudiwa has so much on her shoulders and in her heart for awhile since what happened in her past that she refuses to open up to anyone else.  She never thought someone she never knew, would help her out of a bind.  She also never figured she would fall in love again.
Certain parts of the story was hard to read because of certain violence, but I have to give it to Elise, Mudiwa is one woman who can kick back and kick back hard.  I loved the ending of the story also.  (Nope…not giving it away)  It touched my heart on what a certain character did for Mudiwa to make her realize how much he loved her.
The Accidental Groom:
The last story is about Hanako, who is now become another favorite female character I've read about.  She has her own hidden story before she became a lady knight of Barony.  In the past, she was forced to wed someone she didn't love and she never wanted to be someone's property…so she decided to flee the life that her parents were forcing on her.  That is when she came upon Ava and the other lady knights.  Now though, her past is coming back for revenge…and the only way to get away from it, is to make a accidental deal with someone she's only known by glimpses.
My thoughts on "The Accidental Groom" were how much I adored the story of Hanako.  I actually did not realize know she was so different from Ava and Mudiwa.  She kept so much inside of her and she had a legitimate reason to run away from her arranged marriage.  The person she ends up with, played along with everything and accepted Hanako for who she was and what she was.  This story had me in tears over another matter.  Hanako definitely did a 360 in the story on a certain young person who changed her heart.  She took on more responsibilities then she really was used to.  She also learned to accept some things in her life she really didn't want.  She was an amazing character to learn more about.
After reading all three stories, I definitely feel connected to the Lady Knights of Barony even more.  I loved reading about each individual story and how they all got their happily ever after.  They all went through a rough time to get there, but they all managed to find the perfect man to help each one of them with their issues.  The men that Elise wrote about in all 3 stories were all gentlemen.  I think my favorite of all three though is Garrick.  You'll have to find out why, by reading "The Lady Knights of Barony" and if you haven't read the first two books, then I definitely suggest you do.
I highly recommend this book to historical romance readers out there and readers who have read the first two books to the Kings of Cardenas series.  You'll fall in love with these Lady Knights just like I did.
I really look forward to the next Kings of Cardenas book now since I got a glimpse on what happened to one certain character that I've wondered about for awhile now. Elise Marion definitely will have me anxiously waiting for the next book now.  =)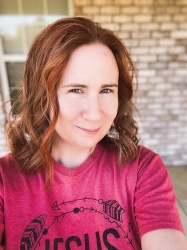 Latest posts by FranJessca
(see all)