Review: 'The Second Son' by Elise Marion
January 27, 2012
I received a complimentary copy of the book from the author in exchange for an honest review. This does not affect my opinion of the book or the content of my review.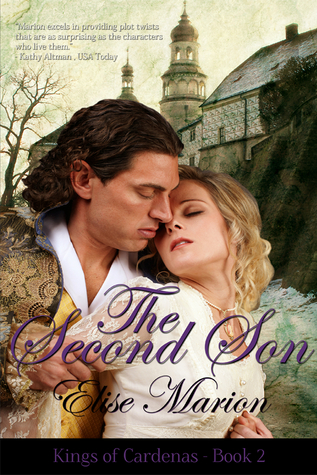 The Second Son
by
Elise Marion
Series:
Kings of Cardenas #2
Published by
Marion Press
on January 14th 2014
Genres:
Historical Romance
Format:
eArc
Source:
the author
Goodreads
Purchase at
Amazon

He has always loved her. She is still reeling from the lost of her first love. Can a marriage of convenience give birth to true love? Can the second son of a king prove his worth? Will a pampered princess stand beside her husband to save her country and her people?
My Review
I was looking forward to reading the next book from Elise Marion's King of Cardenas Series. After reading "The Third Son" I fell in love with the world she created. I had never read Historical Romance before until I read "The Third Son." I don't know what I was thinking about avoiding the Genre…because now I can't get enough of it.
This book was about Serge and Isabelle. It picks up from where the last book left off. Serge was badly hurt in the last book, and he was in a coma. They never thought he would wake up, but he proved everyone wrong. The only person who really didn't give up him was Isabelle, his brother's wife (Lionus). Isabelle was his best friend, and he always had feelings for her, but she was destined to be married to his older brother, Lionus. Isabelle never thought her world would be thrown upside down though and she lost Lionus in the last book. In "The Second" Son, Isabelle is being forced to remarry so she can claim her throne in Barony. Who does everyone suggest she marry but her best friend and her late husband's brother, Serge? Can she love him though like she did Lionus the only way for you to find out is to read this book? =)
What I loved most about this book, was how strong a character Isabelle was. She was dealing with a lot during the beginning of the book and couldn't get over her husband, Lionus. She had been mourning him for over a year, and now she had to make a hard decision of re-marrying. How could she love someone again? Towards the end, she decided to become a stronger woman than anyone expected. She took it upon herself, to make Barony realize she would be a fantastic Queen to them and she wanted to take care of herself and not rely on someone else.
Elise Marion brings two characters together after going through so much. She puts both the characters through tests that they must figure out how to get out. I don't know how many times, poor Serge had to put Isabelle in her place because of the dangers she put herself in her life. He just wanted to keep her safe and all Isabelle wanted to do was a help.
I cried several times in this book because I felt so sorry for Serge in this book. The poor guy lost his brother, lost a year of his life, and he loved a woman who didn't know how to love him back. I also felt sorry for Isabelle because she had lost her husband, was being forced to re-marry and had to learn how to be entirely a Queen. She broke Serge's heart so many times in this book too. I just wanted to jump into the book and tell her to WAKE up already.
This book is full of action-packed love trials that will have you keep turning the page to read what comes next. You will cry, laugh, smile and get mad in certain parts of the book but in the end, you will be amazed at the outcome like I was. I'm looking forward to the next book which will be about Esmeralda's cousin, Tatiana. ***You also get a glimpse of what happens to Tatiana in this book*** =)
So if you haven't read "The Third Son," yet you need to…so you can read "The Second Son."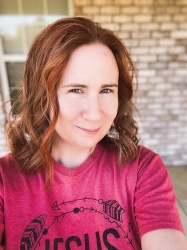 Latest posts by FranJessca
(see all)