Review: 'Dead and Beyond' by Jayde Scott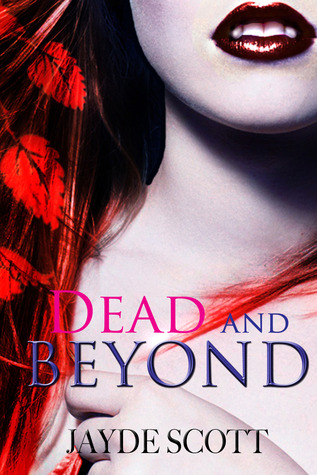 Dead And Beyond
by
Jayde Scott
Series:
Ancient Legends #4
Published by
Createspace
on February 25th 2012
Genres:
Paranormal Romance
Pages:
292
Format:
eArc
Amazon Kindle
|
Amazon Paperback
Goodreads

Amber Reed is a dead girl walking.
Having just been turned by her gorgeous vampire boyfriend, eighteen-year-old Amber Reed is bestowed with the ability to see ghosts. Between trying to figure out how to control her bloodlust and solving the mysterious disappearance of a friend, Amber realizes someone wants to step into her shoes so badly, they'll do anything to take her place.
When one secret after another pops up, the only person who believes her is her enemy, Devon. Amber can't figure out if he's here to help or save his own immortal race from losing the ancient war against the vampires. What she does know, however, is that she can't resist his good looks just as much as she can't help becoming someone else…
In a world of dark magic and ancient enemies, three powerful courts fight for supremacy, and Amber might just be the pawn in winning this war forever. But how's a girl to survive when everyone wants her dead?
My Review
First off, I'm happy to be apart of the Reading Addiction Blog Tour of Dead and Beyond by Jayde Scott. I always love reading books from new authors that I did not know about until now. I usually do not read a book out of order from a series, but I had to jump at the chance to read "Dead and Beyond" when Cami from Reading Addiction Tours sent the information for this blog tour. I was lost for a little bit when reading this book, but the author does explain what happened to the character from previous books (which I now have to read). Amber Reed is the main point of view of the book. She is a newly turned Vampire, and she's trying to adjust to her new life, but she's having a hard time in this book. She's also a necromancer, and now she sees visions. Amber is also very suspicious of her mate/boyfriend, Aidan. He has an assignment he has to do for the demi-goddess who Amber doesn't trust. Amber is also dealing with a ghost/poltergeist in Aidan's home that she is living in now since she's turned into a Vampire who keeps threatening her. On to top of all of those, she is trying to find her friend Angel who disappeared. Amber thinks she knows what happened to her because she saw a vision of her. She has to confide in her Shadow friend/enemy, Devyn to help her, but she doesn't know if she can trust him or not. Aidan will be furious that she's confiding in Devyn because of what Devyn did to her, I guess in a previous book. All in all, I enjoyed reading this book. I have a fascination with vampires and other paranormal creatures which end up in this book too. I did find it a little confusing at times. I guess because I haven't read the other books first, but Jayde did explain everything eventually on what happened as I stated before. I found myself re-reading specific pages so I could understand what happened to Amber and the previous characters. I would have a light bulb go off in my head after I re-read those pages. I do recommend this book to YA book lovers out there and paranormal addicts out there, like myself. I like diving into a world where there's not only vampires but also other creatures, which I won't spoil what, you'll have to read the series. I will say this…I loved the ending. I look forward to knowing what happens to the characters next. I will have to read the first three books through first to get the full effect on what is going on. I give this book three full moons. Maybe, once I read the first three books and re-read this book, I'll end up giving it more full moons later on. I definitely will be coming back to this book though. =)

DISCLOSURE – Please place somewhere in the post for all reviews! *Disclosure of Material Connection: I am a member of Reading Addiction Blog Tours and a copy of this book was provided to me by the author. Although payment may have been received by Reading Addiction Blog Tours, no payment was received by me in exchange for this review. There was no obligation to write a positive review. All opinions expressed are entirely my own and may not necessarily agree with those of the author, publisher, publicist, or readers of this review. This disclosure is in accordance with the Federal Trade Commission's 16 CFR, Part 255, Guides Concerning Use of Endorsements and Testimonials in Advertising*

I guess I should type a bio here. I'm FranJessca or Fran for short. I'm the owner of Book Lovin' Mamas and main Reviewer. I've been reviewing books since I got out of the Navy in 2011. Now 8 years later, I'm still reviewing, but this time with my youngest sidekick.
When I'm not reading and reviewing, you can find me at my day job during the week and on the weekend taking care of our little farm.

Latest posts by FranJessca (see all)