ARC Review: 'Shatter' by Erin McCarthy
September 2, 2014
I received a complimentary copy of the book from Netgalley in exchange for an honest review. This does not affect my opinion of the book or the content of my review.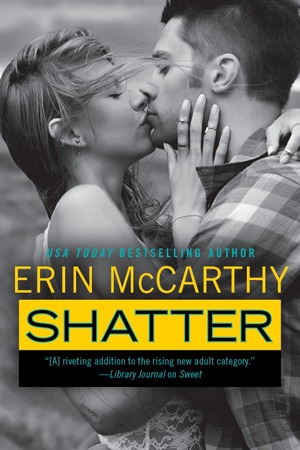 Shatter
by
Erin McCarthy
Series:
True Believers #4
Published by
Intermix
on September 2, 2014
Format:
eArc
Source:
Netgalley
Goodreads
Purchase at
Amazon
|
Apple
|
Kobo

From the USA Today bestselling author of True, Sweet, and Believe comes a tantalizing New Adult novel about finding love in the most unexpected ways…
Kylie Warner prides herself on being optimistic, but after finding her best friend in bed with her boyfriend and flunking chemistry, her upbeat attitude has taken a dive. Even an impromptu hook-up with her sexy new chemistry tutor only brightens her mood slightly. After all, it's not like she'll ever see the tattooed scholar again…
While he's a whiz at complex equations, Jonathon Kadisch has trouble when it comes to figuring out women. So when Kylie tells him that she's pregnant after their night of passion, he's at a complete loss. He's prepared to be a good father—unlike his own deadbeat dad—but he's less prepared to fall for the genuine and alluring blonde bearing his child.
With emotions running high, Kylie wonders if Jonathon's devotion is out of growing love or looming obligation. And when heartbreak threatens to tear them apart, Jonathon will have to fight for the only girl who's ever made him feel whole…

Shatter is the fourth installment to the True Believers series by Erin McCarthy and this by far is my favorite in the series. Erin McCarthy put me through the ringer in this book due to the character Kylie, and what she went through in the previous book and now this book.  I wanted poor Kylie to get her HEA.  She deserved every bit of it after finding out her jerk of a ex-boyfriend slept with her best friend. Unfortunately, Erin made the poor girl go through even more in Shatter and if Kylie was a real person, I would've hugged her like crazy. I'll say it again…she deserved happiness.
Kylie had to made some serious changes in her life after finding out about what her ex-boyfriend did to her.  Her best friends even noticed Kylie was going through a lot and were trying to help her. Her grades were dropping, so she had at least get help in chemistry by getting a tutor. She never thought her chemistry tutor would change her world upside down and make her see how she should be treated as a woman.
Jonathon Kadisch, aka Darwin is the sweetest chemistry whiz ever and I adored every bit of this young man.  He would say things that made him seem like a jerk, but that is because he didn't know how to react with Kylie. He never expected to hook up with something like her, but the instant they meet he can't stop thinking about her.  Jonathon is the guy who will stand up to for you and take care of you no matter what. Gosh…I could go on about him…but I'll stop before I start gushing.
These two went through the a lot in this book, and I lost count on how many times I cried for these two. It felt like the universe was against them the whole entire time in Shatter because they had so many heartbreaking, tearjerking, crazy moments together.   When there were happy moments with these two…let's just say I was grinning ear to ear.  Darwin and Kylie were so adorable together.
WARNING: Be prepared to have tissues on hand with this book. Erin McCarthy definitely upped it notch in this book with the emotions. Geez…every time I think about certain parts I still get teary-eyed.
Shatter has become my favorite in the series and Kylie and Jonathon are my favorite couple out of the bunch.  Gosh darn it…I'm so happy that Kylie got her HEA…I can't say it enough.
I give this book 5 full moons and highly recommend it to New Adult readers out there.  Readers that have not read this series yet, you definitely need to.  I definitely recommend reading in order.  Erin has the previous characters in the book and you will be able to follow along better.
The ending of this book was perfect and Erin McCarthy did an amazing job with ALL of the characters in True Believers. I'm going to miss them because they definitely have become like family.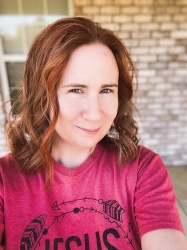 Latest posts by FranJessca
(see all)