ARC Review: 'Fangs for Nothing' by Erin McCarthy & Kathy Love
July 3, 2013
I received a complimentary copy of the book from the author in exchange for an honest review. This does not affect my opinion of the book or the content of my review.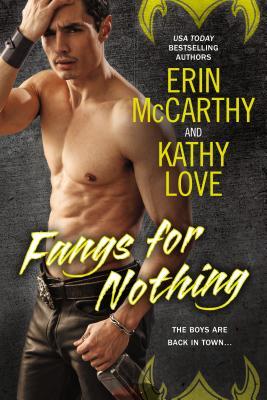 Fangs for Nothing
by
Erin McCarthy
,
Kathy Love
Series:
The Fangover #2
Published by
Berkley
on July 2, 2013
Genres:
Paranormal Romance
Format:
ARC
Source:
the author
Goodreads
Purchase at
Amazon
|
Apple

When one of their own ties the knot with a dominatrix (no pun intended), The Impalers—a vampire rock band—are ready to party down. But trouble awaits them once again when they wake up…

Attending their bandmate Saxon's wedding seemed simple enough for Johnny Malone and Drake Hanover. But after waking up in a dominatrix's dungeon, they realize their cash and cell phones have been stolen—along with the bride's wedding dress and the groom. And then there's the matter of the two women in the room…

Loose cannon Johnny is handcuffed to Lizette, an uptight paper pusher. She wants to help save Johnny from the horrible fate in store for him at the hands of the Vampire Alliance, but he won't sign the paperwork. Then there's Josie, the waifish caterer from the reception, who rescues Drake from a sex swing. Josie may be cute and make a great cupcake, but Drake knows she might also be the thief. Or it could have been that gang of drag queens all dressed as Cher…

Regardless, Johnny and Lizette need to get out of these handcuffs. Drake and Josie need to find their missing belongings. And Saxon needs to be located before the Vampire Alliance comes down on them hard…
My Review
Ever read a book that leaves you laughing, so hard your family looks at you crazy? Yeah, this is the book that did that to me.
I read the first book, The Fangover, and when I read Fangs for Nothing, I was prepared for the same kind of storyline. I was not ready for some of the craziness that Johnny and Drake dealt with in this book though.
Erin McCarthy and Kathy Love give you the sexy Impalers again, where they have no clue what happened to them the night before. They know someone drugged them again and they want to find out who and why they did it.
You get Cher impersonators, a dungeon (that involves a sex swing, an alligator, and someone wearing chaps that include showing off the goodies), and of course so many other obstacles that require the Impalers having to re-trace their steps due to not remembering anything.
This time it is Johnny and Drake from the Impalers that are falling in love with the most unlikely women, who are also confused from the night before. One of the women works for the Vampire Alliance, who is in town to investigate Johnny's death and the other woman works for a catering business, who got stuck with the Impalers for some reason.
I loved this book due to its storyline and of course this time it was Johnny and Drake that got their story. I loved Drake in this book due to his personality, and I loved how Johnny handled his dilemma with the Vampire Alliance. You will have to read the first book to find out what Johnny did to get him in this sticky situation in this book.
Both women in this book are what made this story even better. You have the stuck up all about the rules vampire, and you have the human woman, who just wanted to make her mark in the world. Both of them are complete opposites to Johnny and Drake.
The best part of the book was the very beginning. Seriously, I could not stop laughing at how everyone woke up after the night of being drugged.
If you like your paranormal romance with some humor, you will want to read this book. I highly recommend you read the first though. Otherwise, you will miss out on some of the other favorite Impalers that got their crazy story already.
I highly recommend this book and give it 5 full moons. I want some more Impalers already. I need some of these crazy New Orleans bandmates that keep me laughing at night.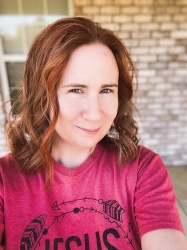 Latest posts by FranJessca
(see all)