I received a complimentary copy of the book from the author in exchange for an honest review. This does not affect my opinion of the book or the content of my review.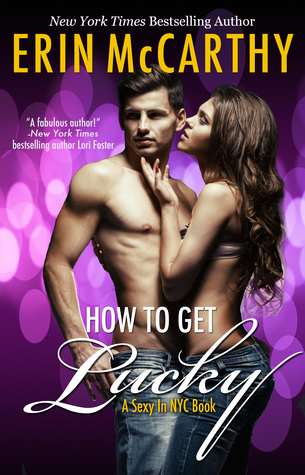 How To Get Lucky
by
Erin McCarthy
Series:
Sexy in NYC #3
Published by
Self-Published
on June 22, 2015
Genres:
Contemporary Romance
Goodreads
Purchase at
Amazon
|
Apple

Sometimes there is more than one way to get lucky…
Allison Parker knows winning the New York state lottery is impossible for a retail slave and fashion designer wanna-be who doesn't, uh, play the lottery. But after a particularly bad day at work and a random prediction from a quirky psychic, she does just that, and wins. Money. Lots of it.
Marco Lucky is exhausted over his bandmates and their diva antics and is looking for an escape. Yet finding a quiet spot in New York City is damn near impossible and he's already tired of the women hitting on him strictly because he's famous. But then the crazy brunette with the winning lottery ticket tells him exactly what she thinks of him and it isn't flattering. He finds himself determined to get to know her better... a whole lot better and prove he is worth her time.
Allison figures it's only fitting that she be the first woman in the history of ever to hit the lottery and score a smoking hot rock star all in one night, only to wake up with her entire life destroyed a mere eighteen hours later when her lottery ticket is missing. Marco's offer of help makes her feel like the biggest lame ass loser ever, and while she can't take his money, she can take a weekend in LA and some smoking hot sex. But that's all it can be with him rich and hitting the road and her hitting the unemployment line.
From two different cities, and two different worlds, can Marco and Allison put the issue of money to bed? Because being lucky in love just might be hitting the jackpot after all…
HOW TO GET LUCKY is book three in the "Sexy in NYC" series. The first two books, The Pregnancy Test and You Don't Know Jack, are also currently available by USA Today and NY Times bestselling author Erin McCarthy. After ten years of waiting to conclude the series, follow these girlfriends as they all find love, laughter, and labels in Manhattan.
My Review: