ARC Review: 'Cruel Legacy' by K.A. Linde
I received a complimentary copy of the book from the Blog Tour Host in exchange for an honest review. This does not affect my opinion of the book or the content of my review.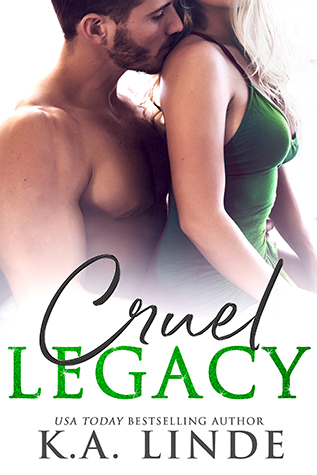 Cruel Legacy
by
K.A. Linde
Series:
Cruel #3
Published by
Self-Published
on July 16, 2019
Genres:
Contemporary Romance
Pages:
248
Format:
eArc
Source:
Blog Tour Host
Amazon Kindle
|
Apple iBooks
|
Audible
|
Barnes & Noble
|
Google Play
|
Kobo
Goodreads

Lose yourself to the dark and glamorous underbelly of the Upper East Side in the final book in USA Today bestselling author K.A. Linde's new billionaire romance Cruel Trilogy.
Darkness swept in.
Smothering everything in its inky black.
In its wake, we became our own worst nightmares.
How can we fight our way back?
Do we even deserve to?
I'm going to try to not spoil the last book to the Cruel Trilogy while typing up my review. It's kind of hard not to though since this book is the last book of the trilogy and it had some explosive moments in it between the heroine, hero, and the crew.
I was prepared for the last book in the trilogy to be about revenge for what Natalie had to deal with in the previous book, Cruel Fortune, but let's say she went a bit far in her revenge.  I also was prepared for her to hook back up with Penn, who I knew would be there for her, but he also helped make her for what she was in this book.
Natalie has had enough with Katherine, Lewis, and the rest of the people in New York who get away with everything, and she has the perfect plan to get back at them all. She involves Penn to help her become more like them, even though he's against it from the start. I had to agree with Penn on not wanting Natalie to become one of those socialite characters who get in the spotlight and lets it get to her head. Although, I also was for Natalie getting revenge, especially since what Lewis did to her in the previous book and what Katherine did too. Unfortunately, not everything is going to go as planned for Natalie, and she may end up losing the people who care for her and who she loves in between her getting revenge. It's a no win situation for her, and I felt sorry for her.
There are moments though that Natalie stepped up, and I was proud of individual moments. I won't give anything away because I hate spoiling books.  Be prepared for some big shockers in the last book in the trilogy. The biggest comes toward the end of course, but be forewarned that Natalie is going to go through a 360 in this book that some readers may like or dislike. In my opinion, I prefer her being a free-spirit and not a socialite. She's beautiful and successful already and doesn't need the spotlight and glam changing her.
Penn in this book was my favorite character because he helped Natalie, but he also made her realize how dangerous his world really is and why he was always attempting to leave it. I felt for him in this book because he was watching things crumble, and most of them were happening due to someone he loved letting the world change her.
If you ever watched Gossip Girl, then this trilogy reminds me so much of that tv show. I was addicted to that tv show back in the day and loved how K.A. Linda wrote 'The Crew' and Natalie for this trilogy. The storyline and everything about this trilogy reminded me so much about the Gossip Girl world, and I loved reading this trilogy because of it. I loved how K.A. Linde ended this trilogy too. Don't worry, there is eventually a HEA that happens, but it may come with a price.
K.A. Linde is one of my auto-buy authors, so I look forward to reading her upcoming books since the Cruel Trilogy is now over with, which I'm sad about because I did enjoy the craziness of this world.
---
Story Rating: 4 stars
Steaminess Rating: 3.5 stars
Standalone or part of series: Part of Trilogy and highly recommend reading in order.
Do I recommend this book? Yes.
Will I read other books from the author? Yes.
Tropes/Elements: Billionaire/Millionaire Romance; Second Chance Romance
Hero: Professor; Billionaire/Millionaire; Part of Crew (Think Gossip Girl characters)
Heroine: Writer/Author; Bohemian/Southern Beauty who is about to become the 'New Katherine.'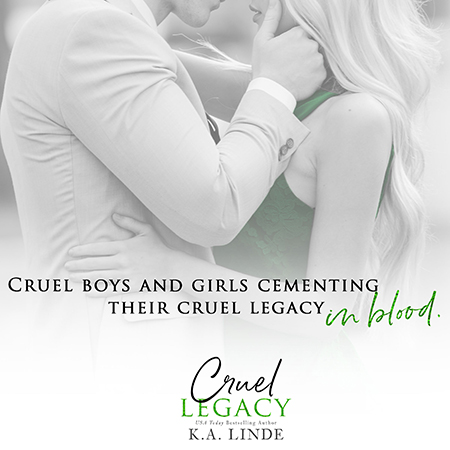 I guess I should type a bio here. I'm FranJessca or Fran for short. I'm the owner of Book Lovin' Mamas and main Reviewer. I've been reviewing books since I got out of the Navy in 2011. Now 8 years later, I'm still reviewing, but this time with my youngest sidekick.
When I'm not reading and reviewing, you can find me at my day job during the week and on the weekend taking care of our little farm.

Latest posts by FranJessca (see all)