ARC Review: 'Dare to Resist' by Laura Kaye
I received a complimentary copy of the book from the publisher in exchange for an honest review. This does not affect my opinion of the book or the content of my review.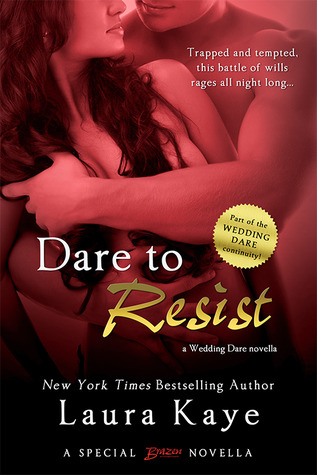 Dare to Resist
by
Laura Kaye
Series:
Wedding Dare #0.5
Published by
Entangled Publishing
on May 12, 2014
Genres:
Contemporary Romance
Pages:
150
Format:
eArc
Source:
publisher
Amazon Kindle
|
Amazon Paperback
|
Audible
Goodreads

A sexy category romance from Entangled's Brazen imprint...
Trapped and tempted, this battle of wills rages all night long…
Kady Dresco and Colton Brooks click on a level that defies logic. There are only two problems. One, he's her older brother's irritating best friend, and two, they're bidding on the same military security services contract.
When the competition heats up, Colton is torn between wanting to strangle Kady (and her annoying brilliance) and kissing her into submission. Which is a bad idea for a million reasons, because Kady's submission is exactly what he craves. Being trapped in a tiny motel room with the object of his darkest fantasies will require every ounce of his restraint.
Kady doesn't want his restraint, but Colton knows better. She deserves love, marriage, and a white picket fence—three things Colton can't give her. But her proximity and the memory of their steamy near-miss three years ago slowly destroys his resolve. And he's not sure how much longer he can keep his hands off…or his heart closed.
My Review
Dare to Resist is the prequel to the Wedding Dare series, and Laura Kaye did an amazing job on starting off the series with how the Bride and Groom end up together…finally.  Yup…I said finally because these two were stubborn at first.  One more than the other.
Dare to Resist is a short novella that can be read in one day or even less, depending if you have free time to read it.  I had to keep stopping due to other obligations, but once I was done Laura Kaye left me wanting the next book from the next author.
Kady Dresco and Colton Brooks have known each other FOREVER, due to Colton being best friends with Kady's brother.  Kady has had a crush on him for a long time, but Colton is torn between hooking up with Kady or strangling her due to her personality (she is his best friend's little sister).  He doesn't want to ever hurt Kady and he feels she could do better.  Colton has no clue what the real Kady is like though, even when he's known her forever.  When they are forced to stay in the same room together at a motel during a monsoon…he will definitely find out more about Kady he had no idea about.
I could go on and on telling you the story, but not going to happen.  =)  No spoilers here.
Laura does an amazing job on having me adore both characters in Dare to Resist.  Kady is one female who has her head on her shoulders and for someone working in the field she does, she knows how to handle working in a male-dominant field.  The opening scene in the book had me rooting for her.
Colton is one sexy dominant male who knows what he likes in the bedroom.  Can I also say…I fell for even harder when he was described wearing his glasses after taking his contacts out.  Girls…geeks/nerds are where it is.  Colton is your intelligent, sexy alpha guy who will definitely fall for in Dare to Resist.  His reaction of what he found out about Kady though had me a little upset.  Don't get upset, mister…and don't get Kady upset.  But…I can see why he reacted the way he did.  He wasn't expecting it.  Never underestimate the sweet girl….ever.  =)
The minute that Kady and Colton stop all the sexual tension between them…let's just say prepare for a cold shower after wards. These two have pent up sexual tension from years ago. What happens after all those years of tension?  Yup…you can guess it.  =)  Their scenes together are going to be HOT!
I loved being introduced to the couple that plays a part in the Wedding Dare series…how the bridesmaids of the couple's wedding party is going to have their own books.  I look forward to reading the rest of the series from each of the other authors.  Although, you don't get introduced to the couple's friends/family in this book…it only makes it more exciting to find out what the other authors are going to do in their books.
I give this book 4 full moons and highly recommend it to Contemporary romance readers out there.
Oh and let me say….I adore Kady and Colton's jobs.  Yes…another book that has computer jobs involved.  I'm a computer geek, so when characters work in the IT field…I'm in HEAVEN!  =)


I guess I should type a bio here. I'm FranJessca or Fran for short. I'm the owner of Book Lovin' Mamas and main Reviewer. I've been reviewing books since I got out of the Navy in 2011. Now 8 years later, I'm still reviewing, but this time with my youngest sidekick.
When I'm not reading and reviewing, you can find me at my day job during the week and on the weekend taking care of our little farm.

Latest posts by FranJessca (see all)