ARC Review: 'Deep Surrendering: Episode 1' By Chelsea M. Cameron
March 18, 2014
I received a complimentary copy of the book from the blog tour host in exchange for an honest review. This does not affect my opinion of the book or the content of my review.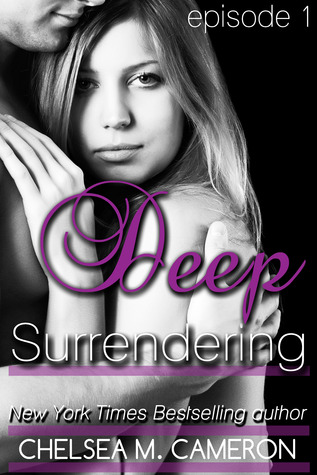 Deep Surrendering: Episode 1
by
Chelsea M. Cameron
Series:
Deep Surrendering #1
Published by
Self-Published
on March 12, 2014
Format:
eArc
Goodreads

She's all about rules. He lives by none but his own. When these two meet, the results could be disastrous.
When Marisol Everly's friend Rory sets her up with Fin Herald, Marisol doesn't expect that it will amount to anything, .but that was before she saw Fin's searing blue eyes and mischievous smile. Not to mention, he seems absolutely fascinated by her mundane life. He's everything that a girl could want, but there's something else that ripples under the surface of his flirty behavior. Something darker. Something that fascinates Marisol, but scares her at the same time. Is she willing to risk falling into an abyss she might not get out of?
*Deep Surrendering is a series of novellas that tell the story of Fin and Marisol. Each novella is around 20,000 words and contains a complete story, but all are part of a larger story arc. They will be released on the third Thursday of each month. The total number of episodes is still being decided, but it will be around 12-14, which is two complete novel's worth of content.*
*This story contains content that is not suitable for those under the age of 17*
Other books by Chelsea M. Cameron:
Nocturnal (The Noctalis Chronicles, Book One)
Nightmare (The Noctalis Chronicles, Book Two)
Neither (The Noctalis Chronicles, Book Three)
Neverend (The Noctalis Chronicles, Book Four)
Whisper
New Adult Contemporary Romance:
My Favorite Mistake
My Sweetest Escape (January 28, 2014)
Deeper We Fall (Fall and Rise, Book One)
Faster We Burn (Fall and Rise, Book Two)
For Real
Christmas Catch: A Holiday Novella
Adult Contemporary Romance:
Sweet Surrendering
Surrendering to Us
Dark Surrendering (Summer 2014)
My Review
There are times I can't stand serials, but other times I enjoy them. It all depends on how the author writes them. When I read the synopsis of Deep Surrendering, I knew I could not wait for the other serials to come out in order. This will be the second book I've read from Chelsea M. Cameron, and I was intrigued by the storyline and the characters while reading it.
This is the first episode, so this is the start of many more novellas to come. Marisol and Fin are the main characters of the story. Marisol's friend, Rory, hooks her up with Fin Herald. He's handsome and irresistible, but very mysterious. When Marisol and Fin go on their first date, all is going well until the end of the date. Let's say Fin's personality is uppity at first and then, once it starts turning to something serious he becomes a different person. A VERY different person. He has a darker side that is just being revealed in this episode. He mentions to Rory he has another side but doesn't tell her. He doesn't think she would want to be apart of his darker side.
Chelsea leaves me hanging basically at the end on what is going on with Fin. Grrrr! (Yup, frustration hits) The only thing that drove me crazy with this episode was Fin's wacky personality constantly changing, but I know eventually I'll find out what is going on with him. (If he were real I would've slapped him several times for Marisol) I must find out what is going with him. Poor Marisol, the girl, is getting stir crazy on what is going on with him. I feel for her. I do.
If you enjoy serials, you will enjoy reading this. If serials are not your thing, but you still want to read this, I would recommend waiting until most of them are out. At least Chelsea is not making us wait long. I can handle waiting for the next episode next month. (Thank goodness Chelsea has other books I can check out in the meantime)
I give this episode 3.5 moons and definitely will be picking up the next episode when it comes out.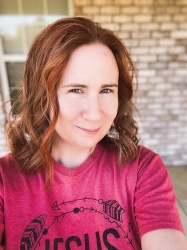 Latest posts by FranJessca
(see all)