ARC Review: 'Deja Who' by Mary Janice Davidson
September 5, 2016
I received a complimentary copy of the book from Netgalley in exchange for an honest review. This does not affect my opinion of the book or the content of my review.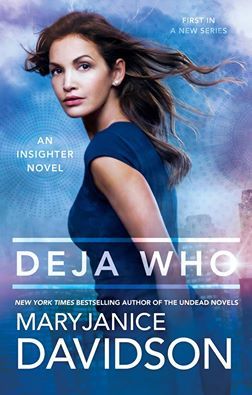 Deja Who
by
MaryJanice Davidson
Series:
Insighter #1
Published by
Berkley
on September 6th 2016
Genres:
Urban Fantasy
Format:
eArc
Source:
Netgalley
Goodreads
Purchase at
Amazon
|
Apple

Leah Nazir is an Insighter. Reincarnation is her business. But while her clients' pasts are a mess, Leah's is nothing short of tragedy. She's been murdered. A lot. If left to that bitch, destiny, it'll happen again. Leah wants to know who's been following her through time, and who's been stalking her in the present...
P.I. Archer Drake has been hired by Leah's mother to keep an eye on her. But the more time he spends watching, the more he finds himself infatuated. Before long, he even finds himself agreeing to help find the person who wants her dead. Over and over again.
Now going full-on "rewind," Leah hopes it can stave off the inevitable. After all, she's grown fond of this life - and even fonder of nerdy Archer. But changing her pattern means finding out who her killer is today. And as Leah fears, that could be anyone she has come to know and trust. Anyone.
My Review
Mary Janice Davidson is actually a new author to me. I've never read anything from her yet. Yes, I realize I should've read her other series. I've actually had her books on my TBR for a while. When I read the synopsis to Deja Who and realized it's the first book to her new series, I had to make time to read it.
I love paranormal and urban fantasy, so there is nothing new with that statement at all from this Book Lovin' Mama. Deja Who is definitely a different kind of paranormal that I'm used to, but I definitely enjoyed reading it.
Mary Janice Davidson introduces us to Leah Nazir, who is an Insighter. She can tell you your past lives, which is a very unique gift. Everything you're doing now can tell you what you did in your past lives. Leah though knows her past lives too. Unfortunately, her past lives have been nothing but tragic. She's had a stalker, who always murdered her and she knows he or she is out there again to kill her, but she has no idea when.
Archer Drake is a P.I., who is hired by Leah's crazy B-actress mother to watch over her. While he's watching Leah, he finds her fascinating and can't stop wanting to know her. He's a silly character of the bunch because of his personality. I really enjoyed getting to know Archer, especially when Mary had him tell his point of view.
Deja Who is definitely a great start to the Insighter books and I look forward to where Mary Janice Davidson takes the series next. I was confused at times in the books, but between the crazy banter between Archer and Leah, I didn't really mind being confused. Those two together were funny. I was taken back by the end of the story though. I definitely expected a little more action towards the end. It didn't have the spark that keeps me intrigued usually, when I read endings. I didn't expect the twist though of who the killer was, which Mary surprised me with. I just felt like it need more.
My favorite thing about Deja Who is learning about Insighters. Imagine if people out there actually could tell you your past lives? I definitely feel for Leah because she had to deal with some crazy clients that had some really awful past lives.
I give Deja Who 3.5 stars and recommend it to paranormal and urban fantasy readers out there and fans of Mary Janice Davidson.
Will I pick up the next book in the series? Most definitely. Mary Janice Davidson has a very unique writing style. I needed a funny, mystery, drama paranormal story and she definitely brought it in the first book to her new series.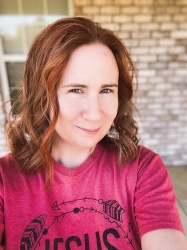 Latest posts by FranJessca
(see all)