ARC Review: 'Grimm Consequences' by Kate SeRine
April 16, 2014
I received a complimentary copy of the book from Netgalley, the publisher in exchange for an honest review. This does not affect my opinion of the book or the content of my review.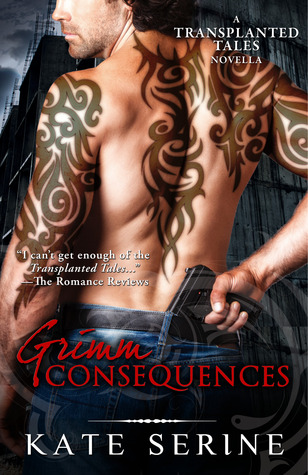 Grimm Consequences
by
Kate SeRine
Series:
Transplanted Tales #1.5
Published by
Kensington Books
on January 1, 2014
Genres:
Urban Fantasy
Format:
eArc
Source:
Netgalley, the publisher
Goodreads
Purchase at
Amazon

You reap what you sow...
Saying Nate Grimm has a dark past is an understatement. Fortunately, no one's bothered to look too closely at the Fairytale Management Authority's lead detective and part-time Reaper. And that's the way Nate wants to keep it. For after centuries of torment and loneliness, he's finally found happiness with the hot and hard-charging love of his life, Tess "Red" Little.
Of course, his love for Tess is the reason there's a posse of Reaper judges after him, led by a sadistic bastard acquainted with Nate from once upon a time. Now, Tess will pay the price for Nate's transgressions unless Nate severs his ties to the transplanted Tales--and Tess--forever. His enemy has the advantage in speed, malice and brutality. But the Reapers have underestimated the depth of Nate's love and devotion. And the fury of his wrath. . .
My Review
When I found out my favorite male character from the Transplanted Tales series was getting his little novella, I was excited to find out more about the sexy and mysterious Nate Grimm. He shows up in the first book in the Transplanted Tales, and there were so many questions to what he was and how he became a Grim Reaper. I was anxious to find out what Kate SeRine was going to tell us about Nate.
Kate SeRine didn't disappoint on answering the questions that bugged me about Nate Grimm, and she also made me fall for him even more after reading this novella. (My list of book boyfriends is already long, but it's okay to cheat on book boyfriends with other book boyfriends…right?) In Grimm Consequences, we get Nate's POV and what he is going through instead of Tess. His POV was interesting because he showed his weaknesses in this novella, but he still kept his status of being fierce and protective. In this short novella, we find out about Nate's past, how he initially met Tess, and what he is still dealing with after what happened in Red. Kate puts poor Nate through the wringer in this book with his consequences of what happened in Red. We also find out how he came to be a Grim Reaper, what he looks like, and what his real name is. What I found the most interesting is how he met Tess and what he sacrificed for her. He kept sacrificing for her during the story because he loved her. (Can you tell why I adore him?)
Kate SeRine's fairy tales are nothing like the fairy tales we grew up to because they are dark-twisted tales that will keep you on the edge of your seat. I don't think you would want to piss off Little Red Riding Hood (aka Tess) in these books or even mess with Humpty Dumpty.
Grimm Consequences is an excellent continuation after Red (the first book), and I'm so glad Kate gave us Nate's story. ( I can't get enough of him) Kate SeRine's Transplanted Tales series is one of my favorite Urban Fantasy series due it's development of some of my favorite fairy tale characters and the crazy world of Make-Believe that these characters live in this world.
I give this book 4.5 moons and highly recommend it to urban fantasy readers and readers that enjoy fairy tales told differently.
Reading Order: Red (Book 1), Grimm Consequences (Book 1.5), The Better to See You (Book 2), Along Came a Spier (Book 3), and coming this August, Ever After (Book 4)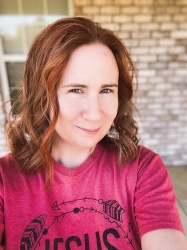 Latest posts by FranJessca
(see all)