ARC Review: 'Hard as it Gets' by Laura Kaye
November 20, 2013
I received a complimentary copy of the book from the publisher in exchange for an honest review. This does not affect my opinion of the book or the content of my review.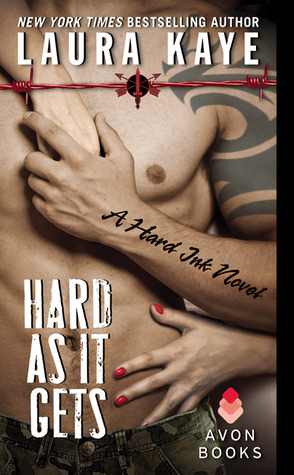 Hard as It Gets
by
Laura Kaye
Series:
Hard Ink #1
Published by
Avon
on November 26, 2013
Genres:
Romantic Suspense
Format:
eArc
Source:
the publisher
Goodreads
Purchase at
Amazon
|
Apple

Tall, dark, and lethal...
Trouble just walked into Nicholas Rixey's tattoo parlor. Becca Merritt is warm, sexy, wholesome — pure temptation to a very jaded Nick. He's left his military life behind to become co-owner of Hard Ink Tattoo, but Becca is his ex-commander's daughter. Loyalty won't let him turn her away. Lust has plenty to do with it too.
With her brother presumed kidnapped, Becca needs Nick. She just wasn't expecting to want him so much. As their investigation turns into all-out war with an organized crime ring, only Nick can protect her. And only Becca can heal the scars no one else sees.
Desire is the easy part. Love is as hard as it gets. Good thing Nick is always up for a challenge...
My Review
I have no idea where to start, but let me say this first….THIS BOOK IS AWESOME!!!
Laura Kaye did a fabulous job on the first book in the Hard Ink series and introducing the characters of the series that will win your heart over.
We have the sexy tattooed ex-military operative hero, Nick Rixey and the damsel in distress heroine, Becca Merrit. I should not say damsel in distress because it is her brother, who is missing and she was left with a message from her brother, saying her father is not who he seems to be and that she needs to sneak out Nick to help her. The minute Nick finds out, who she is, he has issues with helping Becca Merrit, but not because of her personality, but due to her Dad, who used to be his boss in the military. His boss that he looked up to but had some of his men killed and had him and four others kicked out of the Army. Let's say he has his reasons of hating Becca's father and I feel for him.
It's up to Nick though to help Becca find her brother, especially when he finds out that his brother may have had some serious reasons on involving him due to what he may have found out something that may clear his name and his friends' names ( from the Army ). He is going to call upon his fellow friends to help him though, and they may not be happy to find out who they are helping.
Becca and Nick are two characters you will fall for the minute they are introduced. No not just because of Nick's tattoos! Although every time Laura mentioned Nick's tattoos, I may have fallen for him even harder. A sexy ex-soldier with some significant and sexy tattoos…yup, you won me over. You will love Becca and her courageous of trying to get her brother back safely, and you will love Nick for being stubborn at first, but very get-going later on. These two have the perfect chemistry; it will just take a while for them to realize it.
Oh and let me bow down to Laura Kaye for writing a book that involves an ethical hacker! =) The minute I found out what Charlie did…I was sucked into the book because that is the current field I am studying for in college. Charlie is known to be a white hat after giving up the wrong side of hacking (black hat). ( I am a computer geek and love the security side of computers) I also loved how she described everything that was going on as far as hacking. *sigh* You can tell I'm a computer geek and love when Authors involve the computer field into their books. =)
Hard at it Gets is a very action-packed, suspenseful book that will take you on a ride through a world, where ex-soldiers put their skills to the test again. (Some very sexy ex-soldiers!!! ) =) Oh..how I need to know more about these hot guys, and I genuinely hope they find out what happened to them in the past and clear their names.
I give this book 5 full moons and highly recommend it readers out there that love romantic suspense and contemporary romance elements.
If you get this book in a paperback version, I can agree with J.R. Ward's quote on the front cover. She described it perfectly!!!!!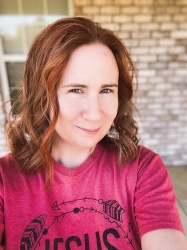 Latest posts by FranJessca
(see all)