ARC Review: 'Hell on Wheels' by Julie Ann Walker
August 5, 2012
I received a complimentary copy of the book from Netgalley in exchange for an honest review. This does not affect my opinion of the book or the content of my review.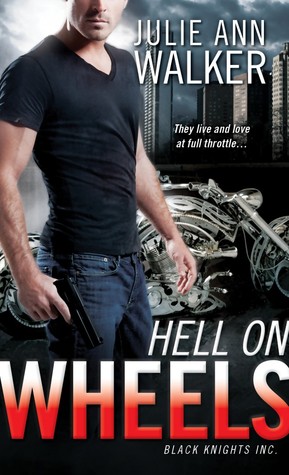 Hell on Wheels
by
Julie Ann Walker
Series:
Black Knights Inc. #1
Published by
Sourcebooks Casablanca
on August 7th 2012
Genres:
Romantic Suspense
Format:
eArc
Source:
Netgalley
Goodreads
Purchase at
Amazon
|
Barnes & Noble

He's the bad boy she's always wanted...
Nate "Ghost" Weller has loved Ali Morgan nearly half his life. But he's done something so heinous he's convinced she'll never forgive him if she discovers the truth, so he keeps his feelings and his secrets to himself. Then she blows into town with a mother lode of bad guys on her tail and Nate can't deny she's in serious trouble. Unfortunately, he's the only one who can help her.
She's the good girl he's kept at arm's length...
Ali knows Nate as the most solemn, aloof man on the planet. Sadly, he's also the sexiest. For years she's avoided him, unable to stomach his dark scowls and brooding silences… especially when she secretly yearns for his touch. Now she must rely on him to save her from the malevolent shadows ghosting her every move. When the bullets explode, so does their passion. But can love really conquer all? Or are some things just too terrible to forgive?
---
And oh, was I excited to read "Hell on Wheels"…when I was approved for it. Sourcebooks have some fantastic authors, and I could not wait to read Julie Ann Walker's first book to the Black Knights, Inc Series.Let me get this out beforehand. Julie Ann Walker knows how to write a book where I had a hard time choosing what I should prioritize first either I would read "Hell on Wheels" and finish it…or I would work on college assignments. Which do you think won? =)
Nate Weller, otherwise known as "Ghost," has gone through so much. He used to be in the Marines, but he's working for the government doing work that someone has to do. He's now apart of the Black Knights, which looks to be a motorcycle shop at first, but it's not really. He just lost his best friend and is forced to deliver the news to his best friend's family and be faced with Ali, who can not get out of his head. His best friend always told him never to mess with his little sister, but it's kind of hard when she tempts him every time.
Ali has always had feelings for Nate, but he has still shut himself off from her. A week or so after finding out about her brother, she feels like she's being followed. Then one day, she's mugged out in plain daylight. She has two saviors who help her, but now she knows someone is out to get her, so she finds Nate to help her.Nate, of course, is not really up for it, but once everyone in his team sits down to find out who may be after Ali, they all know it has something to do with her brother, but why?
This is the first book in the series to Black Knights, Inc, and it is an excellent start to the series. Julie Ann Walker introduces you to other characters, and she sets up the world of Black Knights perfectly! She even throws you on a roller coaster ride of emotions. I loved how she got me to laugh and cry at the same time. When I found out the truth about what happened to Ali's brother, let's say the waterworks started falling.
And, of course, I adored Nate and Ali. They had chemistry from beginning to end. Nate was stubborn, though, but I knew why he was stubborn when I found out the truth.
What can I say about Ali? I clicked with her the minute Julie introduced her. She is one chick who could hold her own. She also knew how to put Nate at a standstill. =) Although she did have a weak stomach. Poor girl, she got herself into sticky situations, but she did manage after a while to get through it all.
Oh, and the sexual tension and, of course, the sex scenes were mind-blowing! Ali is one lucky woman.
I look forward to reading the second installment now because it's about two other characters introduced in "Hell on Wheels."
I recommend this book to any reader out there who enjoys a fantastic romantic suspense book, loves the first book to a new series that will keep you turning the page, and of course, anyone who loves sexy men who ride motorcycles. (who doesn't like a man on a custom bike)
This book is a book where I will re-read again because I already miss Nate and Ali. I look forward to the second installment in September. Julie Ann Walker has a fan for life.

This post contains affiliate links you can use to purchase the book. If you buy the book using that link, I will receive a small commission from the sale. It will help sponsor future giveaways but costs you nothing extra. You can read the full disclosure underneath the Privacy Policy.
---
---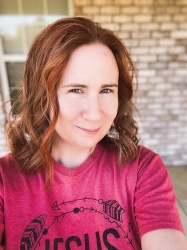 Latest posts by FranJessca
(see all)