ARC Review: 'Her Grave Secrets' by Kendra Elliot
November 4, 2014
I received a complimentary copy of the book from Netgalley, the publisher in exchange for an honest review. This does not affect my opinion of the book or the content of my review.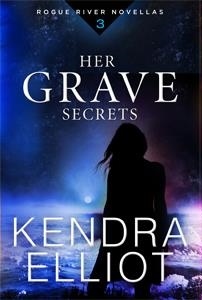 Her Grave Secrets
by
Kendra Elliot
Series:
Rogue River #3
Published by
Montlake Romance
on November 4, 2014
Genres:
Romantic Suspense
Format:
eArc
Goodreads
Purchase at
Amazon

There are no secrets in a small town—until someone has one worth dying for.
Local cop Stevie Taylor and police chief Zane Duncan have startling new proof that a deadly street drug is expanding its poisonous grip on their small town: a skull found on the banks of the Rogue River has two bullet holes in the back. Still caught up in the excitement of their new relationship, Stevie and Zane are determined to track down the drug's source before more lives in Solitude, Oregon, are lost.
Then one death strikes especially close to home, leading to heartache and confusion for Stevie. As the drug distributers strike hard and the body count in Solitude grows higher, she and Zane must hunt down the deadly killer—but are they the predators, or the prey?
Filled with unexpected twists, Her Grave Secrets is the third exciting Rogue River novella in the romantic suspense series from Kendra Elliot and Melinda Leigh.

In the third installment of the Rogue River series, Kendra Elliot picks back up with the same characters from the first book. We have Stevie and Zane back, and this time they are still trying to figure out why Solitude, Oregon is having a drug problem. Now, Death is taken a toll on the town of Solitude, Oregon and this time it hits close to home. Stevie and Zane are determined to figure out who is killing people in town and they know it has something to do with the C-22 drug. There are so many twists and turns in Her Grave Secrets and forewarning they'll be another twist at the end. I'm ready to figure out who is behind the C-22 drug and why so many people are being killed.
Kendra did another fantastic job with this short novella and having Stevie and Zane continue with the biggest issue in the series. I adored these two even more in this novella because Zane and Stevie are going to open up more. Kendra, of course, had me on pins and needles, while reading this installment. Didn't expect the twists and turned in this novella. I'm excited to dive into the next installment because just like the characters I want the truth on who is behind it all.
I also adored every bit of Stevie's mom in this book. I got a little more on her character, and she is such a sweet person. She also has a way of knowing when something is not right. She deserves some closure just like everyone else does in Solitude.
I give this installment 5 full moons and highly recommend it to romantic suspense readers out there. Please do read these novellas in order. Each flow into the other and both authors know how to get you hooked into the series.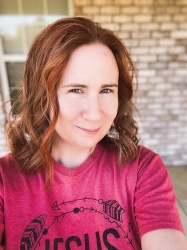 Latest posts by FranJessca
(see all)