ARC Review: 'In the Shadow of Greed' by Nancy C. Weeks
April 28, 2013
I received a complimentary copy of the book from the author in exchange for an honest review. This does not affect my opinion of the book or the content of my review.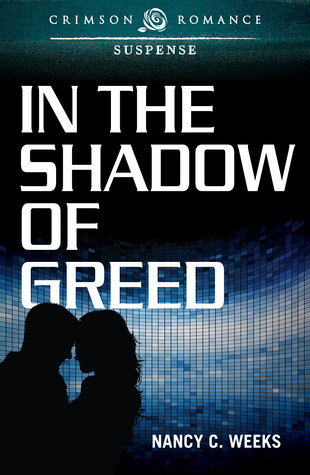 In the Shadow of Greed
by
Nancy C. Weeks
Published by
Crimson Romance
on April 29, 2013
Genres:
Romantic Suspense
Format:
eArc
Source:
the author
Goodreads
Purchase at
Amazon
|
Apple

Brilliant cryptologist Dr. Sarah Tu races against time to block the most dangerous Internet malware ever created, a botnet called QUALNTO. While Sarah is closed off in her computer lab, her sister, Hanna, is brutally attacked and left in a coma. As Sarah reels with guilt over not being there for her sister, a web of deception closes in, threatening her and everyone she loves.
Hanna's condition is misleading. In her coma state, she is able to build a psychic bridge with FBI Special Agent Jason McNeil. Her cryptic messages plague Jason to keep Sarah safe.
Tough and street-smart Jason McNeil doesn't believe in visions or telepathic messages, and he fights the voice inside his head. His first impression of Dr. Sarah Tu is another stiletto wearing ice-dragon on the war path―until he witnesses her façade crumble after seeing her sister's bloody, tortured body. Jason's protective instinct kicks in. He falls for Sarah―hard.
When an extremenly dangerous arms dealer and cybercriminal discovers that Sarah blocked his botnet, he kidnps Sarah. Placed in an impossible position, will she destroy the botnet to protect national security or release it to save the man she loves?
My Review
This book has my favorite kind of storyline in it due to being a computer geek and former information systems technician in the Navy, where I worked for a few years in the Network Security field. Now I am pursuing a degree in the field currently. =)
The minute I read the synopsis of the book I knew I had to read it.
This book not only brings you romantic suspense but a look into what the most significant threat is to today's world cybercrime. People tend to forget how dangerous their computer is and what it could do and what people can actually make it do. This book makes people wake up about the concerns on what people out there can do to steal your identity and your information without you even knowing it.
I will not go into detail on the story because I feel I will give too much away. Instead, I will go over everything I liked about this book.
-Nancy C. Weeks did fantastic research in the field Dr. Sarah Tu does in the book. I loved how if anyone who has not worked in the field can understand the terms that someone may not know. For example botnet, zombie computers, viruses, etc.
-I adored Dr. Sarah Tu and Jason McNeil. They both were met to meet each other and come together. It broke my heart though on how they met each other, but in the end, it all came down to the one person who helped link them together, Hanna (Sarah's sister).
-The plot of the story is exciting and will suck you in from the beginning, and you will want to know why Sarah is being targeted. You will also want to know the real why Hanna was aimed as well at the beginning of the book.
-The saddest part of the book made it even the best part of the book. Poor Sarah went through a lot in this book, but no matter what she had her sister with her, it just took someone else to help her realize it.
-The villains in the story do not think it is one person because it will end up being another person in the end. You will be shocked to find out what Sarah finds out what is going on in Noran.
-Did I say already that I loved Jason McNeil…he stole my heart the minute he was in the hospital with Sarah and Hannah. He is an FBI agent and Nancy C. Weeks did another fabulous job of his job detail and what his career was in the book. He tried everything to be patient with Sarah, and it was hard for him. (I think Sarah should have taken it easy on him)
I was sucked into the book and wanting to find out who was behind everything. Nancy C. Weeks did a fantastic job on her debut book, and I look forward to what she has in store next.
Be warned from the first page to the last page you will have a hard time putting down this book.
It's full of action, suspense, romance, and a lot of tension between the characters (Jason & Sarah because they both are not able to open up until later).
I give this book 5 full moons and highly recommend it to romantic suspense fans out there. You will enjoy every minute of this cyber crime thriller by Nancy C. Weeks.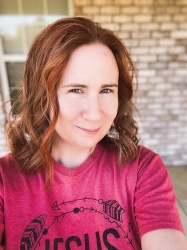 Latest posts by FranJessca
(see all)