ARC Review: 'Lead' by Kylie Scott
July 31, 2014
I received a complimentary copy of the book from Netgalley, the publisher in exchange for an honest review. This does not affect my opinion of the book or the content of my review.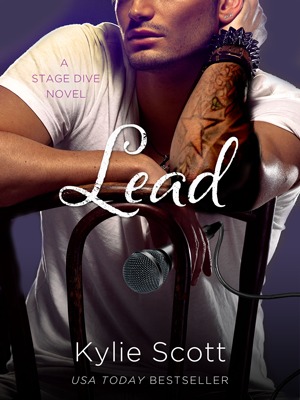 Lead
by
Kylie Scott
Series:
Stage Dive #3
Published by
St. Martin's Griffin
on November 25, 2014
Format:
eArc
Source:
Netgalley, the publisher
Goodreads
Purchase at
Amazon
|
Apple

Stay up all night with the sexy rockers in Stage Dive, the epic New Adult series from New York Times bestselling author Kylie Scott, author of Lick and Play.
As the lead singer of Stage Dive, Jimmy is used to getting whatever he wants, whenever he wants it, whether it's booze, drugs, or women. However, when a PR disaster serves as a wake-up call about his life and lands him in rehab, he finds himself with Lena, a new assistant to keep him out of trouble.
Lena's not willing to take any crap from the sexy rocker and is determined to keep their relationship completely professional, despite their sizzling chemistry. But when Jimmy pushes her too far and Lena leaves, he realizes that he may just have lost the best thing that ever happened to him.
My Review
Lead is the third book in Kylie Scott's Stage Dive series, and this time it is Jimmy who takes the stage on getting redeemed and romanced. He's the bad boy of the group who is forced to get a person to help him stay sober and not jump off the bandwagon again. Unfortunately, the one who is hired to be his live-in babysitter has never done this before. Lena is not a person who likes to be pushed over and is determined to do her job even if she's trying to make it through another day. She never signed up to babysit Jimmy, but she's doing it anyways until she can find something else. She knows what he is capable of and for some reason, the rest of the band noticed that Jimmy is changing with Lena. Lena is going to be pushed to the brink with Jimmy, and it may cause issues with their business relationship and their some-what friendship they are trying to make.
Here are the things I enjoyed in Lead. First off, I adored Lena because she didn't take any crap from Jimmy. I was expecting Jimmy to be the most difficult in the band because of why he had Lena in the first place, but after reading Lead, I understood what he through and why he continued to be the way he was. He didn't have it easy growing up, and neither did his brother, David. Lena put Jimmy through the wringer at times, and I got a kick even how she handled Mal (which by the way will always be my favorite of the group) His smart mouth and his way of picking up on things made me adore him even more in this book.
Another thing I loved about Lead was the sexy times that finally came. Oh, boy, Jimmy knew how to please a woman. Geez…when he wanted it, he just made it known bluntly. The table scene in particular. Yup…it's a must-read.
One thing that bothered me, while reading Lead was how Jimmy did get on my nerves at certain moments. Some readers may not like how Lena fell for Jimmy, but I understood why she did. She knew him due to working and living with him, but she had a difficult time dealing with his tactics when it came to love. Jimmy had to be redeemed in the book for what he was going through, and he went in the wrong with doing it. Although he did make up for it in the end, he made my head spin at times. I gave Lena major props for dealing with Jimmy, and I gave her major props after witnessing him get undressed. Kylie does a fantastic job describing in detail what the Stage Dive characters look like in the books.
I give this book 4.5 moons and recommend it to readers out that love rockstar novels. I swear I'm obsessed with these kinds of novels and Kylie makes my obsession even worst. Looking forward to diving into Ben's story next. I can't wait to find out, which lady will win him over. He's going to be a difficult one too. =)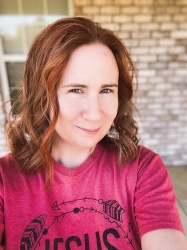 Latest posts by FranJessca
(see all)