ARC Review: 'Lord of the Abyss' by Nalini Singh
December 3, 2011
I received a complimentary copy of the book from Netgalley in exchange for an honest review. This does not affect my opinion of the book or the content of my review.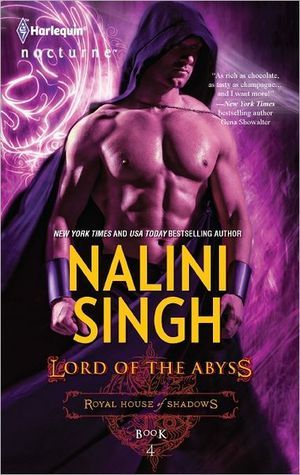 Lord of the Abyss
by
Nalini Singh
Series:
Royal House of Shadows #4
Published by
Harlequin Nocturne
on November 22, 2011
Genres:
Paranormal Romance
Format:
eArc
Source:
Netgalley
Goodreads
Purchase at
Amazon
|
Apple

Once upon a time...the Blood Sorcerer vanquished the kingdom of Elden. To save their children, the queen scattered them to safety and the king filled them with vengeance. Only a magical timepiece connects the four royal heirs...and time is running out....
As the dark Lord who condemns souls to damnation in the Abyss, Micah is nothing but a feared monster wrapped in impenetrable black armor. He has no idea he is the last heir of Elden, its last hope. Only one woman knows--the daughter of his enemy.
Liliana is nothing like her father, the Blood Sorcerer who'd cursed Micah. She sees past Micah's armor to the prince inside. A prince whose sinful touch she craves. But first she has to brave his dark, dangerous lair and help him remember.
Because they only have till midnight to save Elden.
My Review
I can finally say I completed the Royal House of Shadows series and what a way to end the series, but with Micah and Liliana who happen to be my favorite characters in the series. Especially, the handsome Lord of the Black Castle, Micah, who happened to capture my heart the minute I started reading about him. The minute I found out what exactly happened to him, I melted for him. He may be a mean, dark, character compared to his brothers and sister, but his story made me cry more than the others. He went through hell and endured more complications then his brothers, Nicolai, Dayn and his sister, Breena. Liliana even made me cry several times in the story due to her being the Blood Sorcerer's daughter. The poor woman went through hell with her father, and all she wanted was the Elden princes and princess to take Elden back so she could finally be rid of her father who tortured her. When she went searching for Micah, she never expected to fall in love with the Dark Lord. How couldn't she though? He may have been harsh at times and very forceful but who wouldn't want the love of a tender heart who just wanted to know what love was. Liliana though, kept downgrading herself in the story, and it made me a little upset about her, but after you find out the background of her, you know why she did. It took Micah to encourage her of her beauty, intelligence, and strength. That is why I chose these two of my favorite couple in the whole series. They were perfect for each other. I would read this book over and over again. I enjoyed reading my first book written by Nalini Singh, and I can't wait to read other books written by her now. This book had more sexual tension and action period compared to the others. She wrote the characters perfectly together, and she ended the series with a BANG.
Although, there were parts of the book that could've been left out and I feel the book could've had more when it came to killing the Blood Sorcerer. I felt when the Blood Sorcerer got killed; it was like wham, bam, thank you mam…he's dead in two seconds. It was kind of disappointing. Other than that, I enjoyed the book and would recommend it to anyone who loves Paranormal and Urban Fantasy. I definitely would recommend anyone read Nalini Singh after reading this book also. I'm glad the series is finally ended because now I can move onto the authors other series to read. All and all the Royal House of Shadows Series got 4 stars just like this book did. It was a great series to read about fairy tales in a paranormal romance kind of way.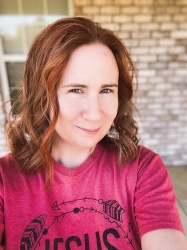 Latest posts by FranJessca
(see all)