ARC Review: 'Ride Hard' by @laurakayeauthor
April 26, 2016
I received a complimentary copy of the book from Goodreads in exchange for an honest review. This does not affect my opinion of the book or the content of my review.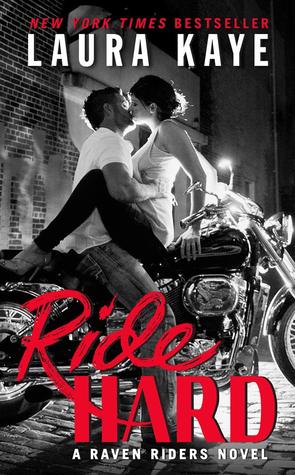 Ride Hard
by
Laura Kaye
Series:
Raven Riders #1
Published by
Avon
on April 26th 2016
Genres:
Contemporary Romance
Source:
Goodreads
Goodreads
Purchase at
Amazon
|
Apple

A shy and distrustful woman running from a controlling ex-fiance seeks shelter with an outlaw motorcycle club with a tradition of protecting those who can't defend themselves, and falls under the watchful eye of the club's mysterious and intense leader who's intent on discovering all her secrets
Brotherhood. Club. Family.
They live and ride by their own rules.
These are the Raven Riders . . .
Raven Riders Motorcycle Club President Dare Kenyon rides hard and values loyalty above all else. He'll do anything to protect the brotherhood of bikers—the only family he's got—as well as those who can't defend themselves. So when mistrustful Haven Randall lands on the club's doorstep scared that she's being hunted, Dare takes her in, swears to keep her safe, and pushes to learn the secrets overshadowing her pretty smile.
Haven fled from years of abuse at the hands of her criminal father and is suspicious of any man's promises, including those of the darkly sexy and overwhelmingly intense Ravens' leader. But as the powerful attraction between them flares to life, Dare pushes her boundaries and tempts her to want things she never thought she could.
The past never dies without a fight, but Dare Kenyon's never backed down before . . .
My Review
If you are a fan of Laura Kaye's Hard Ink series you definitely will become a fan of the spin-off series, Raven Riders. I literally had a hard time putting down the first book because Laura sucked me into the story and I couldn't get out.
If you've read the Hard Ink series you'll know who some of the characters are in the Raven Riders series already. Raven Riders Motorcycle Club President Dare Kenyon is the main male character in the story and I fell head over heels for him the moment he was introduced. He was different from other Presidents that I've read in other motorcycle stories. He takes in Haven Randall who has suffered with abuse since she was a little girl by someone she should've been able to trust. Dare is determined to keep Haven safe, but it's kind of hard to keep her safe, when she keeps what happened to her secret.
Dare is not your pushy kind of guy though. He's determined to let Haven know he will do anything to protect her. He also wants to be able to come to him without scaring her away. Haven has reasons to not be able to trust so easily. Dare's much older than Haven, so he has skepticism of having feelings for Haven because of the age difference. It doesn't bother Haven though.
Haven has suffered so much and I wanted to go through the book and give her a huge hug. She deserved to have a real family and friends around her.
The secondary characters are just as intriguing as the main characters and I look forward to reading more about these characters in the series.
The best parts of the books were not only the characters, but the storyline. Laura had me from the first page to the last with what was going on. The build up to the end literally had me on the edge of my seat. Oh and let's not forget the Hard Ink guys make an appearance too in Ride Hard.
Laura is a very descriptive writer, so you'll feel like you are there with the characters. I may have zoned out a few times with my family, when reading the story (at least that is what my family said I did) since I couldn't hear anything or seeing anything else, while reading Ride Hard. I was determined to read it without distractions.
I give this book 5 stars and look forward to reading even more in this series.
I entered the Goodreads giveaway of Ride Hard and didn't know I won until I received the book in the mail. It definitely was the best surprise ever. The minute I got my hands on Ride Hard I began reading it.  🙂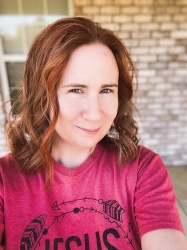 Latest posts by FranJessca
(see all)