ARC Review: 'Risking It All' by Tessa Bailey
February 5, 2015
I received a complimentary copy of the book from the publisher in exchange for an honest review. This does not affect my opinion of the book or the content of my review.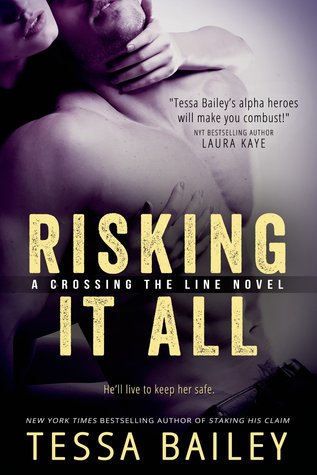 Risking it All
by
Tessa Bailey
Series:
Crossing the Line #1
Published by
Entangled: Select
on January 27th 2015
Genres:
Romantic Suspense
Format:
eArc
Goodreads
Purchase at
Amazon
|
Apple

NYPD detective Seraphia Newsom will avenge her brother's death at any cost. Even if it means insinuating herself into a rough, Brooklyn street gang and going so far undercover, she's not sure she'll be able to get out. Every minute she spends in their midst means the clock ticking down on her life, especially when she overhears something that could get her killed.
Bowen Driscol is the heir to a crime enterprise. He never asked for the job, but with his father behind bars, he has no choice but to step in and keep the operation running. But when the NYPD blackmails him with a piece of damning information in exchange for aiding an undercover cop, he finds himself on the other side of the law for the first time in his life.
Bowen knows the danger Sera is in, and keeping her safe trumps saving his own ass. The problem? She can't know he's on her side. And there's the matter of the seriously inconvenient heat sparking between them that's incinerating his resistance. But Sera only sees Bowen's past, and men like him are the reason her brother is dead. If they're to get out alive, he'll have to risk exposing the man beneath, and hope to hell he doesn't blow the whole operation in the process.
My Review:
Risking it All is the first book in Tessa Bailey's Crossing the Line series, and it's everything I'm looking for in a Romantic Suspense novel. It's full of an action-packed suspense storyline and some very well-developed characters that made it hard to put down. At least that is what it did for me because I couldn't get anything else done until I finished it. Now I'm anxiously waiting for the next in the series.
In the story we follow two characters who happen to be different and similar in certain ways. Bowen Driscoll is the heir to a crime enterprise, while Seraphina Newsom is an undercover NYPD detective who is trying to bring her brother's death to justice. She knows who killed him, she just needs further proof. Bowen ends up being recruited by the NYPD to try to get Seraphina away from the undercover operation she got stuck in because she could get killed in the process. In the meantime, Bowen can't tell Seraphina the truth, so he has to play the part of being the bad guy. Unfortunately, he's fallen for Seraphina, which makes it more difficult to keep it hush, hush what he is doing. He wants to tell her the truth, but he can't get himself in trouble with the crime boss Seraphina is trying to learn more about. It's going to be a whirlwind of craziness between Seraphina and Bowen because both of them are going to deal with tension between the bad guys and themselves. These two definitely from the moment they were introduced to each other, were dealing with a lot of sexual tension. Be prepared for the fireworks to explode with these two. They were meant to meet each other.  =)
I loved how Tessa Bailey built up the story and the characters before throwing in the really heated moments though. Readers will want to follow along the storyline to figure out what Seraphina and Bowen are under covering. Don't worry there are some very heated moments, so be prepared to get a cold glass of winter or even ice to cool down. The ending was a shock on what happened. I definitely wasn't prepared for that ending. (no spoilers here)  =) (Seriously loved how Tessa ended Risking it All…it was perfect)
Thanks to Entangled I have found another author I need to keep up with. I enjoyed every bit of Tessa's writing style in this genre and I look forward to what she does next in the series. I give this book 4.5 stars and highly recommend this book to romantic suspense and contemporary romance readers out there.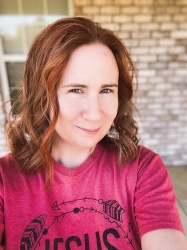 Latest posts by FranJessca
(see all)