ARC Review: 'Rogue Wolf Hunter' by Kait Ballenger #CMCon23
September 2, 2022
I received a complimentary copy of the book from Netgalley in exchange for an honest review. This does not affect my opinion of the book or the content of my review.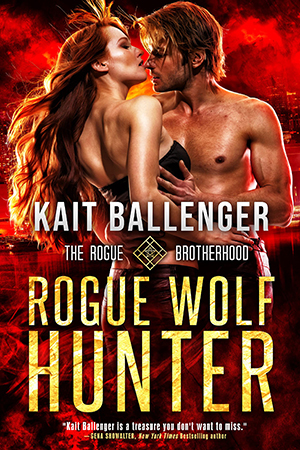 Rogue Wolf Hunter
by
Kait Ballenger
Series:
Rogue Brotherhood #1
Published by
Self-Published
on August 30, 2022
Genres:
Paranormal Romance
Format:
eArc
Source:
Netgalley
Goodreads
Purchase at
Amazon
|
Barnes & Noble
|
Kobo

Hunters of the paranormal, the Rogue Brotherhood are an elite group tasked with protecting humanity...but what happens when danger collides with desire?
Jace McCannon has one loyalty: the Rogue Brotherhood. Despite his mixed blood, his hatred for the werewolves he hunts is legendary. But in his search for a sadistic killer, Jace finds himself face-to-face with a stunningly seductive packmaster...and longing for a night with his mortal enemy.
Nothing can stop Frankie Amato from defending her kind - or from catching the rogue responsible for killing women in her territory. For that, this alpha female needs Jace's skills more than she wants to admit. But as their investigation exposes evil truths, need burns into a passion that dare not be fulfilled. For to do so will have deadly consequences for them both....
---
I originally read Rogue Wolf Hunter when it was initially named Twilight Hunter, released in 2013. When Kait Ballenger mentioned she was re-releasing her EU series with a new book/series name, I was all for re-reading the books, especially when she stated there were more to be added to the stories. Yes, ma'am. I'm all for revisiting a book I already loved. It's like visiting an old friend you've missed so much. In this case, I missed Jace and Frankie's story.
Storyline/My Thoughts: Rogue Wolf Hunter is with Jace McCannon and Frankie Amato. Jace is a supernatural hunter, but the kicker is he's also supernatural, and unfortunately, no one at the EU could ever find out, or he would lose his job. He dislikes his supernatural side, especially when it reminds him of his father, whom he despised. His father was a very abusive man who used to take it out on his mother. Jace doesn't want anything to do with this father and the side that his father gave to him.
For the last few weeks, Jace has been trying to figure out who is killing the young girls around Rochester and the EU keeps jumping on his back because they think he is not doing his job, specifically the douchebag, Chet. (Don't even get me started on how much I couldn't stand, Chet. Grrrr!)
When Jace is out investigating one of the killings, he runs across a werewolf, but she's not just any werewolf; she's the pack master of her pack. Frankie Amato is also investigating who is killing the girls because she needs to find out if it is a rogue. Her duty as pack master is to find out what is going on. Although, she has reasons on that day why she is out by herself and not with anyone else. She never thought she would run into Jace, her sworn enemy. She feels something for the hunter when he captures her, but she shouldn't since he is her enemy. There is something about the hunter that makes her wolf crazed for him. However, she keeps her identity from him because she can't trust him.
While Jace and Frankie fight for their hidden feelings for each other, the killer is out there making moves to kill other girls and target people close to even them. The killer has his own hidden agenda on why he is killing, and it will hit close to both Jace and Frankie later in the story. Kait did a fabulous job of keeping me on the edge of my seat, trying to figure out who the killer was and what they were really up to in the book.
If you read Kait Ballenger's Seven Range Shifters series, you'll recognize some characters that debut in this series. There's also a mention of where Jace used to work before returning to the Rochester division. I loved how Kait added those details to Rogue Wolf Hunter. I won't give anything away on who shows up in this book, but I will say this, Frankie is supposed to marry him. Poor Frankie! She is on a hard rock in a hard place because she is falling hard for Jace. She will have to make a hard decision as a packmaster to marry the man she will never love that will benefit her pack or fall for Jace, who used to be her sworn enemy.
Rogue Wolf Hunter has a lot of action, suspense, and romance to the story, and I'm so glad I re-read it. I loved the additional things added to the story. Kait reintroduced the other hunters in this book that I've missed, too, such as Damon, David, Shane, Trent, and Ash. I can't wait to re-read the next two books in the newly branded series.
I felt for both MMC and FMC in Rogue Wolf Hunter. Jace and his hesitancy of not liking the supernatural side of him because he doesn't want to be like his father. Frankie and the other hunters encourage him to embrace it, especially when they realize what Jace actually is, as far as his supernatural side and that he could help stop the killer.
Frankie is a kick-butt FMC. She's a female packmaster. That alone gives her the title of kick-butt. She is one of my fave FMCs that Kait has ever written (so far). She is on my list of fave FMCs.
When the MMC and FMC decide to give into their feelings for each other and have a one-night stand, it gets spicy in the bedroom. Jace is dominant in the bedroom. Oh, yes, he won me over on how he took over, and Frankie enjoyed it, too. She wasn't expecting it. I love when authors throw in dom/sub (BDSM) in books.
I enjoyed the storyline of Rogue Wolf Hunter and how Kait managed to have me flipping through the pages of my Kindle again. I can't wait to read the next two books in the series. Kait will make me fall hard again for the characters a second time. She's one of my favorite PNR authors.
I give this book five stars, and if you haven't read this series or her Seven Range Shifters series, what are you waiting for? Get to it!
Standalone or Part of Series: It's part of the Rogue Brotherhood series and I would recommend reading in order.
Steam/Spice: ⭐️ ⭐️ ⭐️
Trope(s)/Element(s): Fated Mates, One-Night Stand, Enemies to Lovers
HEA: Yes
Would I recommend this book? Yes. I recommend this book to fans of Paranormal Romance.

This post contains affiliate links you can use to purchase the book. If you buy the book using that link, I will receive a small commission from the sale. It will help sponsor future giveaways but costs you nothing extra. You can read the full disclosure underneath the Privacy Policy.
---
---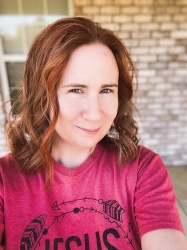 Latest posts by FranJessca
(see all)