ARC Review: 'Shatter' by Joan Swan
January 4, 2014
I received a complimentary copy of the book from Netgalley, the publisher in exchange for an honest review. This does not affect my opinion of the book or the content of my review.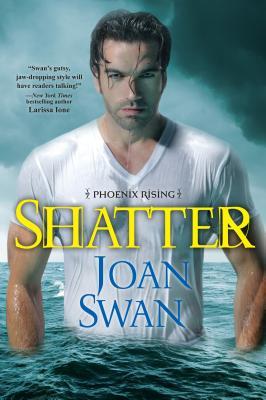 Shatter
by
Joan Swan
Series:
Phoenix Rising #4
Published by
Brava
on December 31, 2013
Genres:
Romantic Suspense
,
Paranormal Romance
Format:
eArc
Source:
Netgalley, the publisher
Goodreads
Purchase at
Amazon
|
Apple

For seven years, Halina Beloi has been in hiding. But she's never forgotten Mitch Foster, the long, lean man she had to leave behind. Until, that is, Mitch shows up with a list of questions and a 9mm in his hand.
All Mitch knows is that Halina broke his heart and disappeared. But new information has surfaced implicating her as a player in the deadliest game of Mitch's life. This time, he's not letting go without answers. Now terror, danger and heat will fuse them together or shatter the future. . .
My Review
NOTE: This review was supposed to be posted the beginning of this month, as soon as I finished the book, but unfortunately I was not expecting getting food poisoning. =( I'm still recovering from it, and I think I finally can eat right and be able to read a book without feeling ill. Ugh!!!
I was excited to read Shatter by Joan Swan because this was Mitch's book. I fell for Mitch in the first book, Fever and I know a bunch of other women fell for him too. I have been waiting patiently for Mitch's book, so I was anxious to get my hands on, who was going to end up with Mitch. Okay, I admit it…I wanted to know which female character I had to hate now. Yup…I'm jealous that Mitch now has a happily ever after. *sigh* –insert tears–
Shatter opens up with Mitch finding the one person he has not seen in the last seven years because she broke his heart. Halini Beloi did not want to be found though. She hid for a reason, and now her worst nightmare has come true. The one person, she tried to protect is in danger again because he found her. Mitch is determined to find out the truth of Halini and why she decided to run and hide. He wants to know what she did during her job and let her know what is happening with her previous employer. Halini is trying to run from what her former employer had her do. Unfortunately, her past is going to creep back and destroy the one person she has ever loved.
Joan did a fantastic job with Shatter and making us fall for Mitch again, and again…but she did manage to make me hate Mitch too because like I said, he found his happiness. He also changed a bit in the story that most readers may not be used to reading. Every woman's heart is broken now. Mitch though, will forever be my favorite character in the series because of his crazy personality. He has a way with the women and a way of making every man hate him. Well…he does have connections due to his job, and he does make everyone's life hell, but he will melt your heart the minute he is around kids. Notably, during one specific scene that made me melt like crazy. Oh boy…why is he fictional!!!!
Halini is the stubborn, strong-willed female character in the story, and she got on my nerves due to having trust issues and also running constantly. But, she did kick butt a lot in Shatter and even managed to handle her self well during certain situations. I can see why she was perfect for Mitch in the end; it just took me a while to like her. She did steal the most eligible and sexy male character out of the series.
I enjoyed the storyline of Shatter and was turning pages on my Kindle like crazy to find out what is going to happen next. I just felt that sometimes the characters got on my nerves a bit with the back and forth of the situation that Mitch was trying to figure out about Halini. There also was the situation with Halini not giving up that something was going to happen to Mitch due to her warnings, she kept having.
There is something about Halini that you will find out that will make her unique just like the previous characters in the series.
I give Shatter 4 full moons and recommend it to romantic suspense readers out there that like a book with a paranormal romance element to it.
P.S. – The cover of the book does not fit Shatter at all…and that was a big disappointment…but oh well at least I got to have Mitch's book. =)Wish the publisher would have dived deeper into Mitch's looks and personality and found a better cover to fit his book.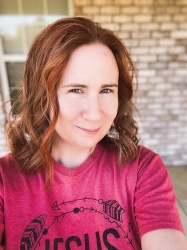 Latest posts by FranJessca
(see all)