ARC Review: 'Shattered Circle' by Linda Robertson
February 1, 2013
I received a complimentary copy of the book from the publisher in exchange for an honest review. This does not affect my opinion of the book or the content of my review.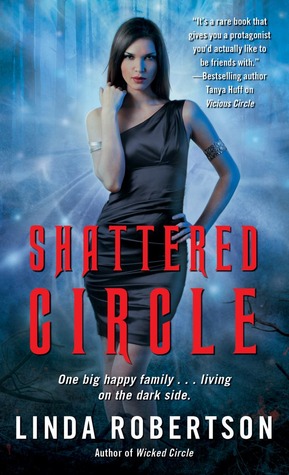 Shattered Circle
by
Linda Robertson
Series:
Persephone Alcmedi #6
Published by
Pocket Books
on January 29, 2013
Genres:
Urban Fantasy
Format:
ARC
Source:
the publisher
Goodreads
Purchase at
Amazon
|
Apple

After her werewolf boyfriend, Johnny, tried to kill her, Persephone Alcmedi finds herself in the comforting arms of powerful vampire Menessos. She's trying to sort out her feelings for the two men, but not even Seph is above the confusion of tangled emotions. All Johnny wants to do is mend their relationship and reveal the life-altering news he's recently received, but his new responsibilities as the werewolf king take up most of his time.
Does this mean Menessos can finally make his move?
Meanwhile, unknown to Seph, her beloved foster daughter, Beverley, has been playing with a magical artifact and making dubious friends on the other side. When Beverley disappears, Seph must seek help from a supernatural being so potent that even Menessos fears him...and such aid always comes with a very steep price.
My Review
First off, I am going to kick myself in the butt for not realizing when I signed up for the tour that this is the actual 6th book in the series. I have never read out of order (it is a pet peeve of mine and I think I literally pulled my hair when I finally realized it)….so forgive me, Linda Robertson. I have to say though, what sold me on this book and what is now tempting me to read the first 5 and re-read this one is the fantasy world that Linda created it. What sold me into participating in the blog tour was the synopsis of this book and the cover. I always enjoyed the Urban Fantasy genre as well. There are always twists and turns in Urban Fantasy that PNR and other genres do not follow.
Persephone Alcmedi is dealing with a lot, she's the Lustratra and everyone pretty much fears her and what she is capable of….of course they're some who want her on their side. She has a werewolf boyfriend who is now the king of his kind and he's dealing with his own problems…one that involves his secret that Persephone is about to find about and his very controlling, manipulative new assistant who seems to want him for herself. Persephone also has her foster daughter, Beverley causing trouble at home, and forces Persephone in a bind. Beverley will put herself in danger and Persephone will have to ask the vampire, Menessos, to help out, but with a price that Persephone will have no control over. All three of them, are dealing with their own problems, but in the end, they will have to come together due to a bigger threat that is arising.
I was confused at first while reading this because it jumped right into what the 5th book left off, but Linda definitely made sure to let me know what went on and I fell in love with the characters. I was on the edge of my seat while reading this book due to all the dilemmas that were happening to each character.
This book gave me POVs of all different characters, which made me a little disoriented at first, but when I got further in the book, I was intrigued by each character that I was reading from. I got to feel what every character was having to endure in this book. ( I love having different points of view because you grow to understand each character and love them or hate them more. You also get to feel what the characters are dealing with, while the other characters have no clue what they went through. )
The best part of the book…which to the character Persephone and her family and friends was considered awful was when Linda Robertson threw in an adaption of mythology that I loved as a child. (Persephone & Hades) (I will not spoil it for anyone who wants to read this book or the others)
Witches, vampires, werewolves, fae, and even a little bit of mythology….all combined in one book, why would you not want to read it?
Why have I not heard of this series before until now? Shame on me and shame on none of my friends heard about it as well. Well, now they know. =)
I am so happy to know that Bewitching introduced me to this author and this series. =) I definitely will be reading the first 5 books, as well as anxiously waiting for the 7th book. (I will even re-read this one when I read the other 5 to get the full effect)
Linda Robertson has a writing style that had me staying up late to read the book so I can find out what happened next to Seph and her circle of friends.
I definitely recommend this book or actually, I should say series to Urban Fantasy readers out there everywhere.
I was provided a complimentary copy of the book from the author for the blog tour in exchange for an honest review.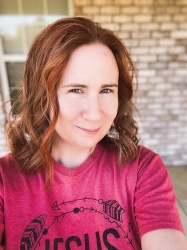 Latest posts by FranJessca
(see all)