ARC Review: 'Starbreaker' by Amanda Bouchet
April 28, 2020
I received a complimentary copy of the book from the publisher in exchange for an honest review. This does not affect my opinion of the book or the content of my review.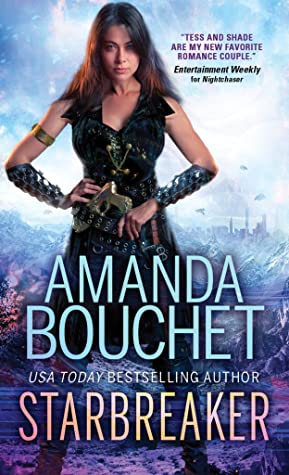 Starbreaker
by
Amanda Bouchet
Series:
Endeavor #2
Published by
Sourcebooks Casablanca
on April 28, 2020
Genres:
Science Fiction Romance
Format:
eArc
Goodreads
Purchase at
Amazon
|
Barnes & Noble

Captain Tess Bailey and Shade Ganavan never wanted to be heroes. Now, revolution is in the wind and the universe on the brink of catastrophic war. Tess, Shade, and the remaining crew of the Endeavor are still the galaxy's Most Wanted. With the Dark Watch—and every bounty hunter known to humankind—scouring the known sectors for them, the situation couldn't be more desperate.
The clock is ticking. As their attraction builds and secrets are revealed, Tess and Shade must decide if they trust each other enough to plan their next move together. They could change the course of history…or at least bring hot water to the showers aboard the Endeavor. They'll just have to tackle one crisis at a time.
---
Starbreaker is the second installment to Amanda Bouchet's Endeavor series. This is one book I've been waiting for since I read Nightchaser. Yes, I would say this is one of my 'most-anticipated' books to read in 2020. Amanda Bouchet is one author that I will change my reading schedule to make room for her books.
If you have not read the first book, Nightchaser, then I highly recommend you do before diving into Starbreaker. The reason why is the second book picks up where the first book left off in the end. I'm going to try not to spoil anything from this book, especially since this book has a lot in it that happens.
---
Things I enjoyed in the second book:
1. I loved learning more about Tess in this book. Readers will get more of her history, especially with what happened to her when she was younger. Secrets will be revealed to Tess. It's going to be a shocker. I'm still shocked and can't wait until the next book. I need more!
2. I loved Tess and Shade in this book. Shade is all about Tess in this book. Although, Tess still had trust issues with Shade after finding out about his betrayal. There's a particular part in the book when Shade introduces Tess in his world before the Night Watch. They become connected. There were steamy scenes between the two characters too. Very steamy scenes!
3. The dangerous, action-packed mission. The Endeavor crew has been tasked to free a renowned scientist Reena Ahern from Starbase 12. This is when all of them will be tested.
4. Secondary characters. I love how Amanda Bouchet not only has me adore her main characters but the secondary characters too. Although, I'm going to go through the book and knock some sense into Jax. He drove me crazy!
5. The bad guys. The Overseer is someone I despise and wish he would go away. The other bad guy in the story I hate too, but now I may have different feelings for also. The Overseer does something unthinkable in this story that makes it even harder for the Endeavor crew to do their jobs soon. The Overseer is pure evil!
---
I haven't read much of the Sci-Fi Romance genre, but I love Sci-Fi thanks to the Star Wars franchise. This is why I love this series by Amanda Bouchet because it reminds me so much of Star Wars. I love how the characters have a mission to help other people and how these characters despise the Night Watch. They are trying to be two steps ahead of the bad guys. The bad guys, though, know everything. I can't wait to find out what happens next with the Endeavor crew, especially after what happened to Tess and her team. Will Tess and Shade have a HEA? Will Tess be able to trust the one person who gave her away when she was younger?
I only gave this book 4-stars, but it doesn't mean I didn't still love it. There was a lot of repetition in the book, but it didn't stop me from reading the book. I highly recommend this book to readers that loved Amanda Bouchet's Kingmaker Chronicles and readers that love Sci-Fi Romance. If you are a fan of Star Wars, then these books are for you.

This post contains affiliate links you can use to purchase the book. If you buy the book using that link, I will receive a small commission from the sale. It will help sponsor future giveaways but costs you nothing extra. You can read the full disclosure underneath the Privacy Policy.
---
---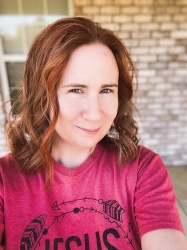 Latest posts by FranJessca
(see all)