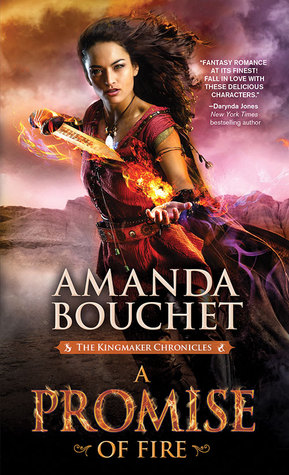 A Promise of Fire
by Amanda Bouchet
Series: Kingmaker Chronicles #1
Published by Sourcebooks Casablanca on August 2, 2016
Genres: Fantasy Romance
Pages: 441
Format: Paperback, AudioBook
Source: Library, Audible Romance Package
Amazon Kindle | Amazon Paperback | Audible | Barnes & Noble | Kobo
Goodreads


KINGDOMS WILL RISE AND FALL FOR HER...BUT NOT IF SHE CAN HELP IT
Catalia "Cat" Fisa lives disguised as a soothsayer in a traveling circus. She is perfectly content avoiding the danger and destiny the Gods-and her homicidal mother-have saddled her with. That is, until Griffin, an ambitious warlord from the magic-deprived south, fixes her with his steely gaze and upsets her illusion of safety forever.
Griffin knows Cat is the Kingmaker, the woman who divines the truth through lies. He wants her as a powerful weapon for his newly conquered realm-until he realizes he wants her for much more than her magic. Cat fights him at every turn, but Griffin's fairness, loyalty, and smoldering advances make him increasingly hard to resist and leave her wondering if life really does have to be short, and lived alone.
My Review Continue reading →
I received a complimentary copy of the book from the publisher, Netgalley in exchange for an honest review. This does not affect my opinion of the book or the content of my review.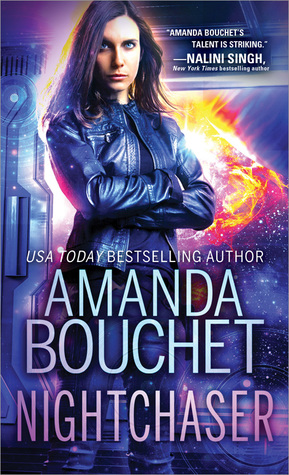 Nightchaser
by Amanda Bouchet
Series: Endeavor #1
Published by Sourcebooks Casablanca on January 1, 2019
Pages: 416
Format: eArc
Source: publisher, Netgalley
Amazon Kindle | Amazon Paperback
Goodreads


A delicious new heart-pounding romantic adventure from USA Today bestseller Amanda Bouchet!
Captain Tess Bailey and her crew of Robin Hood-like thieves are desperate and on the run. Pursued by a vicious military general who wants them dead or alive, Tess has to decide if she can trust Shade Ganavan, a tall, dark and arrogant stranger with ambiguous motivations.
Shade Ganavan had oodles of arrogance, oodles of charm, and oodles of something that made me want to kick him in the nuts.
What Tess and Shade don't know about each other might get them killed…unless they can set aside their differences and learn to trust each other—while ignoring their off-the-charts chemistry.
My Review Continue reading →