Review: 'Breath of Fire' by Amanda Bouchet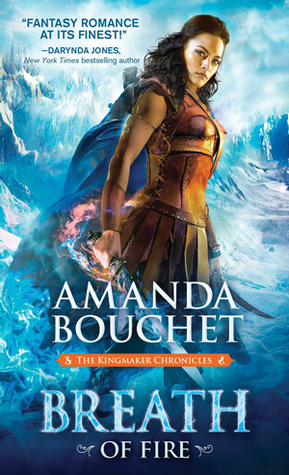 Breath of Fire
by
Amanda Bouchet
Series:
Kingmaker Chronicles #2
Published by
Sourcebooks Casablanca
on January 3, 2017
Genres:
Fantasy Romance
Pages:
432
Format:
Paperback
Source:
Library
Amazon Kindle
|
Amazon Paperback
|
Audible
|
Barnes & Noble
|
Kobo
Goodreads

SHE'S DESTINED TO DESTROY THE WORLD... "Cat" Catalia Fisa has been running from her destiny since she could crawl. But now, her newfound loved ones are caught between the shadow of Cat's tortured past and the threat of her world-shattering future. So what's a girl to do when she knows it's her fate to be the harbinger of doom? Everything in her power.
BUT NOT IF SHE CAN HELP ITGriffin knows Cat is destined to change the world-for the better. As the realms are descending into all-out war, Cat and Griffin must embrace their fate together. Gods willing, they will emerge side-by-side in the heart of their future kingdom...or not at all.
Thanks to my local library for providing me a copy of the book to borrow, so I can finally read and finish the Kingmaker Chronicles. I've had this trilogy on my Goodreads TBR for quite a while now and finally got to the books. After reading the first book to Amanda Bouchet's new trilogy that came out earlier in 2019, I know I had to read her Kingmaker Chronicles. Her storytelling and characters are addicting to read and listen to when I'm looking for stories to take me away from reality for a while.
First off, you must read the trilogy in order, so if you haven't read the first book then I highly recommend you do and not read this review. I try not to spoil in my reviews, but just in case I always recommend not reading my reviews of books that follow trilogies/series.
The second book in the Kingmaker Chronicles had a lot of action, adventure, drama, romance, and magic in it compared to the first book, which is why it's getting a higher rating from me. Five-star rating from me since it was my favorite of the trilogy. (I ended up finishing the last book before typing up this review, so this was my favorite of the trilogy.)
There's an issue that arises from the first book that is addressed in the second book. Cat's real identity comes forward and Griffin confronts her about it. These two together though are unstoppable. I loved Cat and Griffin together because they were meant for each other. The adventures these characters go through in this book will test their relationship. There's also the secondary characters that end up getting the spotlight in this book; Kato, Carver, and even Griffin's sister. There's a particular part of the book where a specific secondary character has to do something that is out of his comfort zone, but he does it anyway. There's also the ending of this book that will have you in shock. I had a feeling though it was going to happen. This book tests all the characters, which is why I enjoyed this book. It kept you turning the page to find out what was going to happen next.
Now onto typing up my review of the third book. If you haven't read this trilogy yet, then I highly recommend you do if you enjoy Fantasy Romance. I loved how Amanda wrote mythology in this trilogy. 🙂
---
Story Rating: 5 stars
Steaminess Rating: 3.5 stars
Standalone or part of series: Part of a trilogy and highly recommend reading in order.
Do I recommend this book?  Yes, definitely.
Will I read other books from the author? Yes. She's one of my auto-buy authors.
Tropes/Elements: Fantasy Romance; Mythology (Gods/Goddesses)


I guess I should type a bio here. I'm FranJessca or Fran for short. I'm the owner of Book Lovin' Mamas and main Reviewer. I've been reviewing books since I got out of the Navy in 2011. Now 8 years later, I'm still reviewing, but this time with my youngest sidekick.
When I'm not reading and reviewing, you can find me at my day job during the week and on the weekend taking care of our little farm.

Latest posts by FranJessca (see all)