Review: 'A Promise of Fire' by Amanda Bouchet
May 2, 2019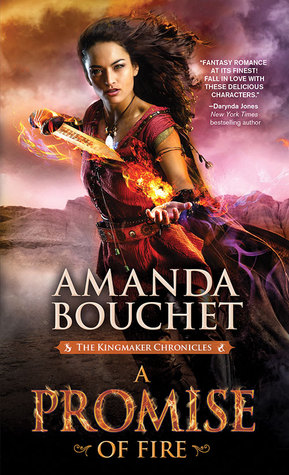 A Promise of Fire
by
Amanda Bouchet
Series:
Kingmaker Chronicles #1
Published by
Sourcebooks Casablanca
on August 2, 2016
Genres:
Fantasy Romance
Format:
Paperback
,
AudioBook
Source:
Library
Goodreads
Purchase at
Amazon
|
Apple
|
Google Play
|
Kobo

KINGDOMS WILL RISE AND FALL FOR HER...BUT NOT IF SHE CAN HELP IT
Catalia "Cat" Fisa lives disguised as a soothsayer in a traveling circus. She is perfectly content avoiding the danger and destiny the Gods-and her homicidal mother-have saddled her with. That is, until Griffin, an ambitious warlord from the magic-deprived south, fixes her with his steely gaze and upsets her illusion of safety forever.
Griffin knows Cat is the Kingmaker, the woman who divines the truth through lies. He wants her as a powerful weapon for his newly conquered realm-until he realizes he wants her for much more than her magic. Cat fights him at every turn, but Griffin's fairness, loyalty, and smoldering advances make him increasingly hard to resist and leave her wondering if life really does have to be short, and lived alone.
My Review
I've had A Promise of Fire on my TBR list for a while now. I borrowed the book from the library to finally read it, but then I also decided to borrow it from the Audible Romance Package subscription, so I can listen to it as well. I loved this book from beginning to end, and I have a feeling that Amanda Bouchet is going to be one of my auto-buy authors now since this is the second book I've read by the author. I loved her latest book Nightchaser, and now I love the Kingmaker Chronicles so far after reading/listening to the first book.
This book is a Fantasy Romance book, so it has mythology elements to it mentioning Gods/Goddesses. I loved that part of the book so much since I loved studying Greek/Roman mythology when I was younger. The author did a fantastic job with the first book with the world-building, and I adored the female heroine, Catalia "Cat" Fish, so much in this book. She is beyond funny, and I loved how kick-butt she was in the book. She's been living her life disguised as a soothsayer in a traveling circus, and unfortunately, her disguise is about to be given up when a sexy warlock finds her and wants her for his newly conquered realm. He believes she's the Kingmaker he's been looking for to help him. She's a powerful weapon, and he will do anything to have her. He'll even keep her prisoner, but Cat is one character that is very interesting and irresistible. She doesn't make it easy for warlock Griffin, which is one of many reasons why I adored her. There is quite a bit of mystery with Cat to in the story too. She's keeping a secret hidden, and the author does bring forward some past instances of Cat and her wicked mother in the story. There are also others that want her as their Kingmaker and some that even want her dead.
I loved the warlock too, Griffin. He's a fascinating character in the story, and he didn't know how to handle Cat at first. The tension between the two characters Cat and Griffin was unbearable at times in the story, even though Cat tried to play it off so many times in the book. The whole time I was reading/listening to the book I was going 'just do it already and get together.' Dang! I loved it though.
Let's say this book is full of adventure, suspense, action, and even romance. I've already borrowed the second book in the series and plan on listening to it as well since I want to find out what is going to happen next in the second book. I'm so glad I decided to read/listen to this book. I love fantasy novels and to have romance in it as well is a plus to the story/series.
---
Story Rating: 4.5 stars
Steaminess Rating: 3.5 stars
Standalone or part of series: Part of the Kingmaker Chronicles and I recommend reading in order.
Do I recommend this book?  Yes, most definitely.
Will I read other books from the author? Yes. She's become one of my auto-buy favorite authors.
Tropes/Elements: Mythology elements (Gods/Goddesses); Adventure; Angst from the main female character and main male character in the story.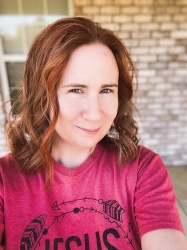 Latest posts by FranJessca
(see all)