ARC Review: 'Sweeter Than Sin' by Shiloh Walker
October 9, 2014
I received a complimentary copy of the book from the publisher in exchange for an honest review. This does not affect my opinion of the book or the content of my review.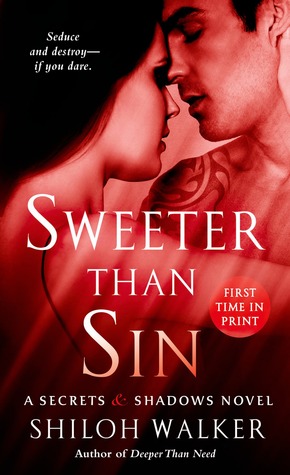 Sweeter Than Sin
by
Shiloh Walker
Series:
Secrets & Shadows #2
Published by
St. Martin's Paperbacks
on September 30, 2014
Genres:
Romantic Suspense
Format:
eArc
Goodreads
Purchase at
Amazon
|
Apple
|
Kobo

CAN'T FORGET THE PAIN
It took years for Adam to stop drowning his regrets in alcohol, and running the local bar doesn't make it any easier—especially not when everyone he knows gathers there to discuss the shocking allegations that have shattered his hometown. When another murder rocks sleepy Madison to its core, it becomes chillingly clear that even more vicious wounds are waiting to be exposed.
WON'T RESIST THE PLEASURE
Nothing is sacred anymore, and no one is safe, least of all the mystery woman who shows up in town out of the blue, looking like every fantasy Adam's ever had. She may have her own dangerous secrets, but she can't ignore the urgent heat between them any more than he can. As a killer's quest for vengeance explodes into violence, Adam is tempted to lose himself in the delicious promise of her body—until he realizes he'll risk anything if she'll give him her heart…in Sweeter than Sin by Shiloh Walker.
My Review
Sweeter than Sin is the second full length novel in Shiloh Walker's A Secrets & Shadows series, and it definitely was one of the darkest romantic suspense books I've read this year so far.
First off let me start by saying I read out of order and now I have to fix the situation as soon as possible. I need to read the three novellas and Deeper than Need before the third full novel comes out next year. I will make it happen darn it because Shiloh Walker hooked me into Sweeter than Sin, even when I read out of order.
Sweeter than Sin is going to involve around several characters telling the story, but the main ones that are taking focus are Lana and Adam in this story. Lana plays apart in Sweeter than Sin with what happened twenty years ago, and how she's returned to Madison after finding out something is still not taken care of. She's determined to find out what really happened and fix it all together. Adam is still dealing with his past as well, and he's about to face the truth of what really happened twenty years ago with Lana.
I would go on summarizing some of the book like I usually do in my reviews, but this time I'm changing it up a bit. Shiloh continues from the previous book, which is why I'm changing my review style a bit. I don't want to ruin this story for someone who wants to read this series.
Be prepared for several points of view other than the main characters that Shiloh is focusing on. You'll get many point of views in the story that it may be overwhelming at times. Some of those characters are going to get little exposure, while others are going to play a major part on what happens next in the story. I enjoyed every bit of the back and forth of different characters because you get to see what is going on in different angles.
Readers that enjoy romance will get that in the story, but it's not going to be your main focus while reading. Believe me you'll want to follow along with the characters trying to uncover the secrets of what is happening in Madison. This town has some serious issues and most of the people there are really corrupt and sick.
***Forewarning…this book is not for the faint of heart. If you enjoy romantic suspense books that take you out of your comfort zone, and involve very dark and gritty story lines, you will definitely want to read this series from Shiloh Walker.
I give this book 4 full moons and highly recommend it to romantic suspense readers out there.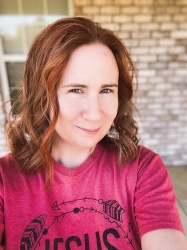 Latest posts by FranJessca
(see all)