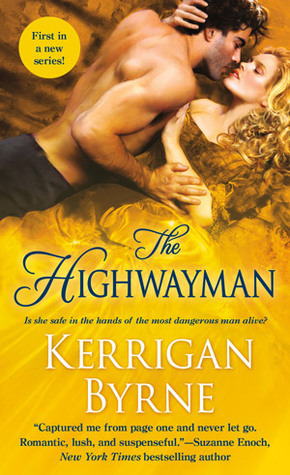 The Highwayman
by
Kerrigan Byrne
Series:
Victorian Rebels #1
Published by
St. Martin's Paperbacks
on September 1, 2015
Genres:
Historical Romance
Pages:
356
Format:
Paperback
Source:
Purchased
Amazon Kindle
|
Amazon Paperback
|
Audible
|
Barnes & Noble
|
Kobo
Goodreads

They're rebels, scoundrels, and blackguards—dark, dashing men on the wrong side of the law. But for the women who love them, a hint of danger only makes the heart beat faster…
STEALING BEAUTYDorian Blackwell, the Blackheart of Ben More, is a ruthless villain. Scarred and hard-hearted, Dorian is one of London's wealthiest, most influential men who will stop at nothing to wreak vengeance on those who've wronged him…and will fight to the death to seize what he wants. The lovely, still innocent widow Farah Leigh Mackenzie is no exception—and soon Dorian whisks the beautiful lass away to his sanctuary in the wild Highlands…
COURTING DESIREBut Farah is no one's puppet. She possesses a powerful secret—one that threatens her very life. When being held captive by Dorian proves to be the only way to keep Farah safe from those who would see her dead, Dorian makes Farah a scandalous proposition: marry him for protection in exchange for using her secret to help him exact revenge on his enemies. But what the Blackheart of Ben More never could have imagined is that Farah has terms of her own, igniting a tempestuous desire that consumes them both. Could it be that the woman he captured is the only one who can touch the black heart he'd long thought dead?
I received a complimentary copy of the book from the publisher in exchange for an honest review. This does not affect my opinion of the book or the content of my review.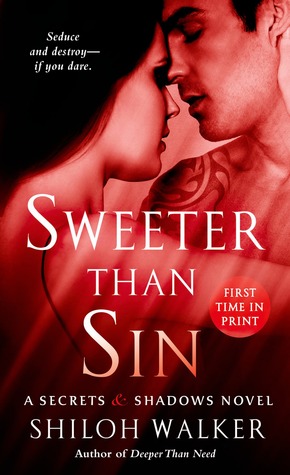 Sweeter Than Sin
by
Shiloh Walker
Series:
Secrets & Shadows #2
Published by
St. Martin's Paperbacks
on September 30, 2014
Genres:
Romantic Suspense
Pages:
336
Format:
eArc
Source:
publisher
Amazon Kindle
|
Amazon Paperback
|
Barnes & Noble
Goodreads

CAN'T FORGET THE PAIN
It took years for Adam to stop drowning his regrets in alcohol, and running the local bar doesn't make it any easier—especially not when everyone he knows gathers there to discuss the shocking allegations that have shattered his hometown. When another murder rocks sleepy Madison to its core, it becomes chillingly clear that even more vicious wounds are waiting to be exposed.
WON'T RESIST THE PLEASURE
Nothing is sacred anymore, and no one is safe, least of all the mystery woman who shows up in town out of the blue, looking like every fantasy Adam's ever had. She may have her own dangerous secrets, but she can't ignore the urgent heat between them any more than he can. As a killer's quest for vengeance explodes into violence, Adam is tempted to lose himself in the delicious promise of her body—until he realizes he'll risk anything if she'll give him her heart…in Sweeter than Sin by Shiloh Walker.
My Review Continue reading →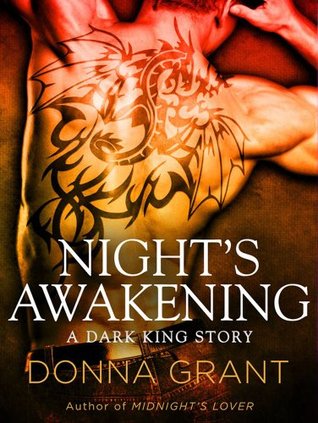 Night's Awakening
by
Donna Grant
Series:
Dark Kings #0.2
Published by
St. Martin's Paperbacks
on August 28 2012
Genres:
Paranormal Romance
Pages:
107
Format:
eBook
Source:
Purchased
Amazon Kindle
|
Amazon Paperback
Goodreads

Fueled by dragon magic, the dark immortal warriors were never meant to feel human desire, much less fall in love. But when Guy, a member of an ancient order of shape-shifting warriors, meets Elena Griffin—a mere mortal whose beauty and blind ambition shakes him to his core—all bets are off…
Having left America to explore the Scottish Highlands, Elena suddenly finds herself lost in a dark cave—alone, injured, and utterly hopeless…until Guy appears from out of nowhere. Is she dreaming her own rescue when she falls into his arms? A man—and a passion—this strong is too good to be true. It's only a matter a time before she learns the truth about the flames in his heart. And the dragon in his soul…
Don't miss the Dark Sword and Dark Warrior novels by Donna Grant—also set in this scintillating world of Highland magic and legendary lovers.