Review: 'The Highwayman' by Kerrigan Byrne #Romanceopoly2020
January 26, 2020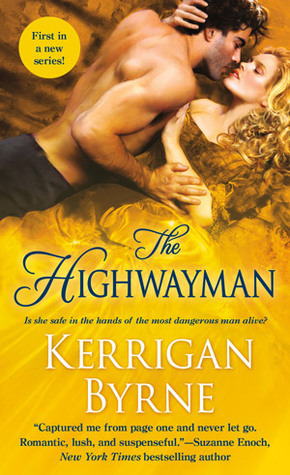 The Highwayman
by
Kerrigan Byrne
Series:
Victorian Rebels #1
Published by
St. Martin's Paperbacks
on September 1, 2015
Genres:
Historical Romance
Format:
Paperback
Source:
Purchased
Goodreads
Purchase at
Amazon
|
Barnes & Noble

They're rebels, scoundrels, and blackguards—dark, dashing men on the wrong side of the law. But for the women who love them, a hint of danger only makes the heart beat faster…
STEALING BEAUTYDorian Blackwell, the Blackheart of Ben More, is a ruthless villain. Scarred and hard-hearted, Dorian is one of London's wealthiest, most influential men who will stop at nothing to wreak vengeance on those who've wronged him…and will fight to the death to seize what he wants. The lovely, still innocent widow Farah Leigh Mackenzie is no exception—and soon Dorian whisks the beautiful lass away to his sanctuary in the wild Highlands…
COURTING DESIREBut Farah is no one's puppet. She possesses a powerful secret—one that threatens her very life. When being held captive by Dorian proves to be the only way to keep Farah safe from those who would see her dead, Dorian makes Farah a scandalous proposition: marry him for protection in exchange for using her secret to help him exact revenge on his enemies. But what the Blackheart of Ben More never could have imagined is that Farah has terms of her own, igniting a tempestuous desire that consumes them both. Could it be that the woman he captured is the only one who can touch the black heart he'd long thought dead?
---
I've been meaning to read one of Kerrigan Byrne's books and finally got a chance during Romanceopoly 2020. The Highwayman is the first book Kerrigan Byrne's Victorian Rebels series, and I had a hard time putting down this book. I loved how Kerrigan Byrne immediately grabbed me from Chapter One to the Epilogue.
The first chapter introduces readers to Farrah and Dougan and how they met when they were young at an Orphanage. These two were immediate soulmates until they were ripped from each other due to Dougan protecting Farrah. Now, as an adult, Farrah is working for Scotland Yard and lives her life as a widower. She ends up crossing paths with the most influential man in London, Dorian Blackwell, the Blackheart of Ben More, when he is captured and questioned by her boss. He's known as a man that wreaks vengeance everywhere he goes on the people that wronged him. He also gets everything he wants, and now he wants Farrah. He ends up kidnapping her and swooping her away to the Highlands. He has a mission, though, to protect her and also help her gain what she lost, but Farrah doesn't trust the dark and tormented man. After a while, though, she starts falling for Dorian, even though she shouldn't since her first love Dougan still holds her heart.
Dorian Blackwell is one man that I fell hard for since he's a dark and tortured soul that has so much hate in his heart. Although he has been accused of not having a heart throughout the story, and I knew why he had no heart after Kerrigan Byrne brought to light what happened to him when he was imprisoned at Newgate. He knew Farrah's Dougan very well and swore to find and protect Farrah, who was known as the Fairy. The minute he finds Farrah in the story is when readers will realize Farrah is one of his weaknesses. I should've not liked Dorian on how he came off to Farrah. One scene alone, he becomes an exploding cannon when Farrah touches him. There's also the first bedroom scene between the two characters, but of course, Farrah realized then that something was wrong with him.
I adored Farrah too in the story with how she was a fighter in her way. She's innocent and kind to everyone she meets throughout the story. Although she fought with Dorian, even when she wouldn't win, she was determined to find his heart and also find out the real Dorian. Farrah was in danger in the story, and a man like Dorian wanted to protect her and knew her Dougan. She wanted to trust him. She also became attached to the men that Dorian had under his employ, and those characters kept Dorian on his toes too.
The best part of the story though, was when the truth came to light about Dorian. I had a feeling though from the hints that Kerrigan would put in the story that eventually Dorian's identity would be revealed. Once everything fell together, it was heartbreaking. This story is a second chance at romance for both characters. Dorian learning to have someone touch and love him and Farrah, teaching him how not everyone will harm him. I could go on and on about this book, but don't want to give anything away.
Kerrigan Byrne has now become an author I need to read more books from, and I've already added the next Victorian Rebels book to my Goodreads TBR list and hope to read it soon. I love Kerrigan's writing style. I tend to be picky with Historical Romance books, but I have a feeling that Kerrigan will make me love this genre even more.
If you're looking for a Historical Romance book that has a tortured/damaged hero and innocent/sweet heroine, then this book is for you.
---
Story Rating: 5 stars
Steaminess Rating: 3.5 stars
Standalone or part of series: Part of series.
Do I recommend this book? Yes.
Will I read other books from the author? Yes.
Tropes/Elements: Second Chance at Romance; Hero: Rebel; Tortured, Dark, Vengeful, Scarred; Heroine: Fake Widow; Sweet, Kind, Beautiful

This post contains affiliate links you can use to purchase the book. If you buy the book using that link, I will receive a small commission from the sale. It will help sponsor future giveaways but costs you nothing extra. You can read the full disclosure underneath the Privacy Policy.
---
---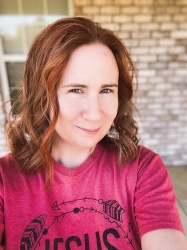 Latest posts by FranJessca
(see all)