Review: 'Night's Awakening' by Donna Grant
August 29, 2012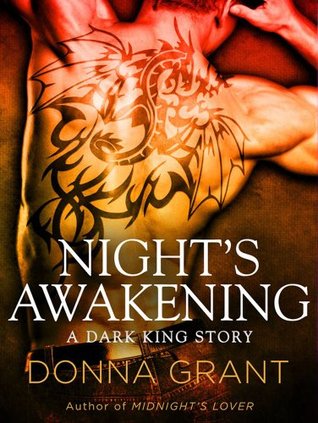 Night's Awakening
by
Donna Grant
Series:
Dark Kings #0.2
Published by
St. Martin's Paperbacks
on August 28 2012
Genres:
Paranormal Romance
Format:
eBook
Source:
Purchased
Goodreads
Purchase at
Amazon
|
Apple

Fueled by dragon magic, the dark immortal warriors were never meant to feel human desire, much less fall in love. But when Guy, a member of an ancient order of shape-shifting warriors, meets Elena Griffin—a mere mortal whose beauty and blind ambition shakes him to his core—all bets are off…
Having left America to explore the Scottish Highlands, Elena suddenly finds herself lost in a dark cave—alone, injured, and utterly hopeless…until Guy appears from out of nowhere. Is she dreaming her own rescue when she falls into his arms? A man—and a passion—this strong is too good to be true. It's only a matter a time before she learns the truth about the flames in his heart. And the dragon in his soul…
Don't miss the Dark Sword and Dark Warrior novels by Donna Grant—also set in this scintillating world of Highland magic and legendary lovers.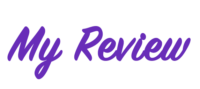 I got up in the middle of the night to make sure my pre-order of "Night's Awakening" downloaded to my Kindle. I think I squealed just a bit once I saw it officially. =)
I even decided to stay up just a little bit to read it, although I was exhausted from the day before. I was determined to read Guy's story.
Elena is off exploring with her boss, Sloan, who wants to go caving on private land. Elena knows something is up with her boss because supposedly Sloan has never been in the caves they're exploring, but for some reason, she's getting around.
Before she knows it, Elena found herself alone in the cave and injured until three men come to her rescue…or come to find out why she is on their land.
The three men who come upon Elena are determined to find out why Elena is in their caves and why her boss felt the need to go searching without permission. Now they have to interrogate her to find out the truth, but also to heal her in the meantime since she's injured.
Guy one of the guys who helped Elena is feeling very attracted to her, and he should not be. He is determined to know why she was in the caves and of course try to prove her innocence.
My thoughts on "Night's Awakening" was that it captured my attention just like the first one did. Let's say, hubby was getting annoyed with me at dinner when we went out to eat, and I would not put down my Kindle to eat. I kept telling him just one more minute I will be finished. =)
I love Guy in this book. I thought Hal stole my heart, but for some reason, Guy has become a favorite of mine. I clicked with him and felt sorry when he asked Elena a specific question towards the end of the book. I was about to go through the book and slap Elena silly if she didn't give him a better answer.
Elena plays a significant role in this book, and I loved the cliff-hanger at the end. Now I want to know what is going on with the dragons and who is behind everything. (won't tell because I will give it away to anyone who wants to read this novella)
I loved the chemistry between Guy and Elena…and let's say they have some steamy scenes together. (One scene involving water) =)
I'm so glad Donna wrote these books because I love dragon shifters and I can not get enough of the men she wrote in these books. I hope I get to read some more of Constantine in the next book (I want to know more about him). Oh and Tristan…can we finally find out who he is and why he is the way he is. I'm interested in him.
If you love dragon shifters, you'll want to check out the Dark Kings. =) The third book releases next month, and this gal has already pre-ordered it. Have you?
I recommend this book to paranormal romance readers, dragon shifter lovers, and Donna Grant fans (or readers who have always wanted to read Donna Grant's book). You need to read these e-novellas. You won't regret it one bit.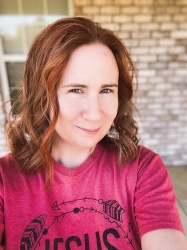 Latest posts by FranJessca
(see all)