ARC Review: 'The Cat's Meow' by Stacey Kennedy + Guest Post
January 9, 2013
I received a complimentary copy of the book from the publisher in exchange for an honest review. This does not affect my opinion of the book or the content of my review.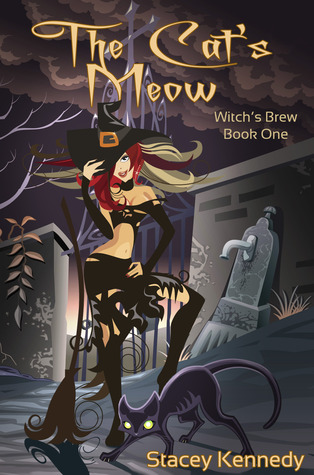 The Cat's Meow
by
Stacey Kennedy
Published by
Entangled Publishing
on December 13th 2012
Genres:
Urban Fantasy
Format:
eArc
Goodreads

When a magical presence is detected around a recent string of feline slayings, Libby, an enchantress, is determined to discover who is behind the odd deaths. But being a witch gifted by the Goddess won't protect her from the talented warlock the Coven sends to assist her. Kale weaves a spell more powerful than any she's ever seen--and he's sexy as sin. But why he's even needed for such a simple mission is beyond her.
While having some muscle around can't hurt her investigation, fighting her growing attraction for Kale is worse than a hex, especially considering she knows he—and their Coven—are hiding something from her. When she turns up clues that point to something far more sinister than slaughtered cats, though, the elusive warlock isn't the her only concern. She now has a political rebellion on her hands, too. And when the truth about who she really is begins to surface, the only person Libby can trust is herself.

Let me get this off my chest first I am in LOVE with KALE!!  Oh my goodness he is going on my HOTTIE List for Book Boyfriends this year and maybe for ALL time.  Okay, enough of drooling over the sexy warlock FOR NOW.  =)
Stacey Kennedy writes a fantastic first book to her Witch's Brew series that will make you want more after you read it.  You will fall in love with the characters. I know I did.  You will even enjoy the humor, magic, action, and romance in this book.
Seriously I LOVE Stacey Kennedy and her books, and The Cat's Meow is going on my TOP list of books from her…and believe me it is difficult to pick because every book I have read from her is FRIGGIN' amazing.
Libby is one female character, who can seriously kick butt with her crafty spells and astonishing witty remarks that may sometimes get her in trouble, but of course, everyone cannot help but love her.  She is very over-protective of her best friend, but she has her reasons, and she does not trust WARLOCKS due to her past.  And they are excellent reasons why she should not believe them until one sexy warlock is about to change her mind about them.
Kale the mystery warlock who supposedly is new to Charleston, but Libby has no idea why he is here and what he is.  All she knows is this sexy Warlock is hard to get out of her head.  He comes from wherever he came from to help her with a case that is leading to another more significant case.
Both Libby and Kale must find out what is happening in Charleston and put a stop to the bigger dilemma soon.
Of course, Libby is about to find out the real motives behind where is Kale is, and it may be for her benefit, or it may make her hate warlocks even more.
Seriously if you have not added this to our TBR list, you need to.  If you are an Urban Fantasy addict like I am that enjoys this genre with a little bit of romance to it, you'll enjoy "The Cat's Meow."
Stacey Kennedy made a bang up job on "The Cat's Meow," and I am still in shock with the truth behind what was happening in Charleston and who was behind everything and also what happened at the ending.  Oh…do not get me started with the truth of Kale.  I think I fell in love even more with him.
I highly recommend "The Cat's Meow" and give it 5 Full Moons.  I look forward to the next installment in this series and getting more of Libby and Kale….especially sexy, hottie, Kale.  *sigh*
Thanks, Stacey for giving me another fictional character to drool over and have fantasies of….shhh do not tell hubby.  =)  He already thinks my list is too long.

Please give a warm welcome to Stacey Kennedy today where she shares her Top Ten on her Bucket List that she wants to do.  I (FranJessca) also share my review of Stacey Kennedy's latest release "The Cat's Meow," which is her first book in the Witch's Brew Series from Entangled Publishing.  

Huge thanks to Book Lovin' Mamas for letting me stop by today and share my Bucket List. Admittedly, this list is very long, but today I'll give you a look at ten that I really, really, want to do!
4. Purchase/or build a log cabin.
5. Do one thing that terrifies me. (ie. zip-lining)
 6. Take a cruise to Alaska.
7. Purchase a Volkswagen Beetle convertible.
8. See the savannah and wildlife in South Africa.
9. Take a vacation to a Hedonism Resort.
10. Go Horseback Riding in Swan Valley, Montana.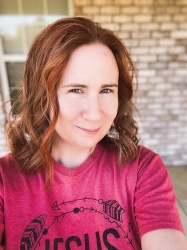 Latest posts by FranJessca
(see all)