ARC Review: 'The Day He Kissed Her' by Juliana Stone
April 15, 2014
I received a complimentary copy of the book from the publisher in exchange for an honest review. This does not affect my opinion of the book or the content of my review.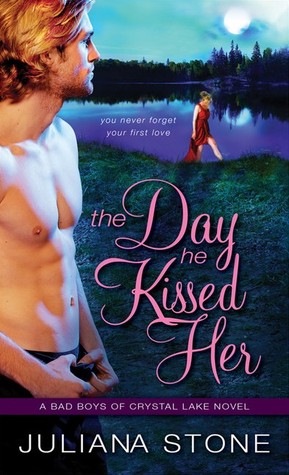 The Day He Kissed Her
by
Juliana Stone
Series:
Bad Boys of Crystal Lake #3
Published by
Sourcebooks Casablanca
on April 1, 2014
Genres:
Contemporary Romance
Format:
eArc
Source:
the publisher
Goodreads
Purchase at
Amazon
|
Apple

He can't wait to leave…
Mac Draper finally has everything he's always wanted: An amazing career. A New York City apartment. He's this close to being free of his past forever. But a mind-blowing encounter with the sexy yet tough-as-nails Lily St. Clare has him delaying his plans to put Crystal Lake in his rearview mirror for good.
She's finally found a place to stay…
For Lily St. Clare the charming small town of Crystal Lake is her haven – a place she can hide from her famous, back-stabbing family. It's as close to happy as she's ever been. Until an unforgettable night with tall, dark and tortured Mac Draper gives her a glimpse of what true happiness feels like.
Lily can't help but melt a little under the sizzling heat of Mac's touch. But Mac's scars run deep, and Lily's afraid she may be falling for the one man who can never return her feelings...
My Review
The Day He Kissed Her is the third installment to Juliana Stone's Bad Boys of Crystal Lake series, and after reading it, it is my favorite of the series. It's Mac's book! I have been intrigued by him since he was first introduced. I wanted to know if he ever got some happiness, especially after finding out, even further what happened to him.
Mackenzie Draper had a dark past that he was still trying to hide from people. He didn't want anyone knowing he had a difficult childhood growing up. He didn't want anyone knowing what he went through with his father. He always thought due to what he went through; he would end up being just like his father. No happiness mainly for Mac. No happily ever after with a wife, kids, and white picket fence. But he was indeed wrong about this because he never considered meeting his one true love New Years Eve night and seeing her again later on. When reading When He Kissed Her, I was heartbroken for Mac. Here is a guy that was very successful after he left his hometown and now he's faced with his demons again. I wanted to hug him and hold him to comfort him. He deserved every bit of happiness. Juliana Stone made me sad for Mac in this story even further, but she also made me love him, even more, when I started to read about the determined, sexy Mac. (He has a lot of shirtless moments in this book, and well Juliana described those moments in great detail) =) Mac is my favorite Bad Boy!
Lily St. Clare was first introduced in the previous book in the series. She's friends with Jake because he helped her get through what happened to her brother. Her brother served with Jake's brother, so Jake understood completely what Lily was going through in her life. She hasn't had an easy life either. Although, some people can't consider that she has since she's from one of the well-known, Rick St. Clare families. She's just trying to live her life, until the moment she has a one-night with the notorious Mac. She didn't realize he was back in town and tries everything to avoid him. How could she though? He blew her away that one night, and she can't stop thinking about him now. Hello…how in the heck could she avoid him? I couldn't because Juliana made Mac very irresistible even with his painful past. I adored Lily's character in The Day He Kissed Her because she was very straightforward and funny. She knew how to handle Mac, and she put him in his place at times. She even surprised Mac a few times with some of their heated moments.
Oh, …let me say these two Lily and Mac are HOT together. There were times though; there was more sexual tension than actual sexual moments but when they did get together Crapola!!! Mac had ways in the bedroom or lake, and Lily knew how to throw down too. I love this couple together.
Juliana Stone kept me turning the pages in this book, and I was so glad that Mac and Lily got their happily ever after. They deserved it! I give this book 5 full moons and highly recommend it to contemporary romance readers out there.
I do recommend you read the prior books first before diving into this book. You will miss out on the other Bad Boys of Crystal Lake happily ever after. (You don't want to skip out on their stories) =) Juliana keeps us up to date on other characters in The Day He Kissed Her. I always love reading about what is going on after their books.
Books in the series in order – The Summer He Came Home (Book One) and The Christmas He Loved Her (Book Two)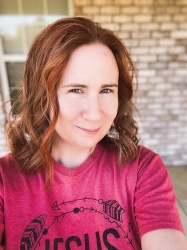 Latest posts by FranJessca
(see all)