ARC Review: 'The Shifter Romances the Writer" by Kristen Painter
May 20, 2016
I received a complimentary copy of the book from the author in exchange for an honest review. This does not affect my opinion of the book or the content of my review.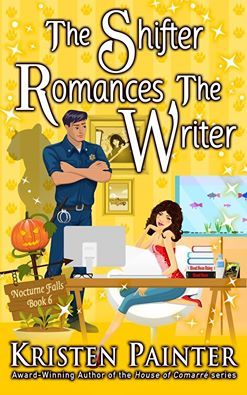 The Shifter Romances The Writer
by
Kristen Painter
Series:
Nocturne Falls #6
Published by
Sugar Skull Books
on May 15, 2016
Genres:
Paranormal Romance
Format:
eArc
Goodreads
Purchase at
Amazon
|
Apple

Welcome to Nocturne Falls, the town that celebrates Halloween 365 days a year.
The tourists think it's all a show: the vampires, the werewolves, the witches, the occasional gargoyle flying through the sky. But the supernaturals populating the town know better.
Living in Nocturne Falls means being yourself. Fangs, fur, and all.
For romance writer Roxy St. James, living in Nocturne Falls also means a fresh start. And as soon as her unbearable ex signs the divorce papers, that new beginning will be a reality. Unfortunately, her ex doesn't seem ready to let her go and the subtle threats he's been making leave her no choice but to confide in her oh-so-handsome neighbor, who just happens to be a deputy with the sheriff's department.
But Officer Alex Cruz isn't just the law. He's also a panther shifter, a secret he's sworn to keep (along with the truth about Nocturne Falls) from the very foxy Roxy. Humans aren't supposed to know the town is filled with supernaturals. Then she starts seeing things she shouldn't and thinks she's losing her mind. His attraction—and concern—for her wars with the promise he's made.
Will his truth be more than she can handle? Or will it cause her to write him out of her life?
My Review
The Shifter Romances the Writer is the sixth book in Kristen Painter's Nocturne Falls series and can I just say the title alone had me intrigued.
Roxy St. James is a romance writer and let's just say she is one awesome character. I'm so glad that Kristen Painter wrote a character with the occupation of a romance writer. I also really liked Roxy's personality in the story. She had moved to Nocturne Falls to start over, especially since she is trying to finalize her divorce. Her crazy ex didn't want to finalize it, instead he wanted to make her life difficult.
Alex Cruz is a officer in Nocturne Falls and he happens to meet Roxy, when he gives her speeding ticket. He's one interesting character due to the type of shifter he is and how caring he is to Roxy, even when he hardly knows her at first.
Kristen Painter created another story in my favorite fictional town that was hard to put down. Oh, I could brag how much I adore Roxy and Alex. They did have a insta-love, but both Roxy and Alex didn't make it too instant. They kept their feelings hidden for a while, until they had friends and family start noticing they should be more.
There was instant that Roxy is upset with everyone and she has every right to be and I leaned towards her reaction over who betrayed her. Roxy was a strong character. The woman knew how to handle Alex's brother.  I definitely didn't think she would overreact like everyone assumed. There was the issue of the drama with what was happening to Roxy since she moved to Nocturne Falls. I didn't expect that kind of drama, but it definitely kept me turning the pages. It did happen quickly at the end.
Overall, the sixth book was another great addition to this amazing series Kristen Painter has written. Oh, and the cover for the sixth book is my favorite so far of the series. 🙂
I give this 4 stars and highly recommend it to paranormal romance readers out there. You do not have to read these books in sequence since each book follows a different couple, but if you are like me, you'll want to read in order. I do not like reading out of order. Plus I feel like I'll miss out on the other characters that already had their story.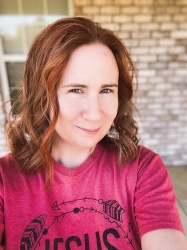 Latest posts by FranJessca
(see all)