ARC Review: 'The Thrill of It' by Lauren Blakely
December 2, 2013
I received a complimentary copy of the book from the blog tour host in exchange for an honest review. This does not affect my opinion of the book or the content of my review.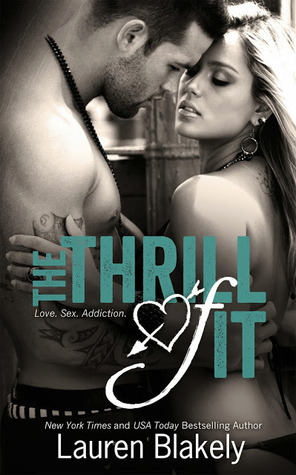 The Thrill of It
by
Lauren Blakely
Series:
No Regrets #1
Published by
Createspace Independent Publishing Platform
on November 21, 2013
Format:
eArc
Goodreads
Purchase at
Amazon

A new adult story of Love. Sex. Addiction. Blackmail. And Power...
Some say love can be an addiction. Others say it's the thing that makes life worth living. Let me tell you everything I know about love...Love isn't patient, love isn't kind. Love is a game, a chase. A thrill. Love is wild and war-like, and every man and woman must fight for themselves. At least that's how it was for me. A high-priced virgin call girl by the time I started college, I was addicted to love and to sex. Even though I've never had either. I controlled love, played it, and held the world in the palm of my hands. Then I fell down from those highs, and I'm being blackmailed for all my mistakes, forced to keep secrets from everyone, except the only guy I don't regret.
Trey...
With all the other women, I knew what they were. They were temporary. They were pills, they were bottles, they took away all the pain, and numbed the awful memories that wore down my ragged, wasted heart. Until I met Harley. She's the only girl I ever missed when she walked away. But now she's back in my life, every day, and there are no guarantees for us, especially since I don't know how to tell her my secrets. What happened to my family. All I know is she's the closest I've ever come to something real, and I want to feel every second of it.
How can you love with no regrets when regret is all you know?
My Review
This is the first book that I have ever read from Lauren Blakely, and I want to read more from her now. I love finding new authors to add to my ever-growing list of auto-buying authors. (I can't help it though…I love reading)
I was a little skeptical at first on reading The Thrill of It because it is much different from what I'm used to reading. I gave it go through, and I wish I had not been sick when I was reading it, and it was not around a holiday. I could not keep my focus on reading it. I had to take a few days here and there to read it. ( I was getting frustrated )
I loved the fact that Lauren Blakely gives us two characters, who are both broken and are trying to get fixed. They meet each other during one of their sex/love addict meetings, and they hit it off from the beginning. Harley has gone through a lot in life, and she ends up becoming a Call girl to the rich and powerful. The kicker though is, she is still a virgin. She was hired just to be a stand-in girlfriend or to praise the guys on certain things. Now, she is trying to change her life and get past her call girl days. Unfortunately, someone caught on, what she was doing and is now blackmailing her. Her past is constantly going to be there, no matter what she does to fix it.
Trey, on the other hand, has had a thing for older women since what happened to him in the past and he is trying to get over what he did. He meets Harley at one of the meetings they go to, and they both realize they need each other.
This is the story of two characters, which are broken, but one more broken than the other. The other is trying to help the other from spiraling down back in the past. Be prepared for one hell of a roller coaster.
I loved Lauren's writing style and how she was able to grip me into what Harley and Trey were going through in the story. So many emotions were going through when I was reading their backgrounds. There were times, I lost interest, but that is because the book did not pick up until towards the middle and I could not stand certain characters. =( One character in particular, who I could hit personally if she were real, Harley's mother…who needs help. The other person, who I despised was the one blackmailing Harley. Grrr!!!! Those two made me want to throw my Kindle down.
Be prepared for ahead of time of some tension between the characters, emotionally and sexually. Trey is such a sweetheart, even when he reacted horribly in one part of the story. ( I did hate how he responded to one particular scene with Harley )
I believe if I had not been dealing with bronchitis and dealing with preparing for a big holiday meal…I would have focused more on The Thrill of it. Unfortunately, my body and mind took a toll, and I needed to be able to recharge whenever I could.
I look forward to reading the next part in Trey and Harley's story since Lauren left us hanging at the end. I love cliffhangers. =)
If you enjoy the New Adult genre and love a book with two characters trying everything to find themselves, then you will enjoy this book.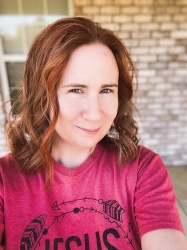 Latest posts by FranJessca
(see all)