ARC Review: 'The Truth About Cowboys' by Lisa Renee Jones (Blog Tour + Excerpt)
August 29, 2019
I received a complimentary copy of the book from in exchange for an honest review. This does not affect my opinion of the book or the content of my review.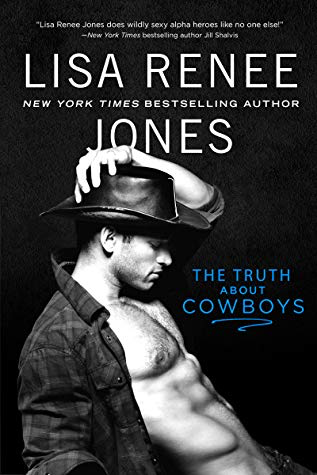 The Truth About Cowboys
by
Lisa Renee Jones
Published by
Entangled: Amara
on August 27, 2019
Format:
eArc
Goodreads
Purchase at
Amazon
|
Apple
|
Barnes & Noble
|
Kobo

I had my life figured out.
Engaged to a successful man.
About to make partner at my firm.
Bought a high-rise apartment in downtown Dallas.
And then, poof, it's all gone. Now, like in some cheesy romantic comedy, my car has broken down in the pouring rain on my way to "find myself" in The Middle of Nowhere, Texas. Cue hot guy coming to my rescue and changing my tire. This is the part where we flirt and have a meet-cute, right? That's how it works in romance novels, and I should know—after all, I'm coming to Texas to write my own cowboy romance. But nope. This sexy cowboy lights into me about not being prepared for the country roads and how inappropriate my high-heeled boots are.
Little did I know, Jason Jenks would tilt my world into a new dimension with his sinful smirk and his bad attitude. Every time I turn around, he's there to reluctantly save the day. And every time, I think there may be something to that spark we ignite. But there's a reason the majority of country songs are about broken hearts. The closer I get to this man, the closer I get to learning the truth about cowboys.
The Truth About Cowboys is the first book in Lisa Renee Jones new series, and it has one of my favorite tropes in it, which happens to be Enemies-to-Lovers. I love this trope and can't get enough of it.
The book starts with Jessica heading to Sweetwater, Texas to get away from the city since she caught her fiancé in bed with his secretary. The break-up has her without any money and giving her up to her job as a divorce lawyer. She's decided to rent out a cottage on a ranch and write a guide to divorce book. Unfortunately, she ends up stuck, and a very mean cowboy assists her. That same cowboy Jason finds out that Jessica is staying at his cottage thanks to his grandmother renting it out to her without his permission. Jason knows that his grandmother has a secret agenda, but he doesn't want anything to do with Jessica and having a relationship. He has his painful past, and he has to take care of the ranch that his parents used to run. He has a lot on his plate, and now he has to deal with the beautiful, clumsy Jessica. Jessica will continuously put Jason in his place, especially when she finds out the truth about Jason and why he's the way he is in the book.
Jessica is one character I liked in this book because she didn't let Jason scare her away. He was a complete jerk to her in this book. I couldn't stand his character, but I also couldn't get enough of him. He's a former baseball pitcher, and everyone wants him to go back to baseball, but he thinks he needs to be at the ranch to help his grandmother. His grandmother wants him to live in his life. His grandmother was my favorite because she was witty, feisty, and funny. I loved her. She put her grandson in his place at times. Between his grandmother and Jessica, these two knew how to put Jason in his place.
Now on to the relationship between Jason and Jessica. These two had an explosive relationship together. It was off and on and then on and off several times, but that's what happens with an Enemies-to-Lovers book. I love it.
This book fed my love of Enemies-to-Lovers and Cowboy Romance. I look forward to the next standalone novel in the new series by Lisa Renee Jones. Be ready for two characters that can't stand each other, but then have a connection that they can't deny.
---
Story Rating: 4.5 stars
Steaminess Rating: 3.5 stars
Standalone or part of series: Part of series, but each follows a new couple, so can be read as a standalone.
Do I recommend this book? Yes.
Will I read other books from the author? Yes. She's one of my auto-buy authors.
Tropes/Elements: Enemies-to-Lovers; Western Romance
Hero: Former Baseball Pitcher; Jerk; Cowboy who is running his family ranch; Lost both of his parents in an airplane accident
Heroine: Former Divorce Lawyer; Soon-to-be Author; Entrepreneur; Broken-hearted due to what Fiancé did to her; Clumsy

---

Jessica…
I dart toward the door in the far right corner and enter the bathroom, where I find a giant old-fashioned, barrel-style tub. I open one of the white cabinet doors and also find a towel, but I'm just too wet for it to help. Like that woman was for Craig. Oh God. There I go again. No. No. No. I will not think those thoughts. No more. I'm done. With him. With her. I strip down naked, wrap the towel around me, and hunt for my suitcase, which I hope like heck has the other bag of chocolate I packed.
Naked might get a girl in trouble, but I'm alone and it's not like anyone is going to see me naked anytime soon. I can go right ahead and happily pack a few pounds of chocolate weight on a petite frame that can't handle a few extra anything. There will be no more men for me. Therefore, there will be no trouble to be found. It's a great plan and on this one, really truly, I dare to say, what could go wrong? I exit the bathroom into the bedroom and scream at the sight of a man standing there.
The cowboy who saved me on the side of the road is not only here, minus his trench coat and wearing a snug black T-shirt, he's bigger and broader than I remember. The bedroom shrinks. My heart races.
"I was right," I accuse, clutching at my towel, the only thing between me and him besides footsteps. "You are a serial killer." I search for a weapon and I don't know why there's a giant flashlight on the nightstand, but it's long and strong, and I grab it, my new prize. I also manage to drop my towel. Oh my God, I've dropped my towel. Goose bumps lift on my naked body and, Lord help me, my nipples pucker.
I try to grab my towel and almost drop the flashlight, which is a better weapon than terry cloth. I commit to the flashlight and my state of undress. "I will hit you if you come near me," I warn. "I mean, kill you." That sounds unrealistic and therefore lacks the bite I intend. "I will hurt you."
He arches a brow and, to my shock and his credit, he doesn't so much as blink at anything below my neck. I don't know if I should be appreciative or offended. Am I not distracting? Am I not worthy of a look? Obviously, my ex didn't think so and—
The cowboy starts walking toward me.
"What are you doing? Stay back." I hold up the flashlight, but I'm the one backing up, hitting the wall with a hard thud. He snatches up my towel and hands it to me, his hand brushing my nipple in the process. I suck in a breath, even as the flashlight is removed from my hand and tossed on the bed. "The game is over. Getting naked won't stop me from calling the police."
"I'll knee you. I'll scream. I'll—"
"You're standing in my property, sweetheart."
"This is not—"
"And yet it is. You picked the wrong house to squat in and the wrong town. I saw where you turned off. I knew where you were headed. Wrong choice, sweetheart."
"Stop calling me sweetheart. And what the hell are you talking about? Squatter? What is a—" A bad feeling hits me. "You think I'm freeloading by sneaking in here and now I'm trying to buy a bed with my naked body? Really?"
"If the shoe fits, sweetheart."
I scowl. "Stop calling me sweetheart. Since when do women seducing men try to hit them with a flashlight? Then again, we are talking about you here. I'm pretty sure you could make anyone want to hit you. Maybe that's the only foreplay you know. A flashlight and a—"
"Stop," he orders, his hands pressing to the wall on either side of me, and now his big body framing my naked body.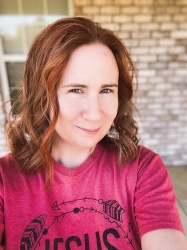 Latest posts by FranJessca
(see all)