ARC Review: 'True' by Erin McCarthy
May 6, 2013
I received a complimentary copy of the book from the author in exchange for an honest review. This does not affect my opinion of the book or the content of my review.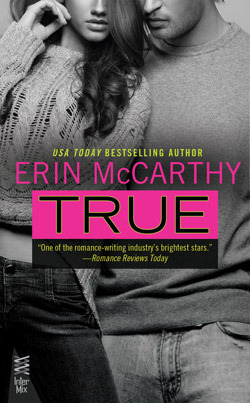 True
by
Erin McCarthy
Series:
True Believers #1
Published by
Penguin Group (USA)
on May 7, 2013
Format:
eArc
Source:
the author
Goodreads
Purchase at
Amazon
|
Apple

When Rory Macintosh's roommates find out that their studious and shy friend has never been with a guy, they decide that, as an act of kindness they'll help her lose her virginity by hiring confident, tattooed bad boy Tyler Mann to do the job…unbeknownst to Rory.
Tyler knows he's not good enough for Rory. She's smart, doctor smart, while he's barely scraping by at his EMT program, hoping to pull his younger brothers out of the hell their druggy mother has left them in. But he can't resist taking up her roommates on an opportunity to get to know her better. There's something about her honesty that keeps him coming back when he knows he shouldn't…
Torn between common sense and desire, the two find themselves caught up in a passionate relationship. But when Tyler's broken family threatens to destroy his future, and hers, Rory will need to decide whether to cut her ties to his risky world or follow her heart, no matter what the cost…
My Review
Erin McCarthy's newest release, "True" is a new adult romance book that takes you on a journey of a girl in college, who realizes that the one guy who she thought never paid attention to her, actually was falling hard for her. It took her friends though for the guy to make the moves on her to find out more about her.
Rory Macintosh reminded me so much of myself when I was reading "True." She's the girl who is so focused on school that she forgets to have fun every once in a while. She is beyond smart and is all about math and science. She thinks logically about everything. When she first meets, Tyler, he keeps hooking up with her roommate Jessica, but the minute he sees her, he becomes intrigued by how Rory handles herself. He knows though he is out of her league. When he finds out that she has never been with anyone, he is determined to find out why. The minute he starts to get to know Rory though, he knows he is in deep. Rory even realizes the boy who she considers the bad boy has a whole side that is sweet and caring and she is falling hard for Tyler.
Tyler is the boy, who has grown up with a mother who is a drug addict and tends to be aggressive. He is all about taking care of his brothers, and he's trying to work on his EMT program so he can have a decent job and take care of his brothers. He never thought the girl he thought was shy and smart would intrigue him so much. I think I fell in love with Tyler the minute he helped Rory get out of a particular situation. He was a gentleman to Rory in the book.
Rory was the one who was determined to go further with Tyler. (It is the shy and quiet ones you have to worry about)
What made me a little upset was Rory's roommates and how they were trying to help Rory, but they ended up sticking their noses where it did not belong. They did not believe in Rory and Tyler.
This is one book that will put you through the wringer though. You will feel sorry for Tyler and his brothers and what they have gone through in life. You will feel terrible for Rory and Tyler and everything they are put through. How no one believes they should be together. Tyler even starts thinking it because he feels he will ruin Rory's reputation. Rory is one determined girl though. She will do anything to prove to everyone that Tyler is a good guy, they just need to get to know him. She even puts her father in his place in this book. I was so proud of her standing up to him. She is an adult, and she should be able to decide who she wants to be with at the end.
I enjoyed this book even when it made me cry and mad at times. Erin McCarthy is one author who is an auto-buy for me. I am so glad she dived into the new adult genre, and I look forward to reading the next book…which will be about Jessica. She got on my nerves in this book, but maybe she will grow on me in her book.
*The meaning behind the title of the book is discussed in the story as well, and it made me cry a bit. Let's say Tyler and his brothers are very close-knit and they stole my heart in the story*
I give this book 5 full moons and highly recommend it to new adult genre readers and contemporary romance readers out there.
Get your tissues ready and prepared to say up late to finish it. I had a hard time putting it down. I needed Rory and Tyler to have a happily ever after. They deserve it after what they went through in this book to make their relationship work.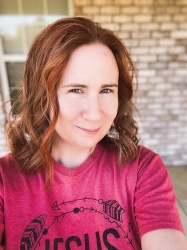 Latest posts by FranJessca
(see all)