ARC Review: 'Witch Hunter Olivia' by T.A. Kunz
July 25, 2014
I received a complimentary copy of the book from the blog tour host in exchange for an honest review. This does not affect my opinion of the book or the content of my review.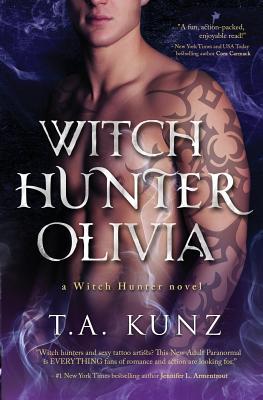 Witch Hunter Olivia
by
T.A. Kunz
Series:
Witch Hunter #1
Published by
Self-Published
on July 18, 2014
Genres:
Paranormal
Format:
eArc
Goodreads
Purchase at
Amazon
|
Apple

In the town of Piedmont Pointe, where paranormal is the norm, a girl can easily get herself in over her head with a single wrong move. Unfortunately for Olivia Adams, she's about to make several. Starting over is never easy, but it seemed like the only option to Olivia. The decision to turn her back on the Guild of Witch Hunters, the very group she devoted her entire life to, was one of the hardest things she ever did. It meant leaving her family, her friends, and her old identity behind forever. Coming to terms with what caused her to abandon her duties in the first place was even harder. While trying to lay low and stay off the Guild's radar, Olivia finds herself thrust back into her old ways after unknowingly interrupting an assassination hit on a powerful witch. What follows is the last thing she ever thought she'd agree to do-protect the very thing she was groomed to hunt. To complicate things even further, Olivia begins to develop feelings for a tattoo artist who also happens to be half warlock, and no matter how hard she tries to fight it, she can't resist her inescapable draw to him. Olivia's forbidden relationship isn't her only issue though, because once the mystery behind the assassination attempt starts to unravel, she's forced to choose sides when the loyalties still tied to her past life are tested again. So much for the idea of a fresh start.
My Review
Witches, Warlocks, Vampires, Werewolves…yup…anything paranormal and you have my attention to read it. Witch Hunter Olivia has all those paranormal creatures, plus it tells an action-packed story about a ex-witch hunter wanting to re-write her life. Olivia doesn't want anything to do with the Guild that had killed her best friend and her family. Unfortunately, she's about to be thrown back into the world of the Guild, when her brother tries to assassinate a very important witch at a sorority party. Olivia happens to be there at the right time to save the high priestess's daughter from getting killed. Olivia is forced to go on a mission to find out why her brother (who doesn't want anything to do with her) had a hit out on a high priestess daughter, which could start a war with the guild and the witches. She's going to need the help of her best friend, Tara (who is a zombie), and a boy named Heath that happens to have a big crush on her and has helped her in so many ways that she owes him a lot.
T.A. Kunz throws readers into a world of fantasy, where humans are amongst the paranormal kind having fun with each other. The Guild though has their ways of making sure the paranormal don't go all crazy, otherwise they will have to deal with the hunters. It's an action-packed adventure that takes you on a ride and makes you realize why Olivia gave it all up. I felt for the poor girl the whole time, while she dealt with what she dealt with. There were times she drove me crazy though, especially, when she kept secrets from her best friend and kept blowing off a certain male character. How dare she blow off, Heath?!
Witch Hunter Olivia was a very enjoyable book, but it didn't capture my attention like I thought it would. Don't get me wrong, there were times the book had me on the edge of my seat, but other moments I sped past to get to the action. I loved the action in the book. **I enjoyed every time Olivia kicked her brother's butt (Oh…how I loved the action) I think I was more frustrated with how Olivia handled certain situations, and the fact there was no true angst like a New Adult book has in it. The heat level was not really steamy in Witch Hunter Olivia, but there was one hot moment when Olivia is describing Heath that I was drooling over. =)
This book definitely has the UF/PNR feel to it, but instead of New Adult, it felt more YA, except for a few steamy moments towards the end between the characters.
Will I read the next book, if there is one…most definitely. I was left wanting to know what is going to happen to Tara because of what happened between her and Olivia. The poor girl deserves some happiness too.
I give this book 3.5 moons, and recommend it to readers that are looking for something different to read.
I will say this…I enjoyed every bit of Heath. Gotta love a tattooed guy in books, especially one always there to help in some kind of way. =)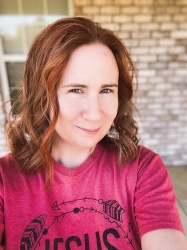 Latest posts by FranJessca
(see all)