ARC Review: 'You Will Bow' by Rachel Leigh
May 19, 2023
I received a complimentary copy of the book from Grey's Promotions in exchange for an honest review. This does not affect my opinion of the book or the content of my review.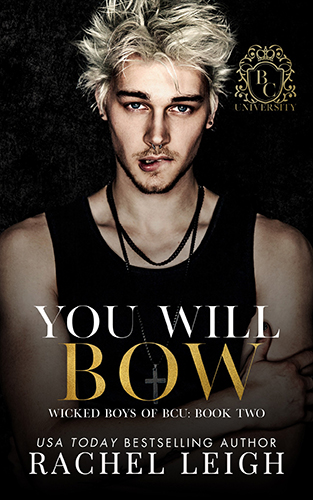 You Will Bow
by
Rachel Leigh
Series:
Wicked Boys of BCU #2
Published by
Self-Published
on May 19, 2023
Genres:
Dark Romance
,
New Adult and College Romance
Format:
eArc
Source:
Grey's Promotions
Goodreads

My first year at college has been anything but ordinary.
After spending so much energy trying to protect my secret, I failed to realize it's not the past I need to fear—It's my future that's at stake.
I've finally found someone who doesn't judge me for my sins and stays by my side while I trudge through the shadowy corners of my past.
The only problem is, his friends have other plans.
One watches me day and night—painting a picture of a disturbed life together.
And the other is hanging my secret over my head as leverage to aid in his own scheme.
But everyone has a weakness, and that weakness will be mine.

There once was a sicko
who watched me day and night.
His invisible leash,
never let me out of his sight.
His friends were unlike him,
one a monster I feared.
The other bled crimson,
with a heart that was pure.

You Will Bow is book two in the Wicked Boys of BCU Series. It is highly encouraged to start with book one, We Will Reign. Please note, this is a dark college romance and a why choose series, meaning the female character has multiple love interests over the course of the three books.
---
I had a hard time putting down You Will Bow when I started reading it, especially after that cliffhanger Rachel Leigh left us with in We Will Reign. I needed answers, especially with everything Riley has endured since starting BCU. If there is one thing I love, though, in this series is the twists and turns that Rachel Leigh keeps throwing into it. 
Storyline/My Thoughts: I can't get over what poor Riley has endured since she started her first year at BCU. The poor girl can't catch a break. She is trying to enjoy her first year of college, but someone doesn't want her to forget her past and what happened at the Academy. It's not like she can forget what she did; she hasn't been the same since it happened, and she also has someone on campus who won't let her forget it. That certain someone is making her life difficult because now he thinks he can tell her what to do; otherwise, he'll spill what he knows. It also doesn't help when she has two other guys fighting over her, and they are determined to prove how much they like her by competing.
I loved learning more about Lev in this book and getting more of his POV. Lev has a backstory explaining why he is the way he is, and I started liking his character more after learning more about what has happened to him. He's not all that bad. Yes, he is a walking red flag and maybe a tad unhinged (actually a lot), like Ridge, but maybe worst than Ridge. Yes, he is definitely more unhinged than Ridge, especially with what he does to poor Riley in this book. It's always the troubling characters that fascinate me, and Lev is one of those characters that you love to hate.
I also enjoyed getting more with Maddox and Ridge and how these two were constantly fighting over Riley. Ridge is still being a stalker and will take on anyone that hurts Riley, even his friends. Maddox is one that I found something interesting about him in this book that I didn't expect. He's the only one who we don't know his back story, and I need more of his character.
I love the overprotective and possessive guys, and that is exactly what all three of these guys are to Riley. Rachel definitely knows how to write the OTT J/P antiheroes in her books that will take on the world to protect the one they love, and I feel for Riley because she has to deal with them.
This book is kind of a slow burn when it comes to the characters establishing their feelings, but there are quite a bit of spicy moments between the characters. I'm not a big fan of slow burns in romance books, but Rachel Leigh makes it bearable when she writes those spicy times and has some characters reveal something about how they feel. All that matters is that Riley ends up with Ridge, Maddox, and Lev. She deserves all three, and they deserve her. I don't think I could choose if I were her, and she deserves a HEA like her best friend, Scarlett, does with her three guys.
Overall, I enjoyed the second book and give it four stars, and I will patiently wait for the third and final book like everyone else. Here's hoping we don't wait long.
Standalone or Part of Series: It's the second book in the Wicked Boys of BCU Trilogy and I recommend reading in order due to cliffhangers.
Steam/Spice: 🌶 🌶 🌶 .5
Genre/SubGenre(s)/Trope(s)/Element(s): Romance | New Adult & College Romance | Dark Romance | Reverse Harem/Why Choose | Bully Romance | Enemies to Lovers | AntiHeroes | Hate to Love | Secret Society
Cliffhanger: Yes.
Would I recommend this book? Yes. I recommend this to New Adult/Dark Romance readers who love when the FMC doesn't have to choose between love interests. She can have them all. =) If you enjoy suspense in your books where the FMC is in danger and the three guys are determined to protect her, this trilogy is for you too.
Favorite Quote(s): "Oh Trouble. It won't be long until you're begging me to do the dirtiest things to you. You can hate me now, but one day you're going to bow willingly."
Love isn't black and white. At least not at first. It's an array of colors and distorted lines that have you questioning what you really feel. It's my goal to erase the confusion, until it's perfectly clear that her heart has always belonged to me. It will be messy. It will hurt. But in the end, it'll all be worth it.

---
---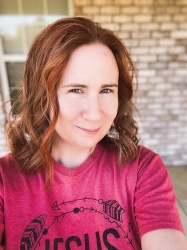 Latest posts by FranJessca
(see all)