Audio Review: 'Iced' by Karen Marie Moning
December 22, 2015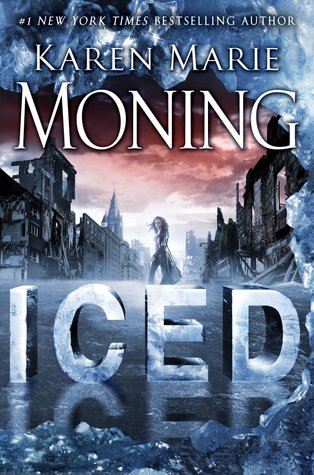 Iced
by
Karen Marie Moning
Series:
Fever #6
Published by
Delacorte Press
on October 30th 2012
Genres:
Urban Fantasy
Format:
AudioBook
Source:
Purchased
Goodreads
Purchase at
Amazon
|
Apple

From #1 New York Times bestselling author Karen Marie Moning comes the first book in her hotly anticipated new urban paranormal trilogy, set in the world of her blockbuster Fever series.
The year is 1 AWC—After the Wall Crash. The Fae are free and hunting us. It's a war zone out there, and no two days are alike. I'm Dani O'Malley, the chaos-filled streets of Dublin are my home, and there's no place I'd rather be.
Dani "Mega" O'Malley plays by her own set of rules—and in a world overrun by Dark Fae, her biggest rule is: Do what it takes to survive. Possessing rare talents and the all-powerful Sword of Light, Dani is more than equipped for the task. In fact, she's one of the rare humans who can defend themselves against the Unseelie. But now, amid the pandemonium, her greatest gifts have turned into serious liabilities.
Dani's ex–best friend, MacKayla Lane, wants her dead, the terrifying Unseelie princes have put a price on her head, and Inspector Jayne, the head of the police force, is after her sword and will stop at nothing to get it. What's more, people are being mysteriously frozen to death all over the city, encased on the spot in sub-zero, icy tableaux.
When Dublin's most seductive nightclub gets blanketed in hoarfrost, Dani finds herself at the mercy of Ryodan, the club's ruthless, immortal owner. He needs her quick wit and exceptional skill to figure out what's freezing Fae and humans dead in their tracks—and Ryodan will do anything to ensure her compliance.
Dodging bullets, fangs, and fists, Dani must strike treacherous bargains and make desperate alliances to save her beloved Dublin—before everything and everyone in it gets iced.
My Review
I was a little scared to read Iced by Karen Marie Moning because Dani O'Malley was not my favorite character from the previous Fever books.  She's also very young and somewhat annoying due to how she handles certain situations, but she's a teenager and teenagers can be annoying. I know I was an annoying teenager and I apologize every chance I get with my mom. KMM does a fantastic job with Dani and her teenage ways. She has several mood swings like a teenager does in real life, and she's naive to certain situations.
 Don't get me wrong I will never forgive Dani for what she did to Mac, but reading Dani's POV made me like her a little better. (Especially with Natalie narrating Dani)
Although, I was a little weirded out with the sexual tension that was happening in the book between one of the male characters towards Dani. Dani is only 14 years old, so the mom in me wanted to kick the male character's butt for even looking in the direction of Dani. Although, Dani would've mentioned that she didn't need any protection because she can take care of herself. She's stubborn in the story and doesn't listen, especially when she ends up working with Ryodan in the story. Ryodan I think wanted to knock some sense into Dani a few times in the story. (maybe more than a few times)
KMM picks up Iced from the last book in the Fever series, and it was interesting to see what was happening, especially with the villain being kept captive. I knew there was going to be other creatures that needed to be handled since the portal opened. Dani is dealing with a monster that is icing people and killing them. She is determined to find the creature and destroy it. She's, unfortunately, dealing with drama with Ryodan since he owns her in the story. Ryodan is trying to keep Dani safe, but she's determined to handle her life without anyone intervening. Dani doesn't know how to stay out of trouble in the story, and she ends up hurt a couple of times, physically and emotionally. KMM doesn't make it easy for a teenager to grow up, especially in the world this new world.
I enjoyed listening to Iced and look forward to listening/reading Burned when I get a chance. I have to finish Burned before the next book releases in January. KMM became a favorite author of mine when another reader introduced her to me.
If you enjoy Urban Fantasy, you'll enjoy this serious from KMM. Be prepared for a crazy world of the Seelie and Unseelie taking over and Dani trying to get control of her city again.
If there is one of many reasons why I LOVE this series is how it is set in Dublin, Ireland. To visit Ireland is on my Bucket List.
Narration: I listened to Iced, whenever I went to work and left work. I friggin' loved Natalie Ross and Phil Gigante together. I sincerely wish these two could narrate my life or at least be my GPS, especially Phil. I could listen to Phil's voice all day if I could. He has that deep voice that I love, and he portrays the male characters so well. Natalie does a fantastic job with Dani. She makes Dani come alive and makes me enjoy reading her POV. I think if I would've just read the book, I wouldn't have appreciated it much. This is why I prefer listening to KMM's books. These two narrators together bring the story to life, and the characters feel real.  I could go on and on about these two narrators, but all I can say is LISTEN to Iced, and you'll know why I adore these two narrators.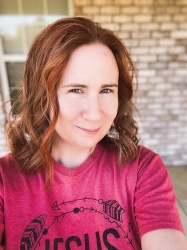 Latest posts by FranJessca
(see all)