Blog Tour + Review: 'Cruelest Oblivion' by M.A. Heard
November 7, 2022
I received a complimentary copy of the book from the blog tour host in exchange for an honest review. This does not affect my opinion of the book or the content of my review.
This book may be unsuitable for people under 18 years of age due to its use of sexual content, drug and alcohol use, and/or violence.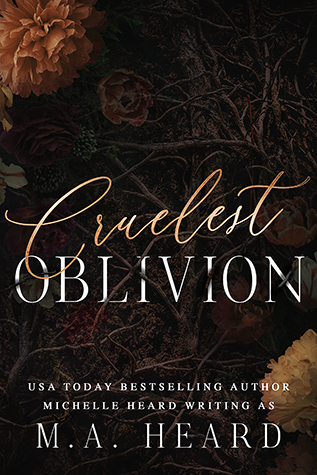 Cruelest Oblivion
by
Michelle Heard
Series:
Cruelest Oblivion Duet #1
Published by
Self-Published
on November 7, 2022
Genres:
Adult Dystopian Romance
,
Dystopian
Format:
eArc
Goodreads
Purchase at
Amazon

From USA Today & Wall Street Journal bestselling author Michelle Heard, comes a new, full-length Dystopian Romance novel.
Over the past four decades, the dome over our Ecocity has protected us from the deviants living in the forbidden territory. Since the great war ended, our lives have consisted of virtue and order.
Once a year, seven people are sent out to the forbidden lands to see if there are any deviants worth saving. None have returned, only increasing people's fear of what lies beyond the safe border of the dome.
When I'm chosen as a crusader, the world, as I know it, is ripped from under my feet. In the forbidden territory, I learn things I never dreamed existed – a world I've been totally oblivious to. I meet people who freely show emotion and affection. People who dare make their own choices.
It's frightening and the opposite of everything I've ever known.
Suddenly, I have to fight for my life. I'm thrown into chaos where time is running out to become a skilled fighter who will be an asset for the coming war. But my mind's bombarded with questions – who's right and who's wrong? Which side should I fight on?
I don't belong in this world filled with cruelty and depravity.
Then there's Chance, my reluctant trainer. The man is the definition of deadly and so attractive I struggle to think straight around him. I'm also pretty sure he would love nothing more than to snap my neck. Cruel, impatient, and harsh, he's a brute who seems annoyed by my existence.
Honestly, I'm not sure I will survive living with the deviants, never mind fighting in a war. Unless I find my courage and learn to fight for myself, I fear this new world will crush me.
Author's Note:18+ ONLY.This book contains mature language, graphic violence, and explicit content.CRUELEST OBLIVION is book #1 and ends on a cliffhanger. SWEETEST AWARENESS will conclude the duet.
---
The Cruelest Oblivion by M.A. Heard is the first book in her new Adult Dystopian Romance duet. The second book of the duet will be released later this month (November 2022). I've read some of Michelle Heard's other books, Mafia/Romantic Suspense and College Romance, and I was excited to read this new duet, a Dystopian Romance.
Storyline/My Thoughts: Imagine you live in a world where not many women are left after the Great War ended, and those women are chosen either to be a wife or to become a woman to be used by men to have babies. This is the life that Jai, the FMC in M.A. Heard's latest novel, has to deal with, and she's twenty years old and will find out which one she becomes. She's been taught to be virtuous and pure. Never to be touched, not even by her parents. She has rules to follow in their ecocity. Unless she gets picked to be a crusader, she gets to go into forbidden terrority with the deviants that wreak havoc outside the ecocity's walls. That's what happened to her mother, and her mother never returned. She is feared to have been killed.
Jai suspects she will become one who has to have babies. Instead, her path is changed drastically when she becomes a crusader. She fears being chosen as a Crusader, not only due to having to leave her father, but she knows she won't be able to survive outside the boundaries of the ecocity she's only known. Her father knows she'll make it, and he sends her with a cryptic message to find someone to help her along the way.
She ends up in the arms of Chance, who hates her at first. He knows she'll be a distraction because he's not supposed to care for someone other than his brother. He also finds her weak and not strong enough to fight for their cause. You see, Jai will find out she has been taught has been wrong, and the deviants she thought were horrible people are actually saving people. They are not the bad guys that she always had been taught. She also is going to learn it's okay to have feelings, especially for the guy that gives her such a hard time at first but ends up being her biggest supporter and savior to make her stronger.
I enjoyed the first book of M.A. Heard's Cruelest Oblivion Duet because it was action-packed, full of angst, twists, and turns that I was not expecting. At first, Jai is a sweet, innocent FMC until she has to train with Chance and the other deviants she's now forced to live within their compound. She's not treated any differently and is forced to do the same things as the others to earn her place there. She doesn't think she can be strong in this new place, she's not used to it, but she has Chance as her biggest cheerleader, even if he is a jerk about it. Chance is an a-hole at first to Jai, so he's a character you either love or hate. He is very protective and possessive of Jai, even after what happened to his brother in this book. I hope his brother is okay because I know it bothered Jai what happened to him too.
M.A. Heard did a fantastic job on the world-building aspect and explaining things for the first book of the duet. She does have a guide that explains terms at the beginning of the book, which was very helpful, too. This world she created, though, is very dark and cruel, especially to women—how they are treated. I can understand why Chance was very protective of Jai. He didn't want her innocence destroyed. He was afraid he would destroy it, so he tried to stay away. Unfortunately, it's hard to do when he's intrigued by Jai and how she fights back. She is willing to learn, which is why I love her character. She's determined to prove herself to everyone.
Yes, there are some steamy moments between the FMC and MMC. Chance is a dirty talker who loves praising. =) I can't wait to read more about Chance and Jai together. Jai is not as innocent as you think, and Chance gets her to open up.
Overall, I give this book four stars and can't wait for the second part of this duet. I need to know what happens next, especially after discovering the truth about what the ecocity has been doing this whole time.
Standalone or Part of Series: It's part of a duet, and I highly recommend reading in order. This book ends with a cliffhanger.
Steam/Spice: 🌶 🌶
Genre(s)/Trope(s)/Element(s): Dystopian Romance. Forced Proximity. Grumpy + Sunshine. Possessive/Jealous MMC. Sweet/Innocent FMC. Virgin Heroine. Touch Her and I'll Unalive You. Soulmate Love. Angsty. Suspenseful.
Content Warning(s)/Trigger(s): Violence. Death. Assault. Mature Language. Explicit Content. Loss of family. Abandonment.
Cliffhanger: Yes.
Would I recommend this book? Yes. If you enjoy Adult Dystopian Romance, this duet is for you; that has Grumpy and Sunshine characters, plus Touch Her and I'll Unalive You vibes.

---
---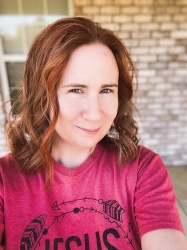 Latest posts by FranJessca
(see all)